Telemedicine platform is a way to reduce costs while providing consumers with less hassle, such as reduced travel time. It solves current problems, such as the lack of qualified medical staff. Communication technology has advanced so far that doctors can provide good virtual consultations.
The growing popularity of Telemedicine platform Technology is changing every sector, including healthcare. Modern information and communication technologies (ICTs), such as computers, the Internet, and mobile phones, are changing the way people interact, search for and exchange information, and enriching people's lives. It has great potential for tackling global health challenges.
Some of the factors that have enabled Telemedicine to become widely available are:
High-speed internet connection and mobile phone
People already have computers and smartphones that allow them to access the Internet and use telecommunications technology in a variety of contexts.
It provides efficient and cost-effective care for older patients who need additional care than the younger generation.
Types of Telemedicine Platform Practices
TeleMedicine's practice is divided into three types of solutions.
Save and transmit – this is also called asynchronous Telemedicine. It is a method of recording a patient's medical information, such as image reports, diagnostic reports, videos, and other records, and transmitting them to medical personnel for remote evaluation of the patient's condition. With this method, healthcare professionals can effectively analyze patient information at a time that suits them. With this solution, the specialist may be in a different time zone. This solution is used in radiology, dermatology, and ophthalmology.
Clinical measurements of telemonitoring patients can be monitored remotely. It is useful for older patients at home who have long-standing illnesses such as heart disease, diabetes, and even asthma.
Real-time interactive or real-time telemedicine – Telemedicine's video conferencing center provides immediate advice to physicians in need of medical care. This is useful for primary care and follow-up visits. These technologies used in Telemedicine are designed to protect patient privacy and comply with HIPAA (Health Insurance Portability and Accountability Act) standards.
Market Stats of Telemedicine Platform
The global market of telemedicine has been experiencing constant bumps since the COVID-19 pandemic, but recent market developments have shown some positive curves in the market valuation graph. As per market studies, the global market of telemedicine is projected to cross the valuation of 396.76 billion US dollars by the year 2027.
Before the pandemic, visits of female patients to doctors were very less but on telemedicine platforms, the number increased significantly. During the COVID 19 pandemic, the number of telehealth visits increased by more than 50 percent. Telehealth has changed the sector of healthcare as, during march 2020, more than 94 percent of the telehealth visits of the patients were unrelated to COVID. More than 68 percent of the users have stated in a study that they prefer telemedicine platforms as a viable option than in-person visits. Recent studies suggest a huge spike in the number of people using telemedicine in the present times which gives a hint of the future of the field.
The global telemedicine market is expected to grow rapidly throughout the forecast period. In addition, the growing focus on product portfolio expansion and the number of applications offer estimated lucrative opportunities for key players in the telemedicine market worldwide. These market stats are also responsible for a lot of benefits of telemedicine that have been introduced in the market.
There has been a great change in the trends of the global market of telemedicine platform and there are a lot of advantages of telemedicine in healthcare; let's have a look at the recent trends.
Trends of Telemedicine Platform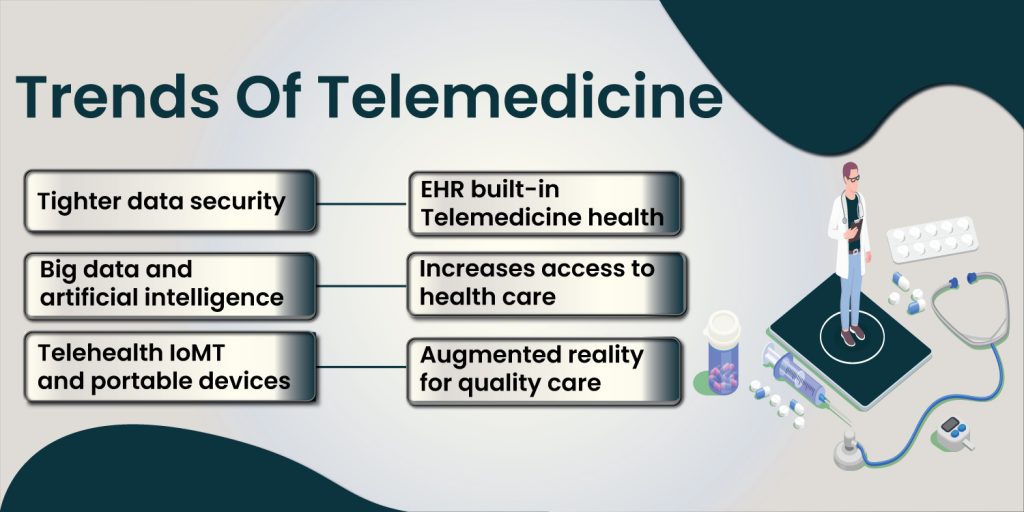 EHR built-in Telemedicine Platform health
When using EHR software, doctors expect ease of use and efficiency. This is where the need for data interoperability arises. If doctors cannot automatically access and store patient information in one system, the number of manual tasks will increase enormously. Every time they have to add patient data manually, they waste a lot of time and risk losing important information.
To solve this problem, software providers are creating solutions that combine the capabilities of remote healthcare services with electronic health management. They can migrate existing telehealth platforms or offer additional versions of the EHR. This optimizes the work of healthcare professionals and allows patients to avoid repeating their medical history when they contact a doctor remotely.
Telehealth IoMT and portable devices
IoT solutions and portable devices are some of the most prominent trends in the field of telemedicine. Healthcare providers are investing in software that connects for patients and doctors through physical devices. The global Internet of Things (IoMT) market is expected to cross the mark of 285.5 US billion in the year 2029.
IoMT tools allow doctors to monitor patients as they talk or do something else at home. Ultra-modern beds, ECGs, and ECG monitors have been enabled to exchange information with telemedicine applications via the Internet. It increases patient mobility, reduces the burden on offline healthcare facilities, and allows doctors to monitor people's health. IoMT telemedicine and portable devices can also remind patients to take medications, measure vital signs, set alerts, and perform a variety of other activities.
Big data and artificial intelligence
Although remote health solutions are quite effective in themselves, big data and artificial intelligence can add to them. Software that automatically collects, processes, and analyzes large amounts of data can make recommendations for the most appropriate treatment plans based on thousands of cases. The more data you collect and analyze with machine learning, the more specific the software's recommendations will be. In addition to the patient's personal information, physicians can take demographic and geographic data into account to ensure the best possible treatment. This technology also successfully addresses data privacy under data protection laws.
The big data collected from telehealth solutions are also valuable for global research. Researchers can use it to find out how age, social status, symptoms, and other characteristics affect the outcome of treatment. Later, these studies will help doctors around the world prescribe the most effective drugs and make informed treatment decisions.
Augmented reality for quality care
Combining telemedicine with augmented reality takes healthcare technology to the next level. Such solutions enable untrained people to provide quality care to patients and more accurate procedures for medical staff.
For example, when caregivers transport patients in transport, they may need medical equipment that requires special training. In this instance, AR can be life-saving and a trendsetter. Custom applications analyze patient data and provide real-time guidance on how to assist and use the device.
Tighter data security
Personal health cards are protected by HIPAA. Thus, each organization processing PHI must ensure limited access to data, encrypt information, pass cyber security checks, and implement a variety of other security measures.
Given that remote health solutions collect a lot of personal data, security will remain one of the leading trends in remote health in the current and coming year. Last year and the growing load of telemedicine software showed that many software providers were not ready to handle large amounts of personal data. They lacked proper security and were the victims of targeted cyber attacks.

Benefits of Telemedicine Platform
Telemedicine allows you to continue to receive comprehensive health care while minimizing the risk of infection during a COVID-19 outbreak. Telemedicine has many advantages, including:
Reduces the risk of disease
With telemedicine, you don't have to go outside; instead, you can connect remotely with your healthcare team, which can reduce your risk of exposure to a variety of infectious diseases.
Increases access to health care
Telemedicine delivers a medium for providers and patients who may otherwise have difficulty accessing healthcare. Barriers to care that telemedicine can remove include living in rural areas, limited access to professionals, personal time constraints, limited mobility, and lack of transport.
Promotes continuity of care
Treatment of chronic diseases is an important part of staying healthy. By frequently communicating with your healthcare team, you can reduce the risk of complications, re-admission, and treatment interruptions.
Suitable for your day
Whether it's from the couch or your desk in your home, you and your loved ones can be taken care of at the touch of a button. You can save valuable time and resources by eliminating the need to come to the office for certain visits.
Benefits of Telemedicine Platform for Patient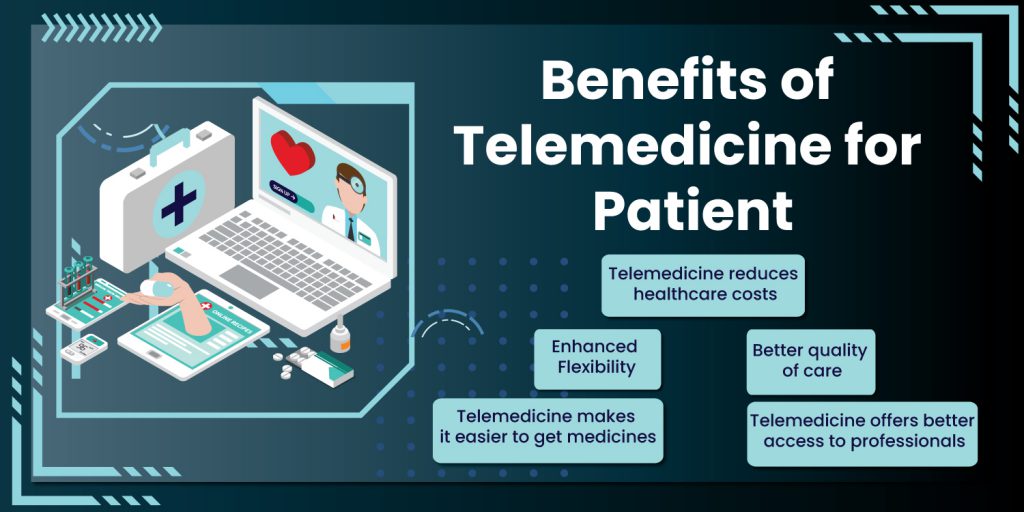 Better quality of care
Television health increases the availability of health care services for people suffering from physical or mental illness. Through remote healthcare assessment, healthcare providers can ensure that only patients who need direct medical supervision can be admitted to the hospital, reducing the burden on hospital staff and making sure that the correct care is delivered.
Enhanced Flexibility
Telehealth software allows doctors, professionals, and patients to connect from anywhere. It offers a much more flexible and convenient option. Due to the unique nature of remote health, providers can arrange appointments at times that best meet their own needs and those of their patients. It is one of the best benefits of telemedicine for patients.
Telemedicine Platform offers better access to professionals
More than 60 million people, which is approximately 19.3 percent of the U.S. population, reside in rural areas of the United States, and access to health care is a major problem. However, telemedicine helps to bridge the gap by providing access to professionals. For instance, county clients can discuss the medical history with their specialist in a video conference, who can also learn more about their ailments and listen to it themselves, rather than waiting for information from their nurse or doctor. This will help the specialist to better diagnose and prescribe.
Telemedicine Platform reduces healthcare costs
Telemedicine platform is often significantly cheaper than traditional face-to-face meetings. Savings are not minimal either; one study found that telemedicine visits saved patients $ 19 to $ 120 per visit. For most patients, whose treatment costs can often be a barrier to treatment or diagnosis, cost savings can be a prime example of the benefits of telemedicine.
Telemedicine Platform makes it easier to get medicines
There are usually many steps involved in obtaining medication, but telemedicine makes it much easier for patients to obtain and complete prescriptions. For example, if a patient is interested in taking sermorelin, they can prescribe it online and send it directly home. This excludes two trips to both the doctor's office and the pharmacy.
Benefits of Telemedicine Platform for Doctor/professionals
Telemedicine Platform increases revenue potential
In rural areas and through telemedicine at appropriate times, patients have better access. This is due to the fact that healthcare professionals spend less time per patient on providing counseling services during e-visits. This increases productivity and efficiency, so you can see more patients without having to extend your working hours. More patients can also increase revenue potential. This is one of the best telemedicine benefits for doctors.
Telemedicine Platform reduces absenteeism
If patients do not show up for the office visit, it may cost a loss of income. People don't show for various reasons such as car problems, traffic jams. Duties and lack of childcare can also explain these missed appointments. However, telemedicine can help with unsupervised appointments, which is one of the main examples for patient involvement solutions. With enhanced flexibility, patients are less likely to have exhibitions because telemedicine helps eliminate patient transport problems.
Telemedicine Platform Competitive advantage
The custom telemedicine application offers a competitive advantage to medical practices since a significant boost in the ambulance on-call and doctor-on-call services. By providing a valuable service that your patients can use to save their valuable time and money, it can make your business more attractive and be the reason they choose your practice over your competitors. With VCDoctor, your business will get ultra-modern features and functionalities that will benefit your business.
Advanced Payment Collection
Collecting payments at the office can be difficult if patients do not have cash on hand. However, telemedicine may support higher payment collection. For instance, a patient can make prepayments with their debit or credit card before receiving services. Telemedicine platforms can also facilitate a variety of payment methods, such as prepaid cards and accounts. This telemedicine benefit for doctors will help ensure that your practice receives payments while the service is being provided.
Attracting new patients and retaining existing ones
If you can receive more patients, telemedicine will help increase inclusion and improve the retention of existing patients. Even if existing patients move out, they can still use the service. You can also attract new patients. More and more employers are also choosing to offer telemedicine services, as this can save money for both the company and the employee. This provides additional opportunities to attract new patients.
A Productive Workplace
Because this technology is used by a large number of your patients, the office is no longer as crowded as it used to be. Especially in cities with greater distances, such as New York, it would even benefit patients. This will help reduce the workload and stress of your internal staff.
Challenges of Telemedicine Platform
With a lot of benefits for telemedicine patients and doctors, telemedicine also comes with a lot of challenges. These challenges can slow the growth of the sector if not resolved properly. Here are some of the most common challenges in the field of telemedicine.
Strict regulations
Strict rules continue to be one of the main challenges for telemedicine. Just like any other medical software, telehealth platforms must be HIPAA compliant. Failure to do so may result in a fine for the healthcare provider. The Department of Health and Human Services has simplified the HIPAA requirements for telemedicine software during the lockout to allow providers to reach more patients. In particular, he announced a limited waiver of HIPAA sanctions for the use of technologies that may not fully comply with HIPAA rules during a public health emergency.
Data security
The medical sector has always been the target of data breaches, as service providers store large amounts of sensitive information. According to the 2019 HIPAA Health Data Violation Report, more than 41.2 thousand medical records were stolen in the healthcare industry in 2019. Given that phishing and ransomware cases have increased by 350% during the pandemic, this number is likely to be even higher today. Telemedicine platform poses an even greater risk of data incidents as video conferencing tools create new loopholes for cyber thieves.
Digital literacy and accessibility
As per a study, about 7% of American adults do not possess an internet connection, and more than 25% of adults 65 and older never use the Internet. In simple words, tens of millions of people will not be able to join video chats with healthcare providers, which will move away from remote healthcare. Providers confirm accessibility issues. More than 64% of healthcare professionals cite lack of access to technology as one of the main challenges in implementing remote healthcare.
Accuracy of diagnosis
Patient screening with digital tools is one of the main concerns of telemedicine. Although misdiagnosis can occur in personal health care, the risk of using telemedicine is much higher. Missed diagnoses can harm both patients and providers. They also increase the cost to the healthcare system, as misdiagnosis can lead to wrong prescriptions and potentially harmful treatments. These problems hinder the uptake of telehealth for providers who want to avoid the risk of medical errors and for patients who do not want to be hurt by a misdiagnosis.
Resilience to new technologies in healthcare
Everyone does not like new technology. The pandemic has forced many health professionals to use telemedicine. However, if their experience during this period has been negative, it may affect their willingness to offer virtual solutions in the future. For example, about 58% of healthcare providers are unable to integrate remote health tools with other systems and EHRs due to poor integration capabilities and lack of technical support.
Compensation
A few years ago, only half of the states had service parity from federal and state government compensation policies. The concept of service parity means that telemedicine services must be covered in the same way as if they were provided face-to-face during meetings.

The Bottomline
Telehealth can help millions of people get care on their own terms, whether at home, in the office, or any place remote. In the coming years, the legal framework for best telemedicine software will become more favorable for healthcare providers, which will help to address the biggest challenges in telemedicine.
If you are thinking of developing or getting telehealth software, VCDoctor has the perfect solution for you. Our solutions deliver a great deal of telemedicine advantage. Our efficient solution also delivers a list of benefits of telemedicine platform for a great experience. Give us a call today!