Healthcare has always been costly. And we are talking not just about the cost of care alone. Even add-on expenses like fuel costs, lodging, etc are pretty high. The benefits of telemedicine or remote patient care are not just limited to costs.
In fact, telemedicine is a wonderful tool to make patients feel more in control of their health, a trust that is important for good health throughout life. Using telemedicine solution providers can connect with patients, do initial diagnoses, and if the symptoms are not too severe they can offer treatment solutions as well. All from within one mobile app. It's convenient, time-saving, and cost-effective for both patients and providers.
For example, the VCDoctor white-label telemedicine platform works seamlessly across all kinds of devices-phone, tablets, and desktops. Providers and patients can use the platform to connect securely and safely. It is fully HIPAA compliant and offers features like e-prescriptions, RPM, etc.
Who benefits the most from telemedicine?
Telemedicine, also known as telehealth, is a rapidly growing field that allows healthcare providers to connect with their patients through virtual consultations. With the advancement of technology, telemedicine has become an increasingly popular option for healthcare services, especially during the COVID-19 pandemic. It provides patients access to healthcare from the comfort of their homes while reducing the need for physical visits to healthcare facilities.
However, it is especially beneficial for the following category of people:
Patients in remote areas
One of the most significant benefits of telemedicine is that it provides access to healthcare services for patients living in remote or underserved areas. Patients in rural or remote areas often face difficulty accessing quality healthcare services due to the lack of healthcare facilities or specialists. Telemedicine provides an excellent opportunity for these patients to connect with healthcare providers and receive medical consultations from the comfort of their own homes.
Patients with limited mobility
Patients with limited mobility, such as the elderly or those with disabilities, often face challenges accessing healthcare services due to physical limitations. Telemedicine eliminates the need for these patients to travel to healthcare facilities, providing them with easy access to healthcare services from their homes.
Patients with chronic conditions
Patients with chronic conditions, such as diabetes, heart disease, and chronic pain, require regular check-ups and monitoring of their health conditions. Telemedicine allows these patients to connect with their healthcare providers regularly, reducing the need for frequent visits to healthcare facilities.
Healthcare providers
Telemedicine also benefits healthcare providers by increasing their efficiency and productivity. It allows them to connect with their patients easily and provide medical consultations without needing physical visits. This allows healthcare providers to see more patients and provide care more efficiently.
Employers
Employers also benefit from telemedicine as it reduces healthcare costs for their employees. Telemedicine allows employees to access healthcare services from their homes, reducing the need for costly visits to healthcare facilities. This can result in a decrease in absenteeism and an increase in productivity.
Benefits of Telemedicine for Patients
Benefits of Telemedicine have emerged as a convenient way for patients to access healthcare services remotely. It offers numerous benefits to patients. Let's explore them in detail:
1: Saves time and money
Telemedicine or virtual doctors' visits save money on gas, parking, and public transit. Better still, they need not waste time commuting or running into a traffic jam that makes them late for meetings, or worse, getting back to work late.
2: No need to take time off of work
Online doctor visits significantly reduce the need to take time off. During a break, or before or after work, a patent can simply plan their visit. Without missing a day of work, patients can do follow-up visits, get e-prescriptions, and even order medications from the same telemedicine platform.
3: Hassle-Free Treatment
Telemedicine eliminates all barriers to quality healthcare services. Whether it's fighting bad weather, finding daycare for children, or taking a day off from work, telemedicine takes care of all the troubles.
Additionally, visiting a doctor's office in person may put individuals with chronic conditions or weak immune systems at risk of contracting infections from other patients. With telemedicine, patients can reduce their exposure to such risks and receive quality care from the comfort of their own homes.
4: Easier to take medicine
To get medication, there are normally several steps involved, but telemedicine makes it significantly simpler for patients to get and refill medications. If a patient is interested in taking sermorelin, for example, they may get a prescription online for it and get it sent directly to their home. This removes two trips to pick it up, both to the doctor's office and the pharmacy.
5: EMR (electronic medical records)
EMRs enable healthcare providers to access a patient's complete medical history remotely, allowing for more accurate diagnoses and personalized treatment plans.
Plus, the patient doesn't have to carry around stacks of files and records. They can access all their health information, diagnosis, imaging reports, and more from their mobile phones.
Benefits of Telemedicine for Doctors
Benefits of telemedicine not only benefit patients, but it also has advantages for healthcare providers. By offering remote medical consultations, doctors can improve their workflow, save time, and expand their patient base.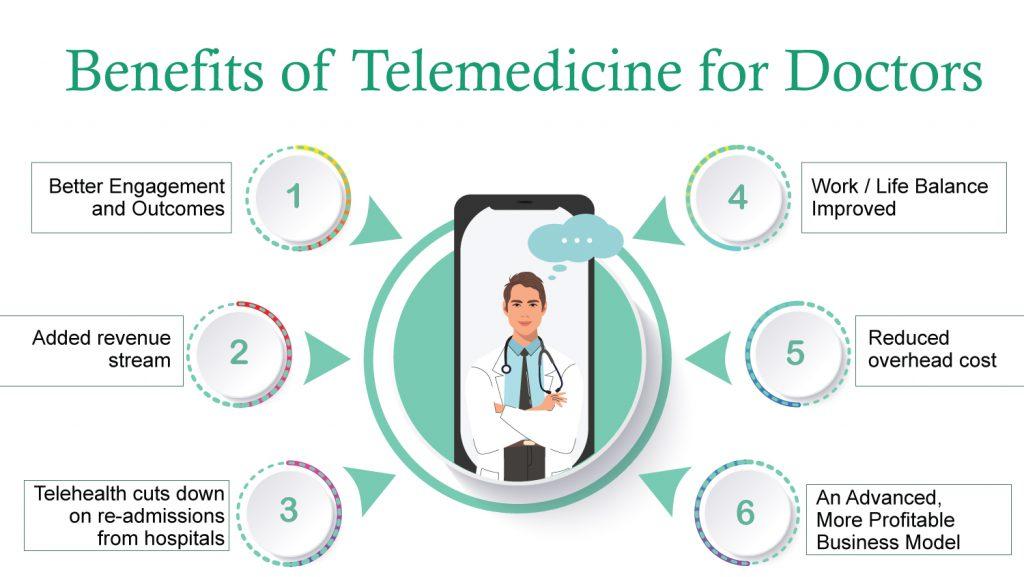 1: Better Engagement and Outcomes.
Being able to remotely check in on a patient helps doctors to improve adherence to medication, which can be a vital part of avoiding unnecessary hospital visits and improving patient health.
When a patient has concerns about a prescription or feels they need to change their care plan, a telehealth solution helps them to check in with their doctor for advice easily and conveniently. This helps to increase adherence, eventually contributing to better results for patients.
Telemedicine solutions can also be a wonderful tool to make patients feel more in control of their health, a trust that is important for good health throughout life.
2: Added revenue stream
Telemedicine can attract new patients because of its convenience or serve as an incentive for current patients to seek care more frequently. Without investing in added space or furniture, doctors can offer virtual care services that take less time than conventional visits and provide a direct connection to patients.
3: Telehealth cuts down on re-admissions from hospitals
To get the treatment they need, particularly after an acute health crisis, many patients make unnecessary (and high-cost) trips to the emergency room or urgent care clinics. With increased concern about symptoms of COVID-19, many individuals are pursuing urgent in-person treatment that raises their risk of exposure to something serious.
Also, it can help minimize hospital readmissions (and costs) by educating patients about follow-up treatment using technology. Written post-discharge guidance and continued contact using remote supervision will help them better control their condition away from healthcare facilities, in addition to cost savings associated with lower readmission rates.
4: Work / Life Balance Improved
Telemedicine provides clinicians with the option of working most of the time from home or seeing patients outside regular office hours. In reality, many clinicians find that telehealth technology helps them achieve a healthy balance between work and life.
It is normal for medical professionals to work 24*7. Telemedicine offers providers or caretakers more flexibility. With telemedicine, they can perform a video visit from anywhere. Providers who use it can find time for family get together, and vacations, and are more assured that, if necessary, they can still provide patient care.
5: Reduced overhead cost
Less operating expenses are a major benefit of telemedicine. It also reduces administrative tasks such as scheduling and paperwork, allowing healthcare providers to focus more on patient care.
Telemedicine service providers eliminate the need for physical office space and associated expenses. They can also see more patients in less time, resulting in higher productivity and revenue.
6: An Advanced, More Profitable Business Model
Providers have access to a new, previously inaccessible patient base with the ability to provide responsive consumer-based services practically anywhere, and with the use of telemedicine,
The flexibility of flexible scheduling, longer hours, no travel, and decreased operating costs associated with each appointment gives healthcare providers an opportunity for enhanced revenue generation and increased income.
Are you looking for a White-Label Telemedicine Solutions?
---
Final Words
Being a healthcare provider today can at times be difficult and frustrating. By making it easier to communicate with patients, telemedicine will increase work satisfaction. To make it easier to balance their work and family lives, clinicians can use telemedicine.
VCDoctor, the Best HIPAA Compliant Telemedicine Platform for Physicians covers all aspects of patient-doctor communication: appointment booking, secure chat, HD video calls and group conferences, payment collection, data exchange, patient monitoring, and more. Available on any device or browser.
FAQs
Q: What medical services can be provided through telemedicine?
A: You can offer a range of medical services, including consultations, diagnoses, treatment plans, and monitoring of chronic conditions.
Q: Is telemedicine covered by insurance?
A: Yes, it is covered by insurance. But costs vary depending on the type of service and insurance coverage.
Q: How do patients access telemedicine services?
A: All patients need is a secure online platform. For instance, VCDoctor is a web-based platform that patients can access using a smartphone or computer.
Q: Are there any legal or regulatory issues to consider?
A: Yes, you would need to consider software licensing, patient data privacy and security, and compliance with laws like HIPAA and GDPR. VCDoctor is a fully HIPAA-compliant telemedicine platform.
Q: What equipment and technology do healthcare providers need?
A: Healthcare providers need basic equipment such as a computer, camera, and microphone to offer telemedicine services, as well as a secure online platform and telemedicine software.