White-Label Telemedicine platform has gone from being a handy tool to an important service used by millions of people worldwide. Among other norms adapting to a pandemic, telemedicine is here to stay.
Today, many healthcare organizations and hospitals are considering adding a telemedicine solution to their existing healthcare industry. With the development of technology and increasing equipment availability, it is easier than ever to launch a telemedicine application and expand healthcare.
Even before the coronavirus, the global telehealth market was expected to be worth $175 billion by 2027. However, the demand for telemedicine services has grown enormously in recent months. Telemedicine is the future of healthcare, which can harmonize consultations between patients and healthcare professionals.
If we are given a choice to choose between visiting a doctor's clinic or online consultation, most of us now prefer remote consultation with doctors. And why so? Telemedicine benefits health seekers in several ways. Thus, telemedicine platforms have become one of the most promising and profitable businesses of 2020.
If you want to create and run your own telemedicine platform, here's everything you need to know about how to get your white-label telemedicine platform quickly!
What is a Telemedicine Platform?
The telemedicine platform is a portal that you can create to provide healthcare to patients via the Internet. It allows healthcare professionals to remotely assess, diagnose and treat patients using telemedicine technologies.
Now you can choose to build it from scratch or use a white-label telemedicine app development solution. With the help of a white-label telemedicine platform, you can customize, rebrand, and resell as per your requirements. A white-label healthcare app offers not one but several advantages over a custom telemedicine application.
How do White-label Telemedicine Platforms Outperform Custom-made Telemedicine Apps?
Almost No Technical Knowledge Required
One of the biggest concerns for most businesses and start-ups looking to develop an application is finding qualified technical knowledge experts. For developing an app, a good knowledge of coding and programming languages is a must. If this is new territory for you, custom application development can create a knowledge gap between you and custom application developers.
Improved And Tested User Interface
When customizing an application, you need to pay special attention to the usability and ergonomics of your application. It might be difficult to design and create a high-performance user interface if it is not done skillfully. On the other side of the coin, a private label telemedicine application is usually thoroughly tested and modified to provide the best user experience for your audience.
Reduced Development Costs and Fast Launch
A custom application requires getting to the basics of the development process and compiling each application component separately. In addition, custom development has a much longer application completion cycle along with high costs. It can take weeks to months to customize your application.
White label telemedicine app development does not involve the challenges of custom application solutions. The white-labeled platform offers a complete set of features that suits your requirements. This results in the roll-out of your application in a day or two.
Future Scope of Telemedicine Apps
In the year 2020, during COVID-19, the healthcare industry was almost fully virtualized. But the future of telemedicine is even brighter. Let us look how: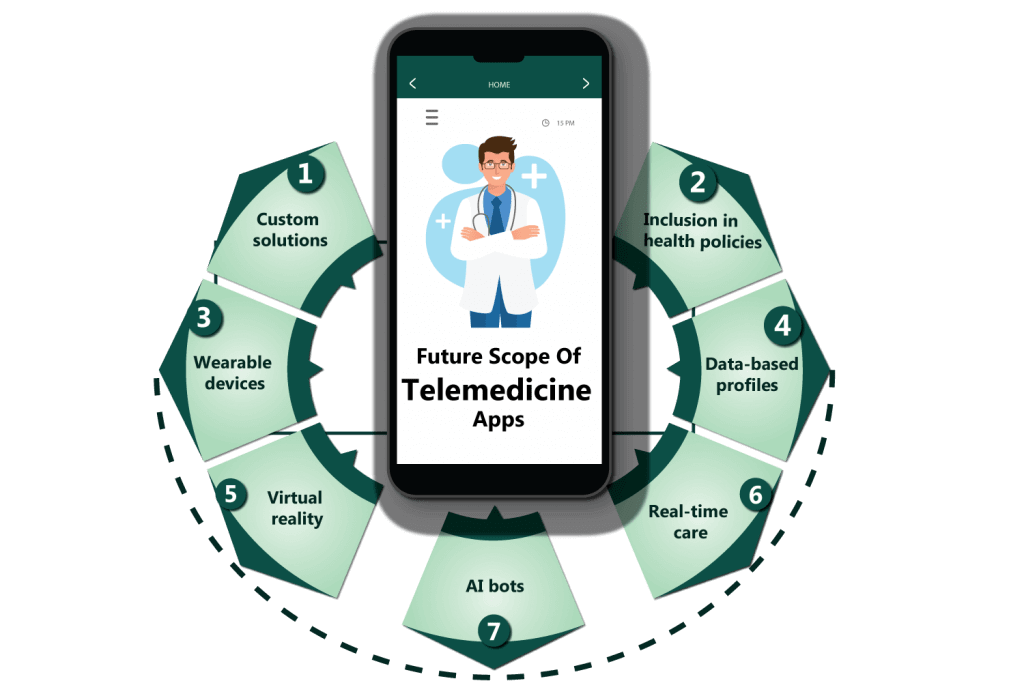 Custom solutions
To begin with, we see a greater demand for customized solutions, both for individuals and healthcare providers. All hospitals and practices in the country are starving for their patented applications, software, devices, and other technologies to provide the best possible care to their patients. As a result, the golden age of health technology development is coming – and thousands of new technologies will transcend the boundaries of our medical knowledge.
Inclusion in health policies
We will also see the inclusion of specific policies and outlines of telemedicine in health policy. Government departments, insurance companies, and other organizations are working to create specific telemedicine rules and laws, legitimizing them in the public's eyes and laying the foundation for future developments.
Wearable devices
If we look into the current scenario, wearable devices & home healthcare are already a big part of telemedicine. But they will be an even more significant part of the industry in the future. Wristbands remotely detect and transmit your heart rate along with other metrics such as body temperature. If we consider the future, the wearables will become more diverse, discreet, and sophisticated, measuring a much wider range of data points while barely being noticeable to the wearer.
Data-based profiles
Big data and telemedicine platform are a great combination. If you wear devices around the clock that collect information about your body and health habits, doctors will have access to a vast amount of data about you as a person. This will allow them to create more individualized treatment plans and give you precisely what you need to maximize your chances of recovery.
AI bots
Although telemedicine can free up doctors' time due to faster appointments and greater convenience, we might also suffer from a continuing shortage of human resources in this area. To make up for this, we will probably see the emergence of AI catboats through which the initial consultations will be handled with ease.
Virtual reality
It is always better to have an enhanced version of the technology. Video chats are effective, but sometimes navigating together in a 3D environment is even better. As per the evolution of technologies, we can predict that meetings may involve virtual reality (VR) or augmented reality (AR) space for communication.
Real-time care
Wearables and diagnostic tools will send a continuous flow of information to healthcare providers, resulting in a real-time flow of data from which providers can make important decisions. If someone has a life-threatening situation, the healthcare provider can react immediately.
Benefits of Having Branded Telemedicine App
A white-label telehealth solution is just like magic. You can roll out your telemedicine app within no time. With the help of a white-label solution, you will save time and save a considerable amount that you can invest in marketing your business. White-label is easy as the development process is not from scratch. You will just have to provide features that will be customized accordingly. White-label appointment scheduling solution has become among organizations because it provides freedom to introduce new features according to your business needs. Not only that, but the personalized communication helps in enhanced customer satisfaction and loyalty.
Let us look into the benefits of having a branded telemedicine solution in detail:
White-label telemedicine Data Protection
Having a White-label telemedicine solution ensures the availability of HIPAA compliance. Deploying the solution to your server secures the patient and healthcare information. Not only this, but the healthcare organizations can leverage the benefit of communicating internally as there is no third-party interception, thus providing a higher level of security.
White-Label telemedicine Patient Satisfaction
To hold your place in the market and to stand out from the competition, it is important to have the presence of a branded telemedicine application. The white-label telemedicine provides a higher level of application, giving patients the freedom to interact with doctors according to availability. This value-added service undoubtedly enhances patient satisfaction, which boosts the confidence of healthcare companies.
Customization
If you want an enhanced app that is thoroughly tested, troubleshoot, and passes the development processes, then a white label solution is the best option. With the help of white-label, you can easily modify existing features to provide an exceptional user experience.
Cost-Effective
White label Solutions not only save money but also save weeks/ months of development time. You can launch this solution instantly and focus on giving competitive advantages to the providers.
Finer Connectivity and Branding
The branded remote white-label healthcare app allows providers to stay in touch with their patients anywhere and anytime. To provide complete service to the patient, this solution consists of specially designed features such as video call, e-prescription, online payment, manage personal health records, medication reminder, patient profile, and many other.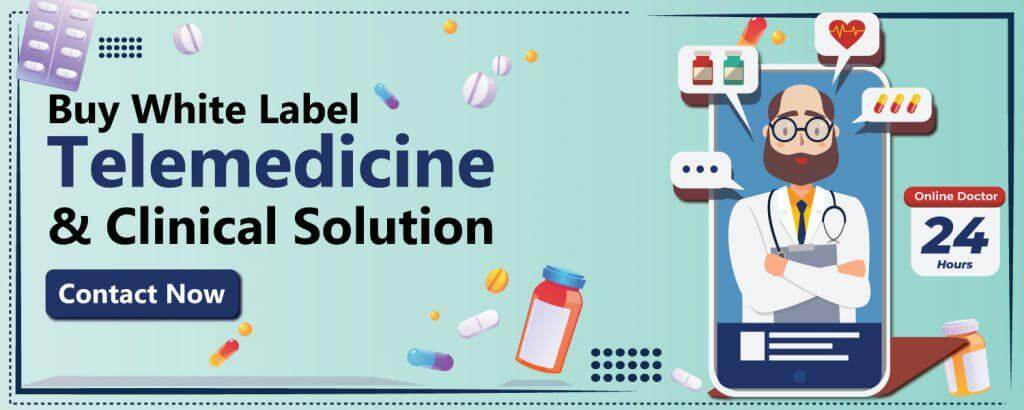 How Can White Label-Telemedicine Solutions Help You in Your Healthcare Business?
1. Branding is quick and easy
The white-label solution comes completely ready to launch which can be customized according to your business needs. This saves your time of development researching, and you can just focus on branding.
2. Enhanced Customer Satisfaction
Every customer who turns to you keeps in mind the end goal, so white label solutions help them directly achieve, rather than lagging over a pre-designed solution.
3. You Can be More Attentive On Your Company's Core Competency
Often, when a company decides to create its own web solutions, it stands far from its expertise and thus fails at enormous potential due to a lack of relevant knowledge and an effective team.
Key Features of Our White-Label Telemedicine Solution
Our white label app platform is a one-stop solution having technologically advanced features. This solution is helpful for patients looking for a hassle-free consultation. The white-label telemedicine solution we provide offers outstanding features that set it apart from the competitors while reducing process intensity and convenience.
Check out the key features that our white label telemedicine solution has:
a. Doctor Search: After registration/ login, you can update your profile and search for the doctors as per the illness.
b. Appointment Booking and Scheduling: You can now book an appointment with a healthcare expert relevant to your illness or schedule according to your availability.
c. Video Conferencing: With the help of this feature, you can get in touch with the doctor for consultation through high-quality video calls. It eases the consultation and provides enhanced one-on-one conversation.
d. Push Notifications: This feature helps you to get daily updates about every little information on the platform.
e. Manage Personal Health Records: You have complete access to your profile, where you can manage your personal health records. This helps you stay up-to-date about your health.
f. ePrescription: Get your eprescription once you are done with the consultation. You can save this prescription for further treatment.
g. Online Payment: Make online payment with the help of this feature through various options, including UPI, Debit/ Credit Card, Net Banking, etc.
h. Data Security and HIPAA Compliance: Patient data is stored in the cloud without fear of data breach. Physicians can access only limited data; thus, there are no chances of leaking their personal data.
Conclusion
With the field of developing white label solutions, we are creating a platform that allows you to reach many patients, carry out treatment and diagnose in the best possible way. Our white-label telemedicine solutions are results-oriented and providing ultimate convenience to physicians and healthcare professionals.
When developing the application, we keep in mind the benefits of telemedicine for doctors, service providers, and patients, and we curate ideas and features that help all of these factors in the best possible way. We also offer custom branding options for the solution, so when you're ready to update new and improved features on the platform, our team is ready to help you with the process.