A White-Label Telemedicine platform is a tool that lets you talk to a doctor online instead of visiting their clinic. Telemedicine is the future of healthcare. It lets patients talk to doctors quickly and conveniently.
Even before the pandemic, the telehealth market was expected to be worth money by 2027. But now, lots more people want to use telemedicine. It's a way to talk to a doctor without leaving your house. That's why telemedicine platforms are becoming popular and making lots of money.
Many hospitals and healthcare groups are thinking of adding telemedicine to their services. Doing this now is easier because technology is better and equipment is more available. If you want to create your telemedicine platform, you can use a White Label Telemedicine platform. It's an easy way to get your platform up and running quickly!
Table of Contents
What is a White-Label Telemedicine Platform?
The telemedicine platform is a portal you can create to provide healthcare to patients via the Internet. It allows healthcare professionals to assess, diagnose and treat patients using telemedicine technologies remotely.

Now you can build it from scratch or use a white label telemedicine app development solution. With the help of a white-label telemedicine platform, you can customize, rebrand, and resell as per your requirements. A white label healthcare app offers not one but several advantages over a custom telemedicine application.
How do White-label Telemedicine Platforms Outperform Custom-made Telemedicine Apps?
Businesses and healthcare providers have two options. Either to use custom-made telemedicine apps or white-label telemedicine platforms. Both options have their pros and cons. But white-label telemedicine platforms have been outperforming the former. Here are a few reasons why:
Almost No Technical Knowledge Required
Businesses and start-ups must know much about coding and programming to make an app. But it can be hard to find someone who does if they don't. It's a big problem because making an app requires considerable technical knowledge. If you don't have it, working with app developers who do can be challenging.
Improved And Tested User Interface
When you make your app, it's essential to ensure it's easy to use and looks good. This can take a lot of work to do well. But with a ready-made telemedicine app, you need not worry at all. It's already been tested and made to work well for people. All you have to do is add your branding and start to use it.
Reduced Development Costs and Fast Launch
Creating a custom application is like building a Lego set from scratch. You need to put all the pieces together one by one, and it can take a very long time to finish. This way is usually more expensive, too. It can take many weeks or even months to finish building your app.

White label telemedicine app development does not involve the challenges of custom application solutions. The white-labeled platform offers a complete set of features that suits your requirements. This results in the roll-out of your application in a day or two.
Future Scope of White-Label Telemedicine Apps
In the year 2020, during COVID-19, the healthcare industry was almost fully virtualized. But the future of telemedicine is even brighter. Let us look how: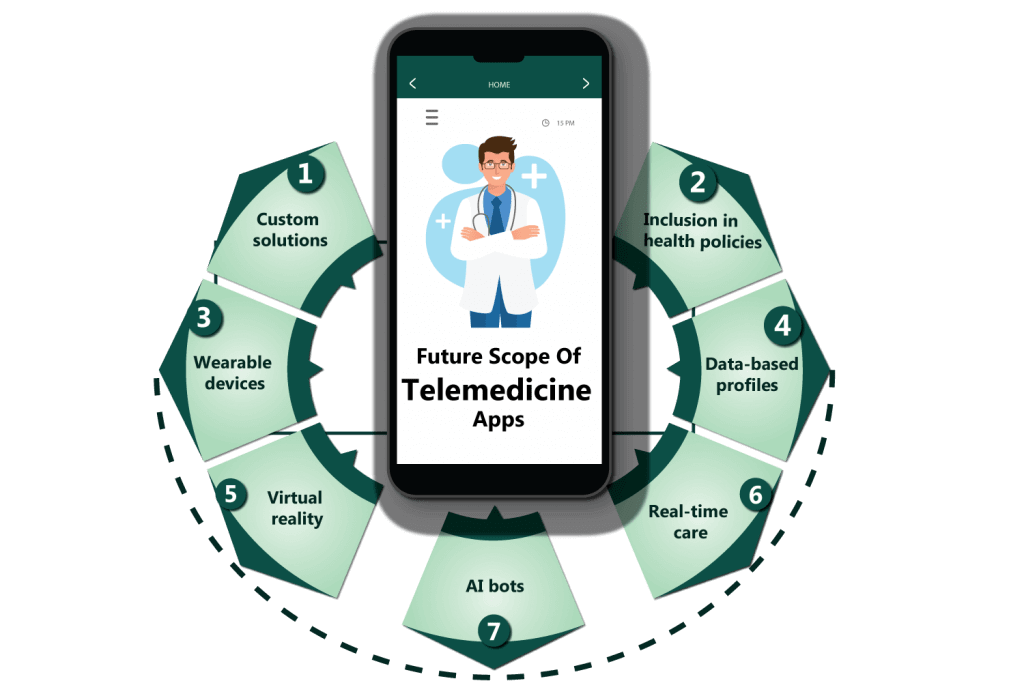 Custom solutions
To begin with, we see a greater demand for customized solutions for individuals and healthcare providers. All hospitals and practices in the country are starving for their patented applications. As a result, the golden age of health technology development is coming. And thousands of new technologies will transcend the boundaries of our medical knowledge.
Inclusion in health policies
We will also see the inclusion of specific policies. Government departments, insurance companies, and other organizations are working in tandem now. They will soon create specific telemedicine rules and laws. They are legitimizing them in the public's eyes. And laying the foundation for future developments.
Wearable devices
If we look into the current scenario, wearable devices & home healthcare are already a big part of telemedicine. But they will be an even more significant part of the industry. Wristbands remotely detect and transmit your heart rate and other metrics. Wearables will become more diverse, discreet, and sophisticated if we consider the future. They will measure a much more comprehensive range of data points, barely noticeable to the wearer.
Data-based profiles
Big data and telemedicine platforms are a great combination. Do you wear devices around the clock that collect information about your body and health habits?
If yes, doctors will have access to vast data about you. The data helps to create more individualized treatment plans. It gives you precisely what you need to maximize your chances of recovery.
AI bots
Telemedicine can save time for doctors and be more convenient for patients. However, there might not be enough human doctors to meet the demand. As a solution, we may use AI chatbots to handle initial consultations.
Virtual reality
It is always better to have an enhanced version of the technology. Video chats are effective, but sometimes navigating together in a 3D environment is even better. Meetings may involve virtual reality (VR) or augmented reality (AR) space for communication.
Real-time care
Wearables and diagnostic tools will send continuous information to healthcare providers. This will result in a real-time data flow from which providers can make crucial decisions. If someone has a life-threatening situation, the healthcare provider can react immediately.
Benefits of Having Branded White-Label Telemedicine App
A white-label telehealth solution is just like magic. You can roll out your telemedicine app within no time. With the help of a white-label solution, you will save time and a considerable amount that you can invest in marketing your business.
White-label is easy as the development process is not from scratch. Plus, you can always add new features according to your business needs. Not only that, but personalized communication helps in enhanced customer satisfaction and loyalty.
Let us look into the benefits of having a branded telemedicine solution in detail:
White-label telemedicine Data Protection
A telemedicine solution is secure and follows HIPAA rules. It protects patient and healthcare information when it's installed on your server. Plus, it allows healthcare organizations to make internal communication hassle-free. There is no third-party interference, which provides security.
White-Label telemedicine Patient Satisfaction
To stay competitive in the market, you need a branded telemedicine app. With a white-label solution, patients can easily connect with available doctors. Consequently, it increases their satisfaction and builds trust in your healthcare company. This sets you apart from the competition and gives your company more confidence.
Customization
If you want a top-notch app that works great, looks great, and has no bugs, a white label solution is the way to go. White-label lets you tweak features to make it the best for users. You can focus on your core competencies while leaving the app development and maintenance to the experts.
White-Label Telemedicine Cost-Effective
White-label Solutions not only save money but also save weeks/ months of development time. You can launch this solution instantly. And focus on giving competitive advantages to the providers.
Finer Connectivity and Branding
The white label healthcare app with your brand name helps you connect quickly and easily with your patients. It has cool features and makes it easier for you to provide excellent patient care.
How Can White-Label Telemedicine Solutions Help You in Your Healthcare Business?
Let's explore how white label telemedicine solutions can help healthcare businesses improve patient care and engagement while increasing efficiency and profitability. Here are some key points to consider.
A. Better care for patients:
White label-telemedicine solutions help healthcare businesses provide easier and more convenient care. Patients can connect with healthcare providers from their homes. It saves time and money, which leads to happier patients.
B. More efficient and profitable:
White label-telemedicine solutions simplify tasks, such as scheduling and paperwork. It helps make things easier and faster for staff. They can then focus on meaningful work, leading to better use of resources and higher profits.
C. Stronger brand image
Branding is quick and easy with white label telehealth solutions.  The solution is ready to launch and can be customized according to business needs. This saves product development or research time, and you can focus on branding.
Key Features of Our White-Label Telemedicine Solution
Our white label app platform is a one-stop solution. It is designed for patients looking for a hassle-free consultation. It is packed with outstanding features.
Check out the key features that our white-label telemedicine solution has:
a. Doctor Search: After registration/ login, you can update your profile and search for the doctors as per the illness.
b. Appointment Booking and Scheduling: Book an appointment with a healthcare expert who can help you with your illness. You can also schedule the appointment based on when you're available.
c. Video Conferencing: Contact the doctor for consultation through high-quality video calls. It eases the consultation and provides enhanced one-on-one conversation.
d. Push Notifications: This feature helps you get daily updates about every little piece of information on the platform.
e. Personal Health Records: You can access your profile to manage your health records. This helps you stay up-to-date about your health.
f. e-Prescription: Get your e-prescription once you are done with the consultation. You can save this prescription for further treatment.
g. Online Payment: Multiple payment support. Pay for telemedicine appointments using UPI, Debit or Credit card, and Net Banking.
h. Data Security and HIPAA Compliance: Patient data is stored in the cloud without fear of data breach. Physicians can access only limited data; thus, there are no chances of leaking their data.
Final Words
Are you looking to offer telehealth services? A white label telemedicine platform could be the perfect solution for your business!
Compared to building a custom app, a white-label solution is ready-to-use. Plus, you'll be able to add your branding to the platform. It gives you a unique and professional look that your clients will love.
Looking to the future, the possibilities for telemedicine are endless. Take advantage and telemedicine for providers the best possible care to your clients.
So why wait? Invest in a white-label telemedicine platform today. Enjoy benefits such as enhanced patient satisfaction, personalized communication, and data protection.