Quality is undoubtedly becoming the cornerstone of not only the IT Sector but also for modern healthcare organizations. If you think that cloud computing is a new concept for the healthcare industry, it's not true. The adoption of cloud technology has grown at an insane rate over the years. And the COVID-19 pandemic has not only increased its demand and has made the future secure.
Technology and healthcare are growing in this pandemic, making the coming years promising for the cloud computing in healthcare market.
With changes in patients' expectations and new payment models, this new reality has made technology an important factor in improving patient care, increasing efficiency, eliminating waste, and ensuring safety.
This blog provides valuable information on the advantage of cloud computing in the healthcare sector.
What is Cloud Computing in Healthcare?
Today, clouds are well-established and ubiquitous tools, and switching to the cloud has a double benefit. This has proven to be beneficial for both healthcare providers and patients. On the enterprise side, cloud computing has proven to reduce operating costs while enabling providers to provide quality and personalized maintenance.
Best Telemedicine Solution for Provider
Give your patient the freedom to access healthcare from anywhere anytime.
Know More
Storing, managing, and processing healthcare-related data with the help of using remote servers via the internet is cloud computing in healthcare. Patients who are accustomed to providing services immediately will receive the same emergency care from the healthcare sector. The cloud also strengthens patients' involvement in their health plans, giving them access to their healthcare data, resulting in better patient outcomes.
Healthcare organizations in the US have adopted cloud-based healthcare solutions designed to store and protect patient data after introducing the Electronic Medical Records (EMR) mandate.
In an industry that produces significant data daily, democratizing this information and ensuring access is crucial. So to get the answer, let us go through the benefits of cloud computing in healthcare.
Read More: How Does Telemedicine Reduce Healthcare Costs
Benefits of Cloud Computing in Healthcare Industry
Cloud computing has transformed the entire healthcare domain and has provided the best benefits to this industry. It would not be wrong to say that healthcare professionals are turning towards cloud computing for all its benefits. To understand the benefits, let's read on.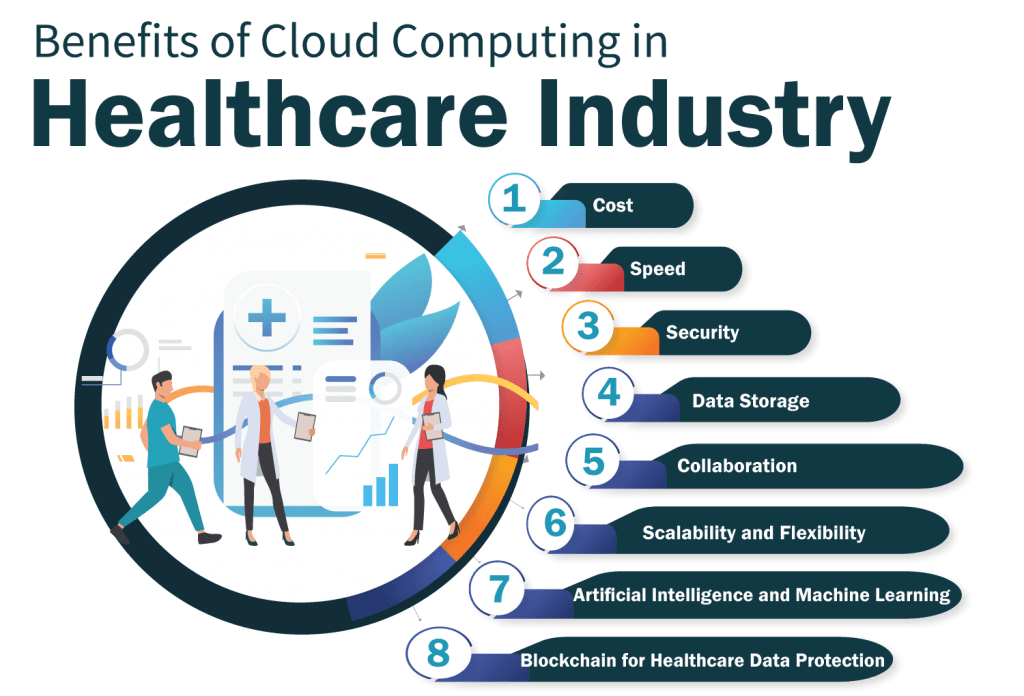 1. Collaboration
Sharing makes collaboration easier. With cloud computing, the data-sharing process has become much simpler. As healthcare organizations move toward value-based payment methods, a collaboration between people is essential. Also, to keep in mind, healthcare information must remain confidential.
With the help of the cloud, medical service providers can transfer data to each other, enhancing collaboration for better care. The cloud can be used to securely share data in real-time between doctors, nurses, and caregivers.
In addition to sharing, they have access to medical reports and documents anytime, anywhere. The cloud has also facilitated remote conferencing, rapid updating of healthcare developments, and patient status, making it an ideal companion for healthcare professionals.
2. Security
When discussing the cloud, one of the most common problems is how secure all your applications and patient data are stored on a third-party server? The reason being so concerned is that the healthcare data must remain confidential. The cloud security in healthcare network provides security because it has unique security features that can alert you to suspicious attempts. Also, even if there is a data breach, healthcare providers do not lose any data and can minimize downtime for their staff using cloud computing.
Read More: Digital Healthcare Technology Benefits To Independent Physicians
3. Cost
Clouds hold a tremendous amount of information at a very minimal cost. Cloud computing gives the leverage to choose from their subscription model. With the help of this subscription model, healthcare providers can save money by purchasing the model according to their requirements. The healthcare industry can use the resources provided by cloud providers with the help of cloud servers.
4. Speed
Speed ​​is an important criterion before choosing any technology. Cloud-based tools update their features consistently with minimal intervention, and there will be real-time updates on all relevant information. The unbeatable speed and faster access to information provided by cloud computing help overcome the stumbling blocks faced by the cloud healthcare industry.
5. Scalability and Flexibility
The cloud facilitates healthcare technologies such as electronic medical records, mobile applications, IoT devices, etc. It offers worry-free scalability and flexibility, which in turn improves the final decision-making process.
With the help of Cloud computing, healthcare providers can increase or decrease their data storage according to the flow of patients. Also, a cloud migration strategy reduces risks and minimizes downtime, prevents information leakage, improves data processing, and strengthens security practices.
Read More: How To Increase Patient Engagement In Healthcare During Pandemic
6. Artificial Intelligence and Machine Learning
AI and machine learning opportunities can be a crucial solution during this crisis that can support clinical decisions, faster treatment times. Not only during COVID, but this combination will serve the healthcare industry for its betterment.
The healthcare cloud platforms are integrating AI and ML into their services. Simultaneously, cloud computing can support the transition of artificial intelligence to traditional healthcare and help users manage vast amounts of data.
7. Data Storage
Healthcare providers manage all sorts of data, resulting in a lot of data, and not all internal devices can store it. With the help of cloud computing, healthcare indutry can avoid extra cost of maintaining physical servers and can store huge amounts of data.
8. Blockchain for Healthcare Data Protection
Implementing a blockchain in the healthcare IT infrastructure can help achieve greater data security and ensure the pharmaceutical supply chain and health research integrity. Blockchain has become an indispensable healthcare tool by tracking medications, improving payment options, and decentralizing patient health history data.
Blockchain systems can help reduce breaches during data exchange and give patients more responsibility for their data and records. This technology benefits the healthcare industry in many ways, including robust monitoring, transparent and organized complex processes.
Telehealth Software
The Ultimate Solutions for Your Healthcare.
Request a Quote
Conclusion
Choosing the right technology provider is not an easy decision. VCDoctor telemedicine solutions offers the healthcare industry a complete package of cloud software development. Our healthcare services include Clinical Apps, Patient Apps, EHR Integration, Health Analytics, and many more.
Work with us to provide the best possible care to patients. Request a free quote and Feel free to reach out to us for more details. more insights on our cloud for healthcare computing services!