Telepharmacy in medical care started to take shape in early 2000 when the North Dakota State Board of Pharmacy reported the loss of community pharmacies in 26 of the state's rural communities and warned that more were at risk. Consequently, the board set up pilot rules for telepharmacy in 2001. Intending to help the state's medically underserved remote rural communities restore and retain pharmacy services virtually. 
The very next year, the North Dakota State University (NDSU) College of Pharmacy, against a federal grant, implemented a statewide telepharmacy program and tested for the new telepharmacy pilot rules. These successful pilot rules induced the state's board of pharmacy to set up permanent rules so that telepharmacy could be practiced on a larger scale.
In 2008, a study conducted by NDSU reported telepharmacy as a safe, secure, and most effective way to deliver pharmacy services in areas without full-time pharmacists. This prompted other states to change and revise their lawsuits to permit telepharmacy. However, the use of telepharmacy was not embraced by all states then. If the figures are concerned, 16 states, or can say one out of three, didn't permit the use the telepharmacy or the pursuit of telepharmacy alternatives.
However, after a long wait of 11 years, a substantial change was witnessed in the figures of states that approved the use of telepharmacy. In early 2019, Drug Topics reported that 45 states allowed telepharmacy with different rules and regulations for its use on a large scale. 
Since then, telepharmacy has kept growing in its usage with the onset of COVID-19 in 2020. As the federal government quickly promoted telepharmacy as a way for pharmacists and patients alike to mitigate their chances of exposure to the novel coronavirus. Also, the U.S. Department of Health and Human Services developed several initiatives to promote telepharmacy and telehealth services among people and healthcare service providers. 
What is Telepharmacy?
Telepharmacy in healthcare can be understood as delivering pharmaceutical products and care to patients in distant places through telecommunications and information technologies. Here are some of the services patients can avail of with telepharmacy. 
Patient counseling
Drug therapy monitoring
Refill authorization for prescribed drugs.
Monitoring and formulary compliance through videoconferencing
Prior authorization of prescribed drugs & more.
For a much better understanding, telepharmacy is an offsite pharmacy team that connects and consults with another pharmacy team, patients, or doctors at a central state through audio and video technology. It supports sharing patient records electronically, and staff works with the connected pharmacy information systems to help provide services remotely. 
Other than this, telepharmacy in medical care provides services like training, education, and management services to pharmacists through videoconferencing in the pharmacy world. 
Why is Considering Telepharmacy Good for Pharmacists and Pharmacy Technicians?
Here are six significant reasons that advocate why pharmacists and pharmacy technicians should strongly consider telepharmacy or becoming telepharmacists.
Massive Growth in Telepharmacy
As of now, telepharmacy-specific data is unavailable. Though, going through the vast telehealth data, we can analyze a tremendous growth in telepharmacy. As per the Fair Health report, telehealth claim lines observed an increase of nearly 3,600% nationally from August 2019 to August 2020. Rising from 0.2% of medical claim lines in August 2019 to 6.1% in August 2020. At the same time, the McKinsey report reveals an increased use of telehealth services among U.S. consumers from 11% in 2019 to 46% in August 2020. These records clearly showcase a potential growth for pharmacists and pharmacy technicians in telepharmacy if they pursue work as telepharmacist. Telepharmacy, no doubt, has a bright future with great potential. 
Highly Supportive to Patients
Telepharmacy in medical care is a highly efficient and effective way to help patients. With telepharmacy software, pharmacy professionals can easily make a difference in patients' lives. They can support patients with reduced access to care (e.g., rural communities) and vulnerable populations. For vulnerable populations, telepharmacists can deliver services without letting them leave their homes. Other than this, they can also provide them with comprehensive medication management. 
Convenience
While some telepharmacy specialist organizations lay out an area for their telepharmacists to work out of, others grant their telepharmacists to work from a distance for certain provisos. The telepharmacists should have the option to offer types of assistance and solidly catch patient information. The American Pharmacists Association expresses, "similar HIPAA prerequisites exist for medical services suppliers, whether they manage patient consideration face to face or by best telehealth platforms.
Electronic documents should be put away safely, and additional insurance should be taken to guarantee that the two sides of the telehealth conference (i.e., both the drug specialist's and the patient's surroundings) are private." Assuming drug specialists can meet these prerequisites in any place they expect to give telepharmacy administrations, then filling the job of a telepharmacist ought to be basic and helpful.
Flexibility
Although telepharmacy specialist co-ops might anticipate that their telepharmacists should meet a few legally binding necessities concerning administration conveyance (e.g., number of hours or patients upheld in seven days/month), telepharmacists frequently have adaptability concerning their plan for getting work done. This adaptability likewise implies drug specialists and drug store specialists might have the option to "try out" the experience of filling in as a telepharmacist for restricted hours and afterward investigating the valuable chance to extend their job or potentially obligations in the event that they find the experience fulfilling and beneficial.
Supplemental Income
Because drug store experts with full-time positions might have the option to require hours before or after their movements and on days off, telepharmacy in medical care can be an extraordinary way for drug specialists and drug store specialists to procure supplemental pay. Telepharmacy specialist co-ops might be searching for drug store experts able to work short — or at times lengthy — shifts constantly and on the entire days of the week.
Looking for Best Telehealth Platforms for Telepharmacy Integration?
Consider VCDoctor| Truly Customizable, HIPAA-compliant, Telehealth Software
Request a Demo
Foster New Skills and Strengthen Existing Skills
While numerous telepharmacy administrations are additionally given face-to-face, drug store experts might be presented to new administrations through their telepharmacy work. For instance, measurements show that most 50-60% of patients get post-release prescription compromise (MRP) regardless of its demonstrated advantages of reducing preventable readmissions. Drug and drug store specialists that become telepharmacists might perform MRP interestingly or substantially more regularly.
There's always one question remains in consideration that how to convey virtual consideration encounters successfully, so telepharmacists figure out how to become better communicators. Video connections have their elements. Telepharmacists figure out how to successfully tune in and investigate the camera while talking with a patient or guardian. With additional administrations going virtual, creating or improving these abilities will demonstrate the importance in the short and long haul.
Benefits & Advantages of Telepharmacy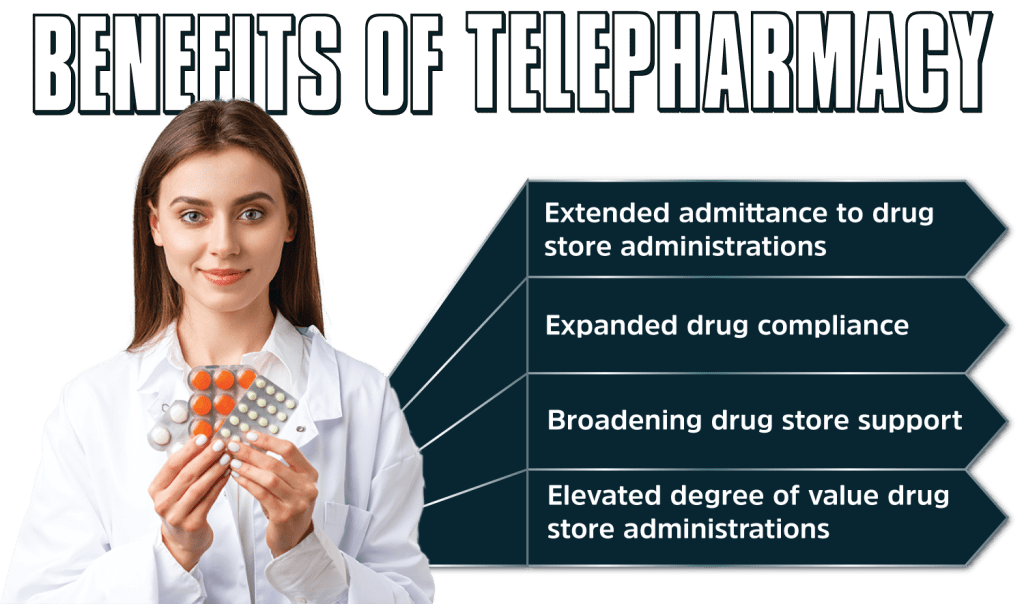 You can enjoy the following telepharmacy benefits if incorporates telepharmacy software into your healthcare business.
1. Extended admittance to drug store administrations
Telepharmacy traces all the way back to the mid-2000s when the North Dakota State Board of Pharmacy saw that the state's rustic networks had lost multiple dozen of their local area drug stores and more networks were in danger of losing their drug stores. The board laid out pilot rules for telepharmacy, which prompted a fruitful experimental run program and, afterward, long-lasting guidelines allowing the use of telepharmacy to be polished on a more extensive scale.
Understanding the foundations of telepharmacy assists you with valuing one of the main advantages of the discipline: growing admittance to the fundamental drug store administrations recorded above and others for regions and individuals lacking access. While this frequently applies to country and far-off areas, it can likewise apply to people who are truly unfit or shouldn't venture out to a drug store or meet face to face with a drug specialist. The last option is especially suitable. Individuals with specific basic ailments that place them at expanded risk for serious sickness from COVID-19 are encouraged to restrict collaborations with others as much as expected.
2. Expanded drug compliance
The Agency for Healthcare Research and Quality, circulated a graph distinguishing normal hindrances to medication adherence. The methodology is to make sense of what patients might say as reasons they battle with drug adherence and afterward share ideas to address these reasons. While some solid guidance is given in the outline, it neglects to specify telepharmacy despite the fact that it can actually assist patients with conquering a significant number of the recorded boundaries. For "My medication causes me to feel wiped out," patients who realize they can get help through telepharmacy instead of expecting to make an excursion to a drug store might be more spurred to look for help quicker.
That equivalent rationale can be applied to three statements:
1) "I can't manage the cost of my medication. I just take a portion of a pill daily to set aside cash;"
2) "I can't figure out these guidelines;" and
3) "There are such countless pills. I can't keep them straight! It's excessively confounded.
" Knowing that assistance, possibly as drug specialist directing (which is featured in the outline), is only a call or video gathering ceaselessly (as opposed to a vehicle ride or excursion on mass travel) might be the distinction between a patient's routine going through changes that assist with further developing adherence as opposed to keeping a routine that is not helpful for adherence.
We've proactively made sense of how telepharmacy assists patients with "I can't get to the drug store": Telepharmacy kills the requirement for an in-person conversation about a patient's routine. What's more, taking into account, most drug stores currently convey meds. Patients are not required to go to the drug store to get their remedies, which further addresses that test.
Two advantages related to telepharmacy can likewise assist with further developing adherence: expanded patient fulfillment and cost investment funds. When patients can get to and get positive help and ideal data from drug specialists, which can be conveyed by telepharmacy, adherence is probably going to move along. As a concentrate on drug specialist observing on understanding fulfillment with and adherence to upper medicine treatment distributed in Journal of the American Pharmacists Association notes, "Drug specialists can assume a basic part in checking prescription worries toward the start of purpose, considering critical thinking, support, and more noteworthy patient fulfillment with and adherence to prescription treatment."
With cost considered one of the main drivers of prescription non-adherence, the investment funds accomplished by diminishing or disposing of movement to a drug store can assist patients with better covering costs, incorporating those related to their meds.
3. Broadening drug store support
While many of telepharmacy's advantages apply to patients, medical care suppliers benefit too. One way is through the capacity of associations to induce the use of telepharmacy to broaden drug store inclusion and backing.
For instance, a few clinics don't offer 24-hour drug store administrations. A 2012 public review of clinics directed by the National Association of Boards of Pharmacy found that around 33% of emergency clinic drug stores need such inclusion. As an Integrated Pharmacy Research and Practice article notes, "Telepharmacy goes about as a likely option in contrast to nonstop on location drug specialist medicine survey for distant clinics. The arising electronic wellbeing data frameworks and related innovations, like fax and electronic wellbeing records, make data all the more promptly accessible to drug specialists for the survey before a portion is accessible for an organization to a patient. These advancements propel telepharmacy benefits and empower drug specialists to contribute productively in further developing medicine use."
However, emergency clinics furnish 24-hour inclusion with decreased staffing during more slow hours (e.g., short-term). Then, at that point, there are those medical clinics that keep up with reliable 24-hour inclusion however do such with a lean staff. Telepharmacy in medical care can give off-hours backing to clinics that adopt the previous strategy and give flood backing or fill in while short staffing happens for clinics that adopt the last strategy. if going by the notes of the American Society of Health-System Pharmacists, "Telepharmacy likewise answers request survey and check in tertiary clinical focuses while staffing, especially in specialty regions like oncology and pediatrics, is restricted (e.g., because of wearing down or staff turnover), making a component for wellbeing frameworks to give undertaking level drug store administrations all through the framework in any event, when not all drug stores work 24 hours out of every day."
4. Elevated degree of value drug store administrations
For our last advantage, we'll contend against what we view as a fantasy about telepharmacy: a decrease in quality and security contrasted with customary local area drug stores. Besides the fact that telepharmacy gives the advantages portrayed above and numerous others, however, a long-term investigation discovered that at drug stores depending on telepharmacy administrations, drug specialists were bound to find prescription apportioning mistakes during the last medicine check than at standard local area drug stores.
This study was played out various years back. From that point forward, innovation has significantly gotten to the next level. This incorporates innovation to assist drug specialists with recognizing blunders and better help patients (e.g., medicine advising, adherence to the board, prescription compromise, drug treatment checking) as well as innovation used to speak with patients. Telepharmacists can use many sound and video answers to cooperate with patients and clinicians, many of which don't need extraordinary gear or huge speculation.
Subsequently, there is motivation to accept that the nature of telepharmacy administrations has improved and will go on down this way as telehealth services turn out to be significantly more typical. We trust most would agree that the degree of value administrations conveyed by means of telepharmacy by and large analyzes well or, if nothing else, similarly to in-person benefits.
Want to Launch Telepharmacy Services for Your Healthcare Business?
Consult VCDoctor| World's Best Telehealth Solutions Provider
Contact us Now
Conclusion:
So this is all about the benefits of telepharmacy in medical care. If you want to implement telepharmacy software in your healthcare facility. You can consult with the world's best telehealth platform provider-VCDoctor. With years of experience, the company is providing telehealth software for needy ones. Even you can ask for customization as per your healthcare business needs.