The VCDoctor app has caused a buzz and now has many registered users. The VCDoctor app has become so successful that many hospitals and private companies are now considering designing similar applications for them. Here we are discussing the VCDoctor HIPAA Compliant Telemedicine Platform and How much does it cost to develop a telemedicine application like this.
What is VCDoctor?
VCDoctor is a HIPAA Compliant Telemedicine Application and Solution that can put together patients and clinicians who will conduct business transactions for treatment and provide patients with improved and immediate treatment. Telemedicine Software has an important role in the medical sector when it comes to technology.
VCDoctor's goal is to expand through our creative innovations in the evolving world of technology and the healthcare industry, ensuring that the needs of our consumers are met to the best of their business needs and aspirations. As a service provider and consultant, we offer end-to-end technology solutions and also work rigorously to integrate diverse areas of the extremely dynamic and vital healthcare sector.
Why are Telemedicine Applications So Popular?
Services for the production of telemedicine technologies were a priority even before the COVID-19 outbreak. Not only do telehealth applications make it easy for patients to be served over the gap, but they are also critical in reducing health care costs. Replacing videoconferencing and texting for hospital/patient appointments further fastens the delivery of healthcare.
The partnership between doctor and patient is evolving, and telehealth technologies are enabling a new way of communicating that both sides profit from. The partnership between doctor and patient is evolving, and telehealth technologies are enabling a new way of communicating that both sides profit from. Patients can conserve time, avoid travel, and seek faster care by virtually communicating with their physicians. Virtual contact will drive extra revenue for the provider, improve efficiency, and encourage more flexible working arrangements. While not an exhaustive list, here's a deeper glance at these advantages.
HIPAA Compliance Telehealth Solution
VCDoctor Next-level telehealth solution that requires no setup.
Request a Quote
Benefits of Telemedicine Application for Doctors:-
1. Additional Revenue:
Getting access to high-quality healthcare and making a preference over it is something that many U.S. people take for granted, but there is no such privilege for many Americans. There are a variety of reasons that can make getting to healthcare difficult for individuals, such as needing to travel to the closest hospital for hours or not being able to drive at all.
2. Increased Productivity
The fact that doctors are strapped for time is no mystery. Mobile telehealth can aid in a variety of different ways to reduce idle time and maximize efficiency. For example, since simulated appointments are easier for the patient to attend, there is a substantial decrease in the likelihood of appointments being skipped due to travel difficulties or cancelled due to last-minute obligations.
Read More: Using A Telemedicine App On Android And Apple
3. Flexibility:
Handheld telehealth systems disconnect physicians from their workplaces. Because mobile video appointments can be made with a safe network link from almost anywhere, doctors have greater flexibility of their working hours at any moment, on any day, and are able to respond to emergencies in less time and with greater effectiveness.
4. More Patients and More Revenue:
VCDoctor, the Best Telemedicine Platform for Physicians assists them to get more patients with more revenue. Less paperwork means more patients. And more patients means more revenue.
Telemedicine App Benefits for Patients:-
1. Convenience:
Making appointments in advance, driving to a clinic, and waiting in a long line isn't the most convenient way to get a doctor's assistance. 74 per cent of patients prefer easy access to healthcare services over in-person interactions with providers. This number is higher in rural and remote areas. In the US, for every 100,000 rural patients, there are only 43 specialists available.
2. Telemedicine Application Save time and get results faster:
Patients not only save time on consultations but also can start treatment straight away, right after the video call ends. This reduces treatment time and provides faster results.
Read More: Top 10 Best Telemedicine App Development Companies In The USA
3. Medical record mobility:
Even in the modern world, it's still difficult to get access to your own electronic medical records, not to mention someone else's data. A telemedicine application allows patients to view their medical records and send them to family members and doctors.
VCDoctor Telemedicine App Features:-
You need a list of important features if you want to start developing a Telemedicine application. The VCDoctor application has various interfaces and distinct feature sets for doctors and patients.
Telemedicine App Features for Patients:-
1. Profiles:
In order to start the treatment process to create a profile, a patient enters their name, address, sex, age, medical history, and other essential details required.
2. Book an appointment:
A user will see a directory of physicians, display their profiles, and make an appointment with their favorite doctor. This role is one of the most critical since it gives information about a doctor's availability to patients and lets them book a time that is convenient for them.
3. Telemedicine Application Video conferencing:
When they need a doctor to assess them, patients use this function. Via video calls, doctors perform initial observations, which is why video quality is so important. Proper diagnosis and clinical precision depend on a strong correlation and a clear picture.
Read More: Pros And Cons Of Telemedicine App Development
4. Built-in chat:
A patient may use a safe built-in chat to call a specialist about any urgent appointment, to have a second prescription, or whether they have any concerns about prescription drugs.
5. Payment gateway:
A patient pays the doctor for the care rendered after the appointment. You need to implement the payment gateway through the API to do this. All major credit cards are accepted: Visa, MasterCard, American Express, and Discover. Using HSA or FSA debit cards, patients can also pay as long as they have a Visa or MasterCard logo.
6. Push notifications:
Your main means of connecting with your customers is to push notifications. Alert consumers about upcoming appointments or events, alert and advertise your services for efficient purchases and incoming messages.
7. Insurance Plan:
Add the ability to add an insurance cover to the profile of a user and hold it in one place, automatically sends bills to the insurance company.
Read More: Telemedicine App Development – How To Develop It?
8. Ratings and Reviews:
A patient may assess the doctor and leave a review until the patient has undergone medical attention from a doctor. This feature helps to make informed choices for potential patients when seeking doctors.
Telemedicine Application Features for Physicians:-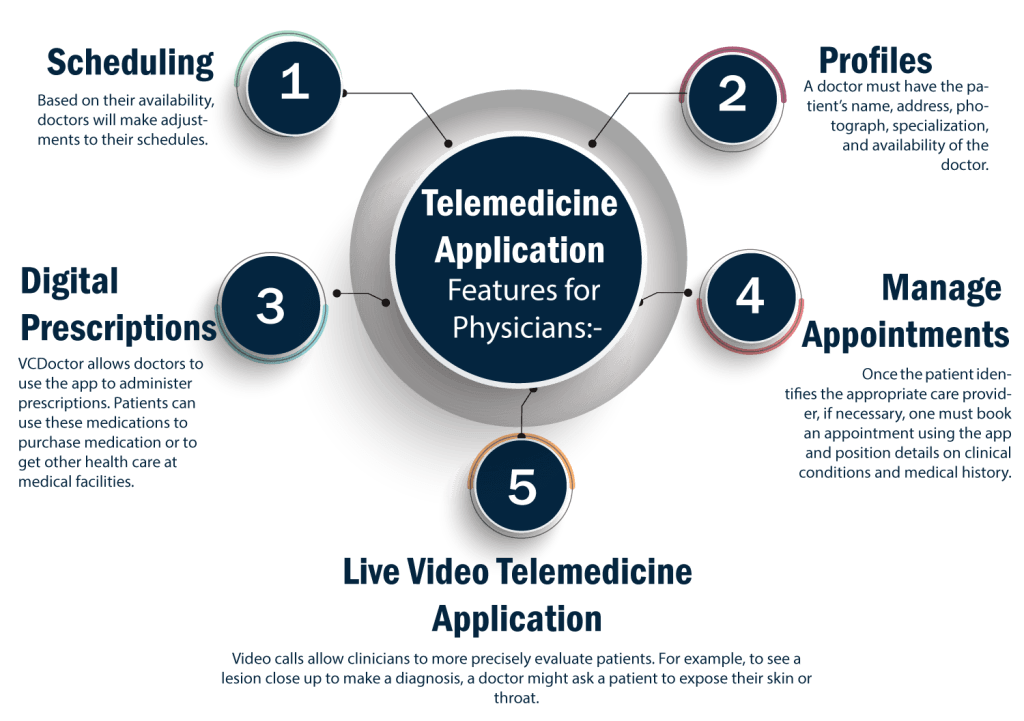 1. Profiles:
A doctor must have the patient's name, address, photograph, specialization, and availability of the doctor. They can also provide knowledge about their background and schooling,
2. Scheduling:
Based on their availability, doctors will make adjustments to their schedules.
3. Manage Appointments:
Once the patient identifies the appropriate care provider, if necessary, one must book an appointment using the app and position details on clinical conditions and medical history. The software can automatically manage time slots and indicate whether one expert or another is open.
4. Live Video Calls using Telemedicine Application:
Video calls allow clinicians to more precisely evaluate patients. For example, to see a lesion close up to make a diagnosis, a doctor might ask a patient to expose their skin or throat.
Doctors can also communicate with patients using voice-only calls and built-in chat options.
5. Digital Prescriptions:
VCDoctor allows doctors to use the app to administer prescriptions. Patients can use these medications to purchase medication or to get other health care at medical facilities.
Cost to Develop a Telemedicine Application Like VCDoctor?
The development costs walk parallel to the features you asked to involve. Seeking professional help for the construction of a telehealth app always drives some extra bucks. Rest depends upon the functionality, growth perspective, and other measurements of the apps.
There are two sides of the app-building i.e. patient side and the physician side. Anybody who is executing the development will first consider these two aspects. So the pricing for building such an app cost nearly:
Patient Side: $54,000 to $60,000
Physician Side: $19,000 to $30,000
It totally depends upon the functionality you need for your telemedicine healthcare suit. The more you add features and work on it, the more you need to spend.
Have an Idea about Telemedicine App?
HIPAA completely telemedicine app that makes virtual visits simple and hassle-free.
Know more
Conclusion:
So this was the overall detail on the Cost of Building A Telemedicine App Like VCDoctor. This is an acclaimed platform for telehealth, mHealth services. One can rely on this suit for operating their healthcare business online. Round-the-clock technical support, patient's health, precise data, PHI security, and HIPAA Compliance makes this platform a must-have one.
You might be asking if telemedicine is worth it if you haven't used it in your practice yet. The answer is an emphatic "yes" If you're still not convinced, then we are more than happy to answer all your queries. Feel free to reach out to us for more details.