The global spread of COVID-19 has surged the need for Remote Patient Monitoring services (RPM). Stepping in the clinics or hospitals seems so uncomfortable at this point. Hence, a tool or mechanism that can serve a secure health environment and better treatment is what everybody needs. Remote Patient Monitoring has been called the future of the healthcare industry. A recent study shows around 88% of healthcare providers are already enjoying the Remote Patient Monitoring Trends.
Just like remaining in touch with the family gives satisfaction, in the same way, physicians and doctors have adopted this RPM tool to give 100% authentic but remote treatments to their patients. However, there are a few scenarios where there comes a need to seek the doctor in person. But above all, RPM has been a boon to many healthcare experts in assessing medical conditions more effectively.
What is Remote Monitoring in Healthcare?
In scientific terms, RPM (remote patient monitoring) is a process of providing healthcare that utilizes the latest advent in information technology to collect patient data above the traditional healthcare settings.
RPM enables patients as well as doctors to communicate properly. A patient can describe acute or chronic Disease health disorders. Simultaneously, the doctors can give their enough time in understanding the medical positions of the patient.
Remote monitoring of patients also gives access to the people living in far-flung areas. It is a savior for the population with fewer resources or money. Consultation fee, travelling from remote to urban areas, etc. gets exempted on availing RPM Services.
Have an Idea about Telemedicine?
We build plenty of Telemedicine apps! Get the FREE estimation of your product idea.
Request a Quote
What Are the Benefits of Remote Patient Monitoring?
To name a few benefits enjoyed by the physicians and doctors, quick access to patient's data, disposing high-quality diagnosis and care to the patients. These are the prominent features that physicians get with the RPM Mechanism.
But, what are the telemedicine solutions for patients? When they avail themselves of Remote Patient Monitoring (RPM). Well, they also enjoy some amazing attributes like:
Improved Healthcare Service
Better Version of Care
Mental satisfaction and Routine Assurance
High-Quality Assistance, Education & Feedback
1. Improved Healthcare Services
With the spiking strength of insurance holders and other health benefits, it has become a tough task to get advanced healthcare services. Remote health monitoring gives equal opportunity to the physicians as well as to the patients in gaining equal access to healthcare services.
2. Better Version of Care
Not only has the quantity of serving the patients has affected by RPM, but, the quality of medical care has also been improved. RPM contains a direct approach with patients and their clinical data, providing efficiency to the daily routine and eases the possibility of burnout.
Some of the physicians claimed to have improved behavioral activities like more engagement, adherence to medicines, being more proactive towards health, etc. Hence Remote Patient Monitoring is the ultimate tool for accessing great healthcare services, being at home.
3. Mental Satisfaction and Routine Assurance
After providing comfort and engagement with both, the benefits are not close yet. RPM offers an invaluable thought that someone is behind their medical well-being on a routine basis. It's more like an assurance that a healthcare provider is with them all-time through Remote Patient Monitoring.
4. High-Quality Assistance, Education & Feedback
The credit goes to this continuous, instant connection between the patient and doctor, provided by the RPM Mechanism. The tool deals in the extended level of healthcare education, 24*&7 support, and submission of feedback.
Remote monitoring allows any patient to gain an overtime knowledge of their medical background. This helps them in learning more about their medical state and what necessary steps they should follow.
These were the few benefits of getting the Remote Monitoring tool in my hands. Now we will be discussing the future scope of the mechanism. Let's get started.
What is the Future of Remote Patient Monitoring (RPM)?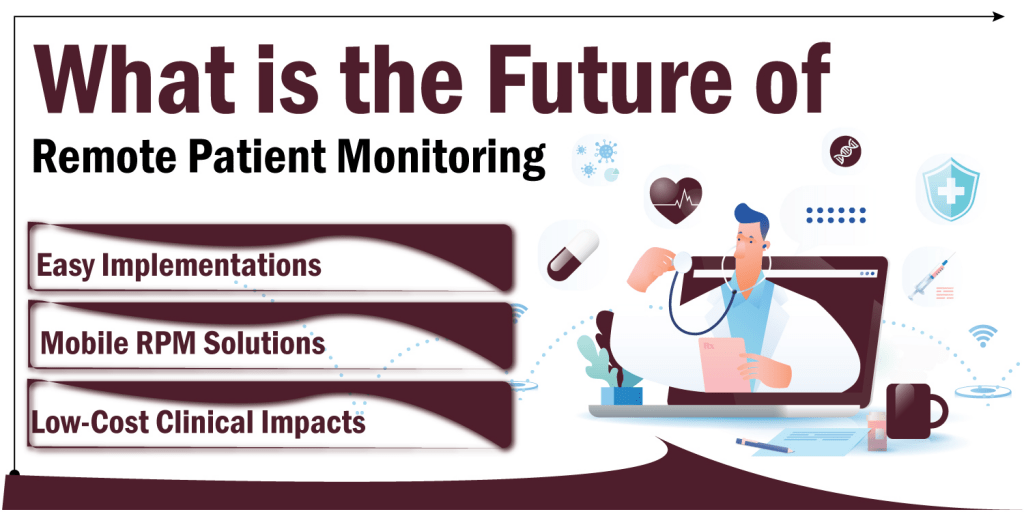 According to the American Heart Association (AHA), Remote Patient Monitoring (RPM) is a unit of Telehealth tool that accommodates patient health and respective data to the healthcare team. This data is again then shared with the patient promptly.
In comparison to other telehealth tools, RPM does not operate on interacting with Video Communication, neither it is restricted to a particular boundary. All kinds of RPM Solutions need a technique that centralized and interprets physiological patient data. There are a few pointers that better described the future of RPM Solutions.:
Easy Implementations
Low-Cost Clinical Impacts
Mobile RPM Solutions
1. Easy Implementations
People residing in far-flung areas are much aware of the Bluetooth connections, setting up wifi, or other activities. RPM solutions are built in a way that does not need much connection or set-ups and is successfully implemented in any corner of the world.
2. Low-Cost Clinical Impacts
In the light of COVID-19, healthcare centers are working with less individual support. The margins are tight and thus delivers high-cost and less engaging telehealth software for clinics. But the experts believe that the remote patient monitoring future will be as bright as the sun and people tend to more engagement and facilities will be available at lower-cost plans.
3. Mobile RPM Solutions
An increasing number of doctors are facilitating mobile-based RPM solutions known as mRPM. It is expected to grow in the coming years too. mRPM technology request patients to enter the significant details and deliver them fascinating services. The futuristic remote monitoring solutions will drive large populations and businesses to the healthcare centers.
Is Remote Patient Monitoring Considered Telehealth?
No, we cannot treat both of the terms as a whole. Remote Patient Monitoring (RPM) is a subset of Telehealth. RPM is a narrow term that deals in interaction with the patient of the doctor remotely. 
Telehealth is a broader term on its own. It accompanies the entire healthcare industry, technology, and matrix to deliver remote healthcare services. Telehealth facilities may carry the telephonic conversations, video-conferencing aspects, IVR facilities for patients, etc.
Conclusion:
Remote Patient Monitoring (RPM) is a sub-branch of Telehealth but not exactly telehealth. RPM has a bright future as it coming with cell phone access termed as MRPM solutions. Thus, we can see some great aspect and improved healthcare services which is much needed in this pandemic time.
The benefits of telemedicine are constantly growing, and people are looking for healthcare providers who offer the convenience and cost-effectiveness of remote consultation. Telemedicine promises to have a significant positive impact on the whole healthcare system and is ready to make the lives of patients and healthcare professionals a little easier.
The features and benefits mentioned above showcase that VCDoctor is the best telemedicine software for patients. To leverage the benefits of VCDoctor, get in touch with our experts and book a free demo today.