Telemedicine marked the beginning of a new era in medicine, a concept that has risen since its introduction. Telemedicine is the use of ICT to provide healthcare at a distance. Before we go deeper into what telemedicine and Telemedicine EMR integration is, it is important to understand what remote health is. Telemedicine is a broader concept, covering health education, analysis, management, and other health-related terms.
Telemedicine can be said to be a subset of distance health that focuses more on patient consultation and monitoring. This can be a simple procedure where the doctor or specialist discusses the case in two means of communication, such as the telephone, or it can even be a complex procedure where we use real-time video conferencing and medical equipment to conduct a real-time consultation between the doctor and the patient.
The use of telemedicine has increased in the 1990s with the development of technology. Part of the widespread use of this concept during this period was the availability of low-cost computers, high-speed internet, and the development of various efficient health services. California was one of the first places to use the well-thought-out architecture of telemedicine. They were considered to be pioneers of telemedicine in the 1990s. Its development over the years has shown promising signs and has become increasingly patient. Let's learn about the telemedicine emr integration in detail.
Read More: Difference Between EMR And EHR | EMR Vs EHR
Advantages of Telemedicine EMR Integration
Effective remote patient care
When a patient consults a patient during a telemedicine visit, they need access to the patient's health information in order to properly diagnose and assess the patient's symptoms and to facilitate treatment as effectively as a personal consultation. The introduction of telemedicine technology into the practice's EHR system gives providers easy access to patient health records, using the same system they are already familiar with.
Enhanced patient insurance information
As more and more insurance companies cover telemedicine, monitoring the spread of telemedicine can be a challenge if the provider does not have access to patient insurance information during the visit. However, in case the healthcare providers decide to integrate their remote health and EHR systems, they can easily check a patient's suitability before registering for a virtual consultation. This ensures that service providers are reimbursed for their time and services, reducing confusion and costly delays in the workplace.
Positive patient experience
Telehealth EHR integration platform enhances the patient experience. An all-in-one solution makes your patient more impressive, as he or she does not need to log in to separate platforms that are not related to your practice. This increases the confidence of your patients, as the use of the integrated platform is secure, improving the overall patient experience with easy access to the visit.
Automatic patient health information
The integration of EHR Telemedicine helps providers maintain patient information from both face-to-face and remote counseling. Following the patient's remote consultation, providers will summarize the patient's visit and update its EHR system. Once these systems are integrated, the PHI of the Telehealth Solution is automatically upgraded to the EHR, saving the service provider time and effort.
Advanced virtual maintenance experience
If a doctor consults a patient during a telemedicine visit, he or she will need access to the patient's medical records to properly treat and advise the patient on these symptoms. The Telemedicine integration and EHR system allows providers to easily access a patient's medical records using the same system they are already familiar with. Launching audio/video consultations directly from existing EHR systems creates simplified virtual maintenance workflows that are the same as face-to-face provider / patient communication.
Read More: Benefits And Challenges Of EHR
Things to Consider in Telemedicine EMR Integration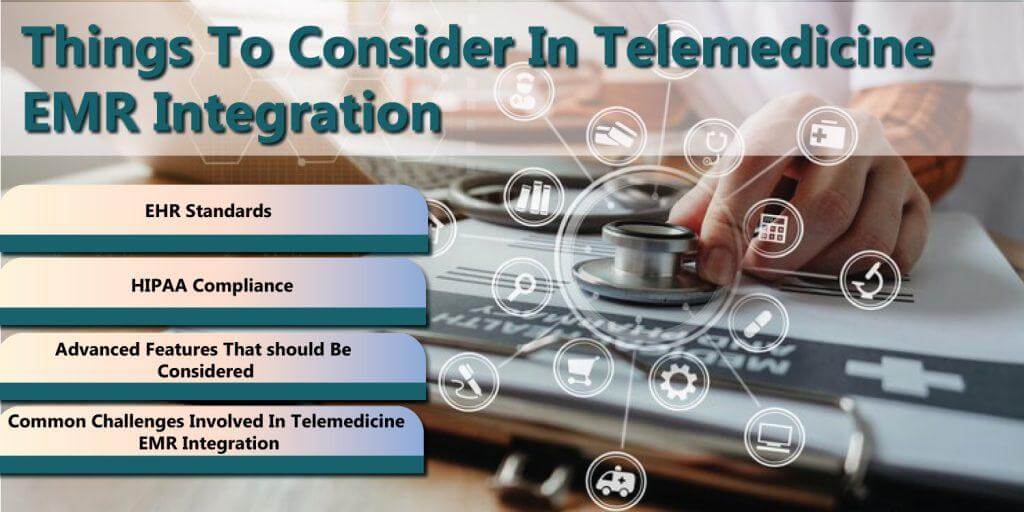 EHR Standards
Synchronizing the patient information collected during the consultation with the information in the EHR system can save physicians time. Telemedicine integration means data integration, which is not easy because most US hospitals use the outdated HL7 v2 standard. HL7 v2 is messaging-oriented, which means that it only controls the interoperable transmission of information between systems without specifying how data is stored (openEHR does). The same can be said for the relatively younger FHIR standard. However, a common standard does not guarantee easy operation. Even if the EHR system uses the HL7 v2 standard, you need to create intermediate integration layers to help the EHR exchange information with the TV health system.
HIPAA Compliance
Compliance with the Health Insurance Portability and Liability Act (HIPAA) is another important aspect you should consider. HIPAA sets standards for the protection of sensitive patient data in the United States. Adherence to these standards is crucial for healthcare providers dealing with private health information (PHI) that has moved to automated procedures.
Advanced features that should be considered
Integrate some state-of-the-art features into your EHR integration to get the most out of it and deliver a seamless experience. Here are some of the top features you should consider:
Video conferencing
One-on-one messaging
Meeting schedule and reminders
E-prescription
Common Challenges Involved in Telemedicine EMR Integration
Telemedicine EMR integration comes with a long list of challenges that can be easily solved. Among the list of challenges is facing the healthcare providers and getting them the hang of the software to deliver the right treatment. This is because they are reluctant to use their offline platforms and have difficulty in adapting the customized unified platform, which is an extension of their internal processes. Custom Telemedicine EMR integration in platforms permits them to gather data and generate practical knowledge for patient involvement.
Although there are many ready-made EHR solutions, the customized EHR platform has its advantages. A customized telemedicine integration solution with EHR can have a number of modules; it all depends on the healthcare provider and the kinds of services they deliver. At the same time, the EHR may have key modules such as appointment scheduling, OPD queue management, patient exam history, financial management, task management, and more.
Telemedicine EMR Integration Process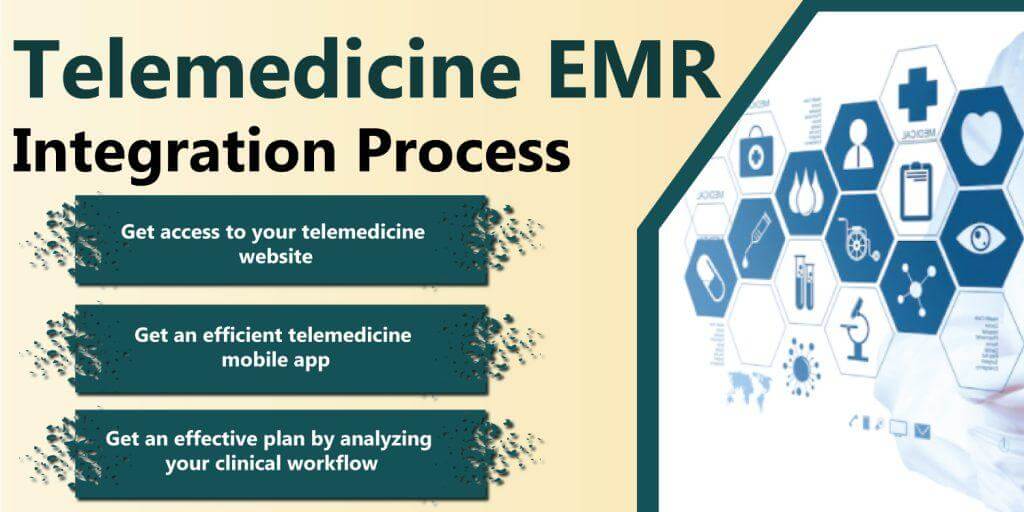 Get an effective plan by analyzing your clinical workflow
A telemedicine appointment includes a lot of processes that happen backstage. It includes making an appointment, patient registration, and more. You need to analyze every process and the time duration to make sure they all fit like a perfect puzzle in her integration.
Get an efficient telemedicine mobile app
The world is ordering everything on a mobile phone, whether iOS or Android; you have to develop a sophisticated mobile app for your telemedicine EMR integration. You can ask a telemedicine software provider to develop one for you as per your business needs. It can definitely help you in extending your reach and getting the data of the patients efficiently over the cloud. You can also send various documents over the app to the patients with extreme flexibility. It also allows you to receive payments seamlessly.
Get access to your telemedicine website
The telemedicine EMR integration website of your practice should have all the same features and functionality as you are providing on the app. Integrated telemedicine services on your software should avail feasibility to patients that are not comfortable in using any kind of mobile device. You can easily allow them to make an appointment, get their prescriptions, and more.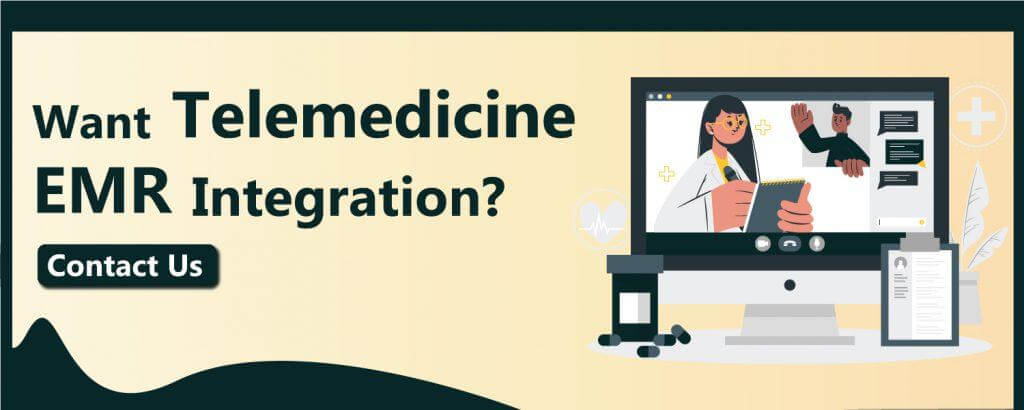 Wrapping Up
Telemedicine EMR integration is full of opportunities for healthcare providers; it presents them with millions of new patients and new ways to treat them efficiently. If you are a healthcare service provider and want telemedicine EMR integration, VCDoctor has a list of perfect solutions for you. We help healthcare providers in unleashing their full capacity to treat patients through telemedicine by delivering them sophisticated telemedicine solutions. Feel free to get in touch with our experts to know more.