The ability of healthcare providers to meet with patients remotely via video or phone is known as telemedicine benefits for patients and providers. This practice has been around almost as long as telephones, but since the COVID-19 pandemic, it has become more common and valuable.
Telemedicine service acceptance has grown as a result of advancements in technology and changes to insurance reimbursement rules. Especially during the pandemic, it would make it harder for doctors and therapists to connect with patients.
As telemedicine has spread, professionals and patients alike have become more comfortable communicating virtually. Telemedicine benefits for patients and providers are not intended to replace in-person visits. The benefits are undeniable, even though it does have some drawbacks, which we will discuss further.
Table of Contents
Telemedicine Benefits for Patients and Providers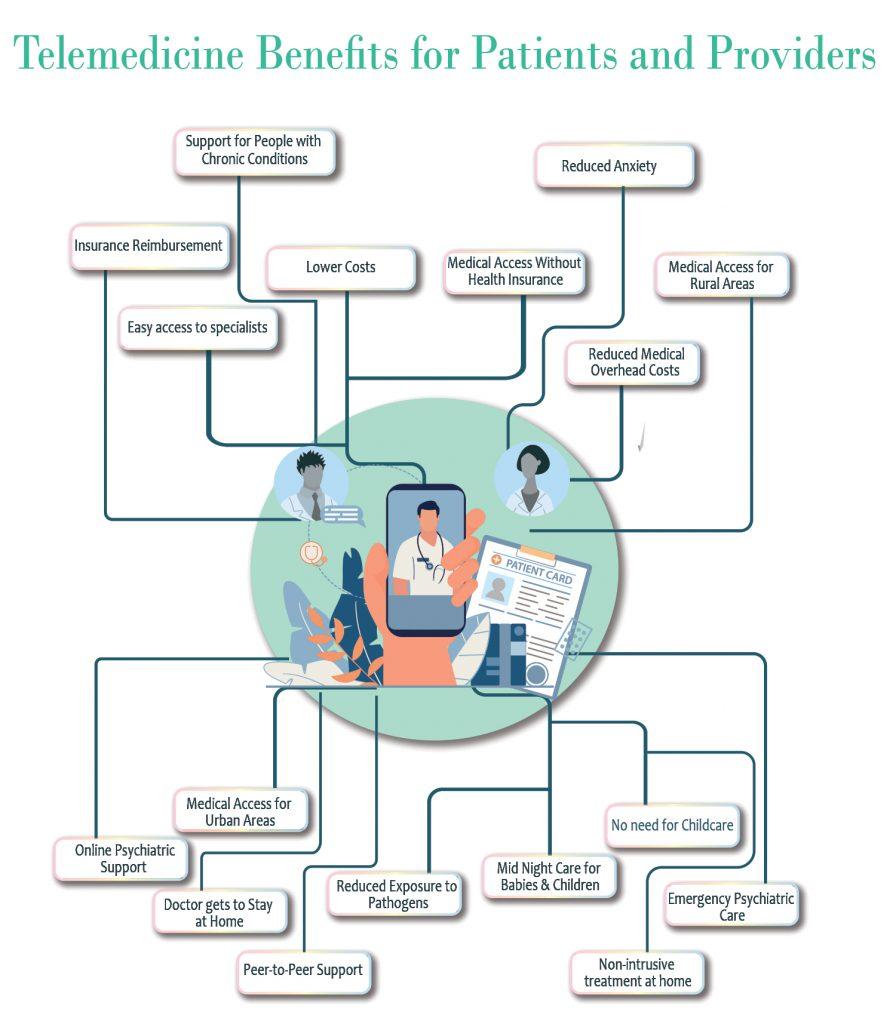 1. Easy access to specialists
Not all patients have a regular relationship with a doctor. They can call whenever they need one. Access to a wide range of specialists is available round-the-clock, without needing an appointment, through several online medical networks, day or night.
2. Lower Costs
Even for people who have good health insurance, it can be expensive to see a low-cost doctor or therapist. Typically, telemedicine appointments are less expensive than in-person ones. This eliminates a barrier to care by lowering out-of-pocket costs.
3. Medical Access Without Health Insurance
Access to medical care for those without health insurance Seeing a doctor can be difficult if you need more coverage. Many online businesses offer cash-pay telemedicine app without needing referrals or health insurance.
4. Medical Access for Rural Areas
People who live in rural areas have easier access to medical care than those who live in more urban areas. Telemedicine makes it possible to quickly meet with a doctor for those who live far from a medical facility. People can avoid driving when driving conditions are less than ideal, such as during a hailstorm or snowstorm, and this saves time.
5. Medical Access for Urban Areas
Access to healthcare for underserved urban populations The trend of closing hospitals in inner-city neighborhoods has impacted thousands of Americans, particularly communities of color and those without health insurance.
By making it possible for people to see a doctor before they become extremely ill, telemedicine aids in breaking this cycle.
6. Reduced Exposure to Pathogens
Reduced exposure to pathogens Hours-long waits with other patients in doctor's waiting rooms can spread the flu, COVID-19, and other viruses. Telemedicine Benefits for Patients keep patients at home and safe from germs and viruses. Additionally, medical professionals are protected by this.
7. Mid Night Care for Babies & Children
Care during the middle of the night for infants and young children Infants have the propensity to develop fevers or illnesses in the middle of the night. As opposed to depending on a web search, guardians can utilize telehealth administrations to interface rapidly with specialists who can give answers, give a determination, and, surprisingly, a solution when required.
8. No need for Childcare
No need for childcare because parents get sick too, and it can be hard to bring kids to the doctor. This requirement is eliminated by telehealth, as is the additional childcare expense.
9. Doctor gets to Stay at Home
During the pandemic, many medical offices closed or reduced their hours. Doctors can stay home as well. Virtual private networks and other cybersecurity tools have allowed therapists and doctors to treat patients from their home offices safely. Patients and doctors can also connect through this access on weekends and after hours.
10. Reduced Medical Overhead Costs
Cost savings for medical overhead: Doctors can save money on office expenses like staffing the front desk with telemedicine.
11. Insurance Reimbursement
Doctors and therapists can now bill Medicare and many private health insurance companies for telehealth services, regardless of where the patient or provider is. However, before visiting a doctor remotely, check your policy's requirements and restrictions because state laws and insurance plans vary.
12. Support for People with Chronic Conditions
Support for people with chronic conditions Home monitoring tools that send readings to doctors can indicate new symptoms, health problems that are getting worse, and potential emergencies. People may be able to receive life-saving interventions more quickly thanks to this.
13. Online Psychiatric Support
Because of COVID-19's online psychiatric support, many people find it challenging to see therapists in person. People dealing with stress, anxiety, depression, and other mental health issues can begin or continue receiving therapeutic care thanks to telemedicine.
14. Emergency Psychiatric Care
A psychiatrist or therapist can quickly address mental health emergencies and those at risk for self-harm at any time of day or night through emergency mental health care.
15. Peer-to-Peer Support
Support from peers to peers Online therapy-led support groups have brought together people dealing with difficulties like infertility or losing a loved one.
16. Reduced Anxiety
Many individuals could do without going to a specialist. Phobias like agoraphobia may prevent some people from seeking treatment. With telehealth, you can get medical support and ask questions from the comfort of your home.
17. Non-intrusive treatment at home
For individuals going through non-intrusive treatment, telemedicine permits actual specialists to manage and see activities and treatments finished with upholds in the home. People may be able to recover more quickly from accidents and surgeries as a result of this.
Disadvantages of Telemedicine
Even though telemedicine isn't perfect, it still needs to eliminate the need for other kinds of healthcare, like emergency care, which requires a hospital or urgent care center.
Telehealth's drawbacks include the following:
Doctors cannot collect samples of blood or urine through telemedicine. This may make it more difficult to make necessary dosage adjustments for people who take medication for chronic conditions.
Additionally, it may delay obtaining a new diagnosis.
Doctors do not allow stethoscopes to listen to your heart or breathing, measure your blood pressure, or take other vital signs.
Additionally, doctors rely on visual assessments, which may be more challenging to execute virtually.
Mammograms, Pap smears, sonograms, and glaucoma eye pressure checks must all be performed in person.
Children receiving speech therapy may have difficulty concentrating or working remotely with their therapists.
State by state, insurance coverage or reimbursement is not guaranteed.
Conclusion
The pandemic has raised the need for telemedicine in every area. Every sector demands remote healthcare from rural to urban to protect their self-interests and get high-quality healthcare at home.