Telemedicine is powered by digital healthcare technology, which enables us to get physician's assistance virtually. It does not require travelling nor much money, but it utilizes your smartphone and video calling feature. The information on this page contributes to the benefits of telemedicine software to patients & doctors.
Yes, the software is equal for both patients & physicians. The idea of providing virtual healthcare assistance has been available for a long time. But its implementation has been increased in the previous few years. From primary to chronic health conditions, telemedicine has reached every doorstep.
The article dictates some of the essential benefits of telemedicine software, not only for healthcare providers but also for the average user (patients). So read out all the benefits of telemedicine software properly and implement it if you want in your healthcare system.
Benefits of Telemedicine Software For Patients & Physicians
Telemedicine software is a SaaS-based system and remains close, just like the cell phones in the pockets. Presently, telehealth services do not burn your pocket but are available in pocket-friendly subscription mode. So, here are the top 10 advantages of telehealth services meant for physicians as well as patients.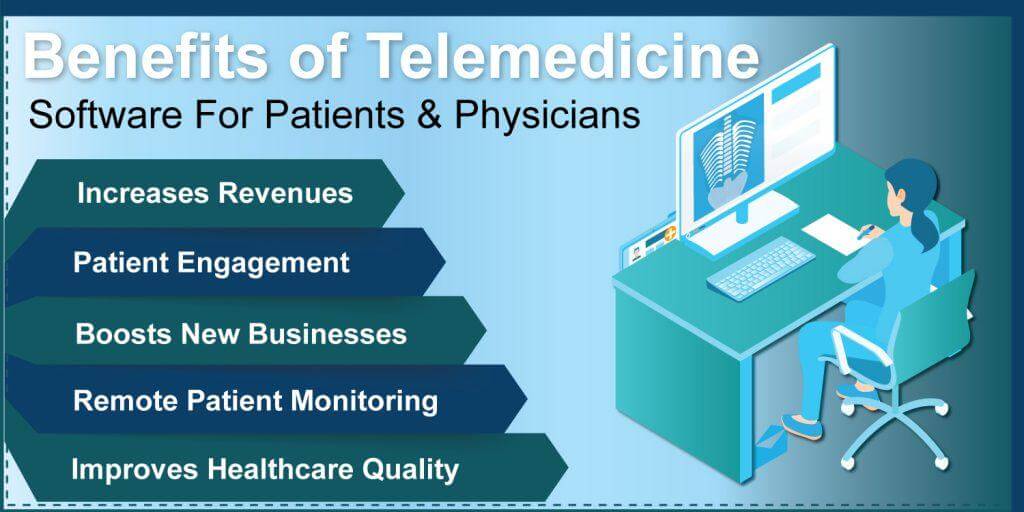 1. Boosts New Businesses:-
With the help of telemedicine, healthcare providers are expanding their customer-based care. Moreover, the specialists are supposed to build their telehealth software as per their business needs. It will make their business go online. Simultaneously, one can improve the patient base by boosting appointment booking, extending consultation hours, and many other ways.
2. Remote Patient Monitoring:-
Remote patient monitoring is a way of providing the best healthcare assistance to the patients. The significant benefit of this functionality is for patients in far-flung areas. They need not travel from one corner to another, no need to pay extra pennies but avail themselves of the best healthcare, only at home. It is done with the help of professional software or with the help of video consultation with the physician.
3. Patient Engagement:-
With the availability of healthcare at home, patients are participating more in taking advantage of telemedicine. Companies that have software or directly approach patients through video calls get a higher number of patients than in-person visits. Patients also believe that getting healthcare assistance with the help of apps or via electronic communication helps them a lot. All these circumstances increase the patient count on the software and reliability towards the healthcare business.
4. Increases Revenues:-
It reduces the overhead costs per visit and is simultaneously less time-consuming for both patients and physicians. Telemedicine benefits numerous ways to expand the treatment hours to bill more patients and uncompensated calls. It also increases efficiency.
5. Improves Healthcare Quality:-
Telehealth gives many benefits, among which finest healthcare is the core advantage. The utilization of telemedicine has improved healthcare quality, especially in far-flung rural areas. Telehealth is also utilized to avoid re-admission, ER visits, and many more complications.
6. Improvise Clinical Workflows:-
One of the widespread benefits of telemedicine software is to improve clinical workflows. It focuses on care delivery, triaging every case, and increasing the standards of communication. It improvises the above-said elements by capturing, storing, and utilizing patient data for better medical decisions.
7. Cut-Down On Patient Overheads:-
Hospital management systems generally come expensive and small units of healthcare may not afford such systems. But telehealth solutions are the system that operates at a meagre cost. Simultaneously, the cost incurred on a telehealth visit is comparatively low to an in-person emergency visit.
According to a study, an emergency visit costs around $1,734, and an on-site doctor visit cost is $146. Thus, the small to large healthcare unit prefers to operate on telemedicine Services these days rather than that of hospital systems.
8. Reduces Patient's Expense:-
Many patients spend a considerable amount & time seeking the best healthcare services. But with telemedicine, the physician will treat you over your smartphone, laptop, or another device. You get the best consultation without spending hours in the queue, losing money & time. Thus, telemedicine is the best tool for poor health conditions, workloads, distance issues, etc.
9. Increases Satisfaction:-
Patient satisfaction is the key to success for every healthcare provider. Telemedicine gives 100% client satisfaction. Telemedicine increases patient trust, reliability towards healthcare and boosts patient confidence.
These were all the benefits both patients and physicians can earn using telemedicine. Remote healthcare has effectively increased patient stability and increased patient flow to the physicians. Now, let's have a look over some of the prominent disadvantages of telemedicine.
Disadvantages of Telemedicine:-
Conclusion
So, these were the details about the benefits of telemedicine App for doctors and patients. Anybody, i.e., healthcare provider, practitioner, or patient utilizing telemedicine, may read the advantages along with fewer disadvantages.