The evolution of technology has made our lives easier in every single sector, especially in healthcare. The field of telemedicine has seen tremendous growth in the last few years. Medicare and telemedicine can be described as the form of treatment performed by the online medium and can treat a remote patient with ease.
Telemedicine software has simplified the treatment process for the people that reside in remote areas with minimum amenities. They can get access to certified doctors through the internet and a healthcare app. Remote areas present a list of challenges when it comes to performing the daily tasks; these challenges include no roads to get anywhere on time, especially in case of a medical emergency and more. Telemedicine has become a boom for these areas.
If you are wondering if telemedicine is a new term then the answer is no. It has been developed and was in practice since the 1950s, but it only covered consultations for minor diseases. Now, it covers almost every aspect of common diseases with AI-powered devices. Let's understand what's in it for you.
Does Medicare Cover Telemedicine?
Talking about telemedicine, a question may arise, does Medicare cover telemedicine? The answer is yes, medicare does cover telemedicine. However, there are certain criteria that should be met before applying for reimbursement. Here are some of the stats and what is in telemedicine by medicare.
Nearly two-thirds almost 64 percent of most Medicare beneficiaries with a regular source of treatment, such as a doctor or other healthcare professional or clinic, say that their provider currently offers remote healthcare. 18% said their provider provided TV health before the pandemic.
More than a quarter of Medicare beneficiaries, almost 23 percent of the population, believe they do not know if their service provider offers telemedicine appointments, and this percentage is higher among rural beneficiaries that comprise more than 30 percent of the participants.
Just over 1 in four, which means only 27 percent of all beneficiaries living in the community in both traditional Medicare and Medicare Advantage use TV health during this period.
Reported use of telemedicine among beneficiaries who claimed that their provider provided telemedicine was higher among Medicare beneficiaries under the age of 65 who qualify for a long-term disability that counts to 53 percent, among the beneficiaries that are registered with both Medicare and Medicaid which are 55 percent, black which makes 52 percent and Hispanic who make 52 percent of the beneficiaries, and the people that have six or more chronic diseases that is 56 percent.
The proportion of Medicare recipients who visited TV health only by telephone was higher among those aged 75 and over, comprised of 65 percent, Spanish recipients make up 61 percent, people living in rural areas gathered up to 65 percent, and those enrolled in both Medicare medical education.
When Can You Use Telehealth?
Telehealth visits are great for caring telemedicine for patients when no physical examination is needed. Doctors also find them useful for people with mobility problems and those who need to see a doctor for a general health check-up, including medical reasons. Virtual visits are also great for travelers who need to see a local doctor when away from home.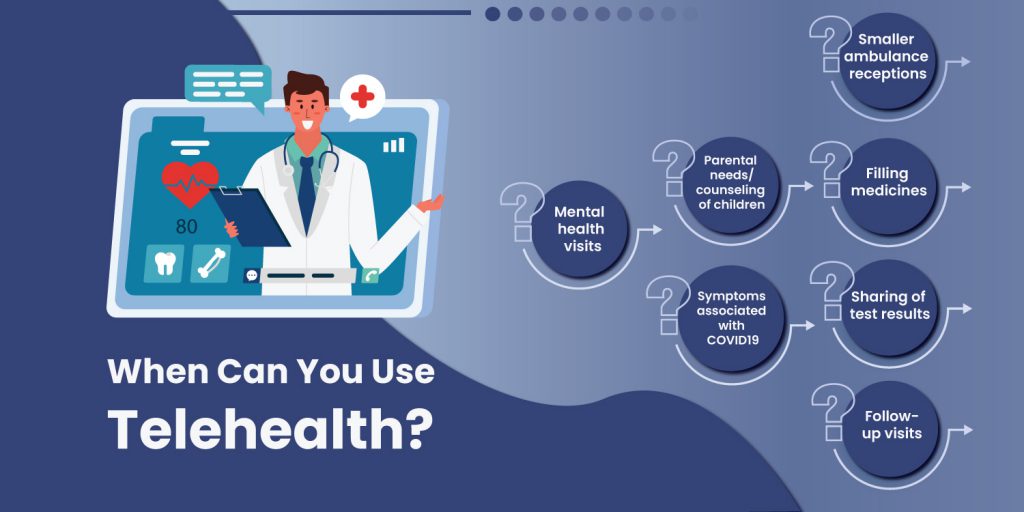 Now, when do you should really need a Telehealth visit? Again, it is important that you talk to your doctor to see if an online appointment is suitable for the care you need. However, here are some of the main reasons why patients use Telehealth services:
Smaller ambulance receptions
Filling medicines
Sharing of test results
Follow-up visits
Parental needs/counseling of children
Mental health visits
Symptoms associated with COVID19
Requirements for Medicare to Cover Telemedicine
Reimbursement of telemedicine through Medicare can be difficult. However, Medicare telehealth covers a wide variety of telemedicine services. The CMS adds additional CPT codes each year to reimburse telemedicine. Last year, CMS added seven new TV health codes to expand its coverage. This is what the telemedicine benefit covers.
It must be located in the HPSA
Only these categories are allowed reimbursement:
Offices of doctors or general practitioners
Hospitals
Critical Access Hospitals (CAH)
Rural health clinics
Federal Qualified Health Centers
Hospital-based or CAH-based renal dialysis centers
Qualified Nursing Institutions (SNF)
Community Mental Health Centers (CMHC)
Only a few CPT and HCPCS codes are eligible for telemedicine reimbursement.
Only certain service providers are reimbursed for telemedicine
Doctors
Sister practitioners
Medical assistants
Sister Midwives
Clinical nurse specialists
Psychologists
Clinical social workers
Registered nutritionists or nutritionists
The original site may also charge a facility fee.
Medicare telemedicine reimbursement at the same rate as a comparable personal visit.
Telehealth and Medicare Advantage
FAAlthough Medical Advantage plans have more flexibility to provide more remote healthcare, it is optional. MA plans are not necessary to provide these comprehensive services. In addition, each Medical Advantage plan may create its policies, which may differ widely in the services provided through remote health or virtual doctor visit.

According to the final rules published in the Federal Register, CMS assessed the expected impact of these new rules on Medicare Advantage plans and saw cost savings for all involved. Although CMS believes that savings are to be made in using TV health or a virtual doctor's appointment, plans may not want to incorporate these changes.

Certain restrictions may make this option unattractive to Medicare Advantage plans. Restricting only certain types of providers to those additional remote health benefits and requiring them to contract can create barriers that some Medicare Advantage plans may find troublesome.

In addition, requiring these providers to be subject to the laws applicable in the patient's country may discourage providers from using the technology. Differences in policies across states may have created an overly complex environment for bidders.
Summary
Telehealth or virtual consultations deliver many medical services remotely via the internet. Numerous entrepreneurs are investing in building apps and software that make your virtual visit to a doctor extremely easy. Various Medicare advantage plan offers medicare telemedicine reimbursement that covers the expenses of the treatment.
Telemedicine services have seen a skyrocketing growth since the COVID-19 pandemic, and people came to know that virtual visits can be as effective as in-person visits to a doctor. However, in-person visits are a must when the case of treatment reaches its final stage. VCDoctor delivers an excellent solution to all your telemedicine needs; it covers a lot of features that help you access the treatments easily. Contact us to know more.