Telemedicine services are a relatively new concept in the world of the internet, and it is being evolved with lightning speed. This article is focused on individuals who want to understand the complexities of this profoundly powerful and fascinating field.
History of Telemedicine
Many people consider Telemedicine app a new and state-of-the-art innovation since it includes the interaction of doctors and patients through video screens. You'll be surprised to know that Telemedicine goes as far back as 500 BCE in old Rome and Greece, where human messengers sent medical advice. As far as we might be concerned, present-day Telemedicine is firmly connected with the improvement of information technology and communication.
In April 1924, a Radio News magazine issue showed a patient speaking with a specialist through TV and a microphone. This idea would soon be the future, despite American homes barely embracing the radio and many individuals didn't have TVs. By the last part of the 1950s and mid-1960s, video transmission in Telemedicine began with the University of Nebraska leading the charge. The growth in internet usage during the 1990s encouraged more development in Telemedicine, as we are witnessing today.
What is Telemedicine Services?
Telemedicine utilizes instruments that permit patients to get medical care and further improve engagement with telecommunication technologies. This innovation makes it easier for individuals in advantages of telemedicine in rural areas and remote areas to get treatment without traveling long distances. Doctors can easily communicate with their patients in real-time and transfer essential information for their well-being. 
Telemedicine's popularity has just been slowed by some doctors' reluctance to adopt the practice in their healthcare systems. In any case, the constant advancement of technology guarantees the improvement of this field in the coming years. Recently, there has been a massive adoption due to a new generation of technology-focused patients and the COVID-19 pandemic that encouraged people to stay at home.
Looking for HIPAA Compliant Telemedicine Software?
Try VCDoctor| Truly Customizable, HIPPA Compliant Telemedicine Solution.
Request a Quote
Difference Between Telemedicine and Telehealth
Telemedicine and Telehealth are related terms. Even sometimes, some publications and organizations use these terms interchangeably by some publications and organizations. However, there is a difference in both of these terms. According to HealthID.org, Telehealth utilizes electronic data and telecommunications technologies to help and promote long-distance clinical healthcare, patient and expert health education, public health, and health administration.
Telehealth is a more extensive category that incorporates all aspects of healthcare, including nonclinical exercises like physical training, administrative meetings, and continuing medical education (CME). Telemedicine services only allude to remote clinical services like diagnosis and treatment. At the same time, Telehealth software incorporates all the technologies that help in improving healthcare services and their delivery. So Telemedicine is a category under telehealth services as it has a considerable scope.
How Telemedicine Services Works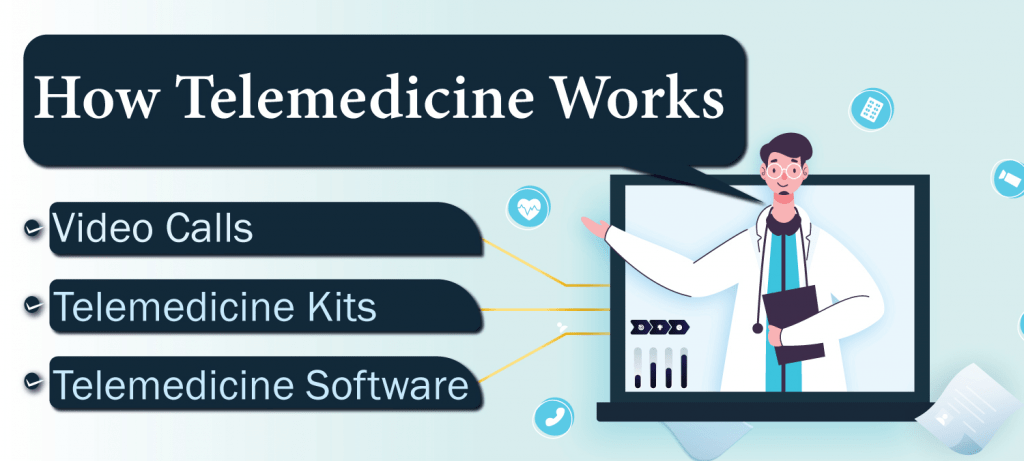 Healthcare institutions use Telemedicine services in several ways based on the health institutions and requirements of the patient.
Video Calls
This is the essential and most widely used telemedical medium between doctors and patients. It resembles an ordinary video call between companions. In many nations, HIPAA guidelines guarantee all video calls are through secure video conferencing software.
Telemedicine Kits
Portable telemedicine packs that utilize mobile medical devices and PCs like vital-signs monitors and ECGs for telemedicine practice. Doctors utilize advanced cameras to send detailed images to experts who analyze them and give proper diagnoses and treatment strategies.
Telemedicine Software
Institutions can utilize specific telemedicine platforms that offer services, including live video conferencing in healthcare and data storage. This software meets up with improvements and patient necessities.
How to Improve Telemedicine in Healthcare?
For telemedicine billing services to be compelling, medical institutions need to gather legitimate data for better service delivery. The framework configuration ought to pose appropriate inquiries speedily, like pregnancy status, weight, previous circumstances, etc., to recommend the right medicines. Telemedicine software ought to be faultless if the design protocols inputted by people are substantial.
One method for working on the productivity of Telemedicine services and conveying results that are equivalent to one-on-one encounters is to lessen documentation time by placing unstructured information into electronic health records. Likewise, patients could connect quickly by utilizing a technique that associates them to the nearest accessible doctor in their time of need – similar to the Uber systems. This way, an accessible specialist makes a call to the patient, and the patient gets a consultation.
Why is Telemedicine Services Important in Healthcare?
Technology now plays a vital role in healthcare. Its integration in access into our daily life makes it more significant than ever. With a cell phone, it's now easier to track and monitor medical cycles while getting therapy and treatment from the comfort of your home. In instances of infectious diseases, it additionally decreases the chance of transmission and expands security.
The American Telemedicine Association expresses that Telemedicine in healthcare can deal with more than 70% of urgent medical illnesses, prompting a speedy and efficient diagnosis. Many individuals need steady medical care yet don't have access to quality services for geological or monetary reasons. In several regions of the world where quality healthcare requires travel, telemedicine assists with overcoming that issue and gives access to those who are in need.
Telemedicine Services Pros and Cons
Telemedicine in healthcare is a persistently developing idea and offers a ton of advantages. Still, some challenges are needed to be overcome. Have a look at some of the telemedicine pros and cons.
Pros of Telemedicine
Patients get simpler access to experts in their time of need. Even doctors can easily be referred without worrying about their proximity.
It makes patient care more accessible and convenient to a lot of individuals.
Care telemedicine schedules and appointments are effortlessly monitored and kept up with by drawing patients through telemedicine channels.
Telemedicine helps save the expense of transportation and service charges for the patients. Health institutions not only save money with remote monitoring services but also store data efficiently.
Telemedicine gives doctors additional opportunities to focus on patients and give more attention, accordingly working on the improved quality of service.
Cons of Telemedicine
It costs cash and a great deal of time to set up a legitimate and powerful telemedicine stage. Hardware expenses, preparing, and rebuilding staff liabilities are only a few perspectives to consider prior to building a telemedicine stage.
Telemedicine is a ceaselessly evolving industry. Subsequently, it is vulnerable to new regulations, strategies, and guidelines that could adversely influence the patients or medical services suppliers.
Types of Telemedicine Services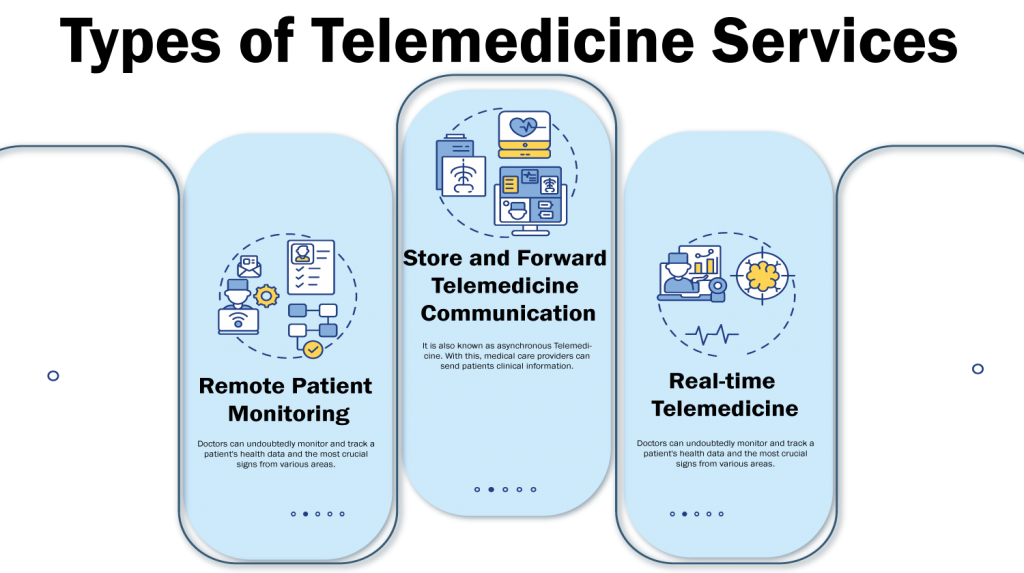 At the point when most people attempt to picture Telemedicine in real life, they see it as a specialist taking care of a patient through video call, yet it's a lot more extensive than that. The primary kinds of Telemedicine are:
Remote Patient Monitoring
Doctors can undoubtedly monitor and track a patient's health data and the most crucial signs from various areas. Assuming there are any warning signs, the doctor will recognize them and intervene appropriately with the help of hipaa compliant telemedicine software for patients.
Real-time Telemedicine Services
Real-time Telemedicine is the most commonly known type of Telemedicine service. It includes communication through audio and video between a patient and a medical care professional. Moreover, It should substitute for an in-person visit so the doctor can convey real-time diagnosis and support with HIPAA Compliant Telehealth Platform.
Store and Forward Telemedicine Services Communication
It is also known as asynchronous Telemedicine. With this, medical care providers can send patients clinical information. For example, images, lab results, recordings, and records to medical care faculty in another location. Data submitted on these platforms are secure, so confidential patient data can remain confidential.
Top Telemedicine Services Medical Specialties
Some medical specialties easily adapted to telemedicine services, and over the years, they have become more famous for use in Telemedicine than others. They are:
Telenephrology: Nephrology practice is valuable in inter-professional instances when a doctor needs to counsel a nephrologist about a patient's kidney condition.
Telepsychiatry: Psychiatry doesn't normally need the same examination as other clinical fields. Alongside a lack of available psychiatrists, this has made ROI With Telepsychiatry very famous.
Telerehabilitation: Rehabilitation services conveyed remotely through Telemedicine solutions can provide many advantages to both the doctors and patients.
Teleradiology: This is probably the earliest field of Telemedicine. It permits providers to send the x-ray of a patient to a radiologist and get speedy consultation for the patient.
Small hospitals with the unavailability of in-house radiologists round the clock take advantage of Teleradiology predominantly.
Teledermatology: Teledermatology services work by sending an image of a mole, rash, or other skin irregularities to a dermatologist for quick diagnosis and treatment options.
Teleoncology: Oncologists contact their patients through video platforms for consultations. Communication could likewise be through devices that permit you to forward images and get a conclusion.
Teleophthalmology: Telemedicine platforms permit ophthalmologists to examine a patient's eyes and treat diseases remotely.
Telepathology: Pathologists get images and videos for diagnosis, research, and patient treatment, subsequently eliminating the requirement for physical interaction.
Teleobstetrics: Obstetricians can give pre-birth care without the requirement for physical contact by exchanging data for accurate diagnosis.
What services can be provided by Telemedicine Services
Telemedicine in healthcare can be utilized for a wide variety of health services. Here is a compiled list of common conditions that require an essential consideration from a doctor to get treated by Telemedicine.
Allergies
Joint Pain
Asthma
Bronchitis
Colds and Flu
Diarrhea
Infections
Insect Bites
Pharyngitis
Conjunctivitis
Rashes
Respiratory Infections
Sinusitis
Skin Inflammations
Cellulitis
Sore Throats
Sprains & StrainsBladder Infections
UTIs
Sports Injuries
Vomiting
Telemedicine services can range widely by specialty. A specialist could utilize the Telemedicine platform to do post-operation check-ins with patients to ensure their injury isn't infected. A gynecologist could utilize a live telemedicine solution for giving birth control counseling. An endocrinologist might do live video chats with patients to examine recent lab results and answer questions.
Leverage Patients with Virtual Healthcare Visits
VCDoctor| Powerful Telehealth Solution Empowering Virtual Doctor Visits.
Contact Us
Telemedicine Services Regulations
Telemedicine guidelines are constantly changing because clinical affiliations continuously develop new rules for telemedicine practices. For the most part, the state lays out these regulations, and they are as per the following:
Parity Laws
Just 29 states, including the District of Columbia, have passed parity laws into Telemedicine, and it guarantees private payers reimbursement for Telemedicine. Still, the specific limitations on this payment vary by state.
Patient-Informed Consent
Patient-informed consent is obtained after the patient finds out about telemedicine services, and only a few states require it.
Cross-state licensing
Cross-state licensing permits doctors to take care of patients not situated in the state where they got their license. A few states are attempting to layout measures that will put this into impact.
Pre-Exiting Physician-Patient Relationship
A few states make it mandatory for any patient utilizing Telemedicine to have previously paid a physical visit to the healthcare institution.
Online Prescribing
States have guidelines limiting which prescriptions doctors can recommend online.
Barriers to Telemedicine Services
It tends to be a tedious cycle to change laws in states where parity laws don't exist.
Staff training and gear costs for Telemedicine may not be in the institution's budget and may strain their funds.
State-licensing necessities won't permit doctors to treat patients across the boundaries of their state, subsequently restricting Telemedicine's abilities.
Repayment Policy for Telemedicine isn't as clearly-defined as face-to-face visits and is in a consistent state of flux.
HIPAA and Telemedicine Services
All telemedicine solutions must be HIPAA compliant and give a high-security medium to their patient's information. Not every video consultation software is appropriate for discussions. The picked software should be safe and secure.
Telemedicine Services Terms
Broadband: Broadband is a communication framework that can send various frequencies, typically microwave, broadcast, or satellite TV.
Encryption: Encoding information so just those with authorization can gain access.
Clinical Information System: This is hospital portal development-based data that has to do with patient care and not regulatory information.
Video conferencing: This is the transmission of video pictures and audio over significant distances.
Electronic health record: A collection of delicate data about a patient's health sent to other healthcare facilities for telemedical purposes.
VCDoctor| White Label HIPAA Software Solution
Give Your Healthcare Business Instant Online Presence.
Request a Quote
Conclusion:
Telemedicine can address difficulties in healthcare delivery, lower costs, and further develop comfort for all parties involved. Its significance is considerably more evident with the predominance of the COVID-19 pandemic, where travel was restricted, prompting expanded requests. In the coming years, this will, without a doubt, achieve huge changes and enhancements in the healthcare sector.
As a healthcare provider, if you also want to grow with the trend. It is the right time. You can rely on the VCDoctor to bring your healthcare services online. VCDoctor is one of the best telemedicine platforms available in the market. It is a robust, feature-rich, and HIPPA-compliant telehealth platform that doesn't put a burden on your pocket. Other than this, you can choose from a range of other telemedicine solutions provided by the VCDoctor.
Telemedicine software for patients
Telemedicine software for hospitals
Telemedicine software for providers
Telemedicine software for startups
For any query or discussion, feel free to connect with our healthcare experts, as they are always there for your help.