Telemedicine is considered one of the key innovations in healthcare. Not only from a technological point of view but also from a cultural and social point of view. Telehealth facilitates access to healthcare and improves the quality and efficiency of healthcare. Today, we will provide a telehealth implementation guide.
Telemedicine has an important role in addressing the challenges of socio-economic change in the current century health systems. It is basically increased demands on health, aging population, increased mobility of citizens, need to manage large volumes of information, global competitiveness, and improved healthcare delivery. These all parameters are judged based on the context of limited budgets and spending constraints.
However, there are significant obstacles to the standardization of Telemedicine and its full consolidation and expansion. Despite a strong political will to integrate information and communication technologies into healthcare and increased activity in Telemedicine, it continues to have only a symbolic presence in clinical and healthcare settings.
All these facts must generate a question: how to setup Telehealth? Well, implementing digital technology in your business can have various benefits along with a handsome revenue. In this telehealth implementation guide, we will discuss the process of how your clinic can benefit from the digitization of the treatments.
Types of Telehealth Implementation
Telehealth uses telecommunications technology and other electronic data to assist in the provision of remote clinical healthcare, which may include the provision of education, administrative functions, and peer meetings.
Although one of the most common images of Telemedicine is when a patient talks to a remote healthcare provider in a videoconference which answers the most asked question of Telemedicine which is: how to set up Telehealth at home? Here are some of the most popular types of Telehealth for doctors that they can implement: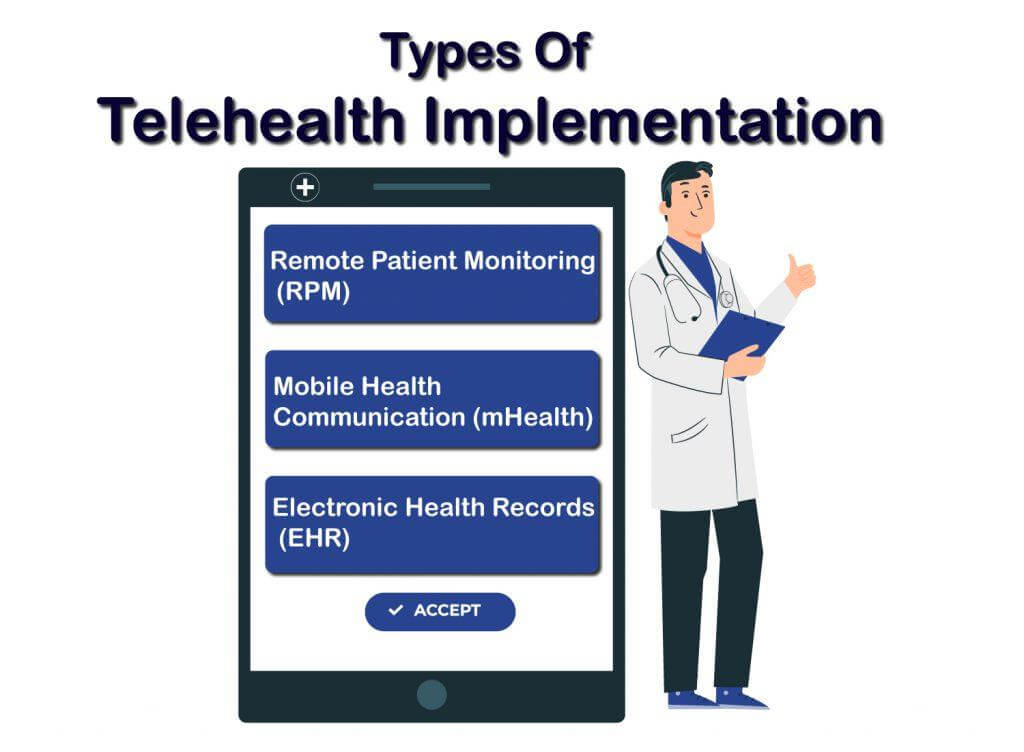 Remote Patient Monitoring (RPM)
Electronic Health Records (EHR)
Mobile Health Communication (mHealth)
Medical Services You Can Deliver Through Telehealth Implementation
The use of remote healthcare for the provision of specialized services is more appropriate for rural healthcare institutions than for staffing those rural institutions with providers of specialties and specialties. Telemedicine for doctors enables them to visit patients in rural areas virtually, improving access and making more healthcare available to rural communities through Telemedicine. Here are some of the services that are most popular in the Telehealth sector:
Radiology
Psychiatric and behavioral health services
Ophthalmology
Dermatology
Dental care
Audiology
Cardiology
Oncology
Obstetrics
Telemedicine in primary care
Why Invest in Telehealth Implementation in Your Business?
Apart from the fact that the global Telehealth market is expected to cross the value of 91.7 billion USD by the year 2025, Telehealth implementation has a lot of benefits for your business. Despite the growing popularity of television health, expansion was hampered by restrictions on coverage, payments, policy issues, and Medicare, which determined geographic usage and practice settings.
However, in the context of the COVID-19 national public health emergency, immediate flexibility was created in the field of distance healthcare to ensure safe access to treatment for patients, thus increasing virtual care in the last couple of years. Here are some of the top benefits your business will get from implementing Telehealth, as mentioned in this Telehealth implementation guide.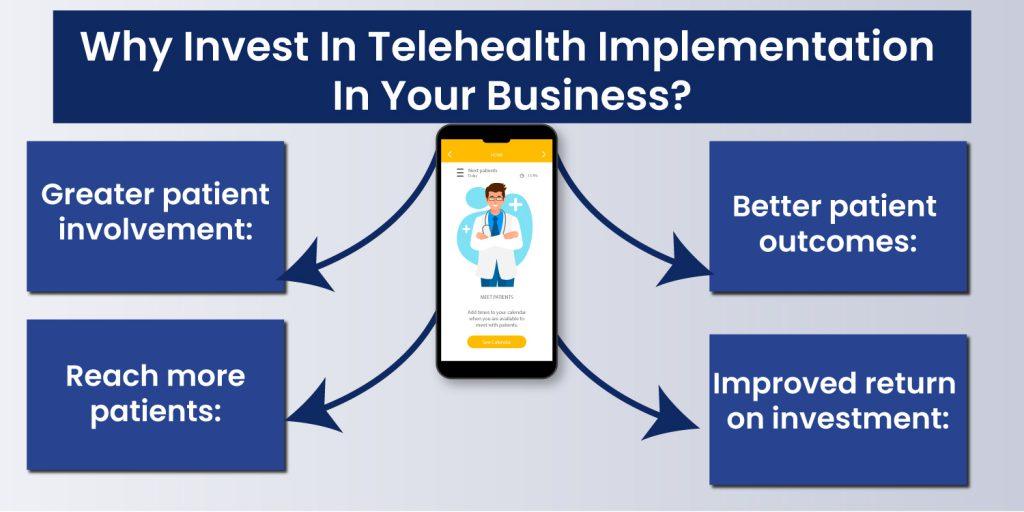 Better patient outcomes:
Treatment of patients with chronic conditions can be difficult due to the time required to monitor them. Telehealth can improve the quality of patients by enabling easy chronic health management using remote technology. This is especially true for patients living in rural areas who would not otherwise have access to high-quality professionals without significant travel to remote healthcare facilities.
Greater patient involvement:
Although COVID-19 is considered to be at the forefront, there are many other conditions that require care. However, going to the doctor may cause additional anxiety and increase the risk of possible exposure to the infection, especially in high-risk patients, such as those with immunodeficiency or pre-existing conditions. Therefore, Telemedicine is a great way for patients to receive the care they need and want in the comfort and safety of their own homes.
Reach more patients:
We know that the shortage of doctors is growing; Telehealth can help expand our service provider networks in new ways to expand access to care. Telehealth can be definitely used to reach patients in rural areas and outside conventional care systems. The tool can be used to train intermediate patients as well as to diagnose doctors, reaching different people in new ways.
Improved return on investment:
Telehealth allows doctors to bill for unpaid phone calls while extending business hours to keep up with billing. Telehealth helps in lowering down the number of absences and can significantly enhance the effectiveness of the practice. Telehealth can also provide a competitive advantage by attracting and retaining more patients with new models of medicine.
Optimal patient satisfaction:
Patient satisfaction is a key indicator of distant health. 87% of patients who use the OrthoLive TeleHealth app say they would use it again. A study of patients from the nationwide CVS Minute Clinics chain found a satisfaction score of up to 99% with their Telehealth visits.
Process of Implementing Telehealth at Your Clinic, Hospital, and Home
Taking advantage of remote patient monitoring work and smarter healthcare advances can minimize or eliminate traditional healthcare problems. However, implementing it requires a well-thought-out plan. The process that has been mentioned in this Telehealth implementation guide also answers the question: how to set up Telehealth as a patient? Here are some steps that we have mentioned below in our Telehealth implementation guide to help you better.
Set a strategy and set goals
Clearly identify the reasons for setting up your telemedicine program and set measurable goals. Identify the key metrics you will consider when evaluating the success of your program. In the case of telehealth implementation at home, you have to carve out a plan that depicts all your goals clearly.
Assemble a team with diversified experience
Your telemedicine program may involve a number of providers, employees, and even services from other companies. A dedicated implementation team with a capable leader will help ensure the desired success. IN the case of a small telehealth implementation guide, you can acquire certifications and learn from the web.
Learn all the important rules, protocols, and reimbursement
As Telemedicine continues to gain popularity, authorities are gradually enacting laws and regulations to prevent its misuse. The rules and regulations vary by state, and you should check with your local authorities to ensure compliance. In case you do not comply with the policies, it can taint your reputation and the brand value of your business.
Tie-up with a reliable technology partner
The emerging technology you will be using in your implementation will play a key role in the success of your program. You have to take care of its security, ease of use, integration, branding, and reimbursement authentication. VCDoctor delivers optimum security and other integration that are extremely helpful in implementing Telehealth. For more details, you can either contact them or learn all about it in their Telehealth implementation guide.
Carve an efficient strategy
Your telemedicine program will require full-on participation from your employees and staff. You have to make them aware of its benefits and train them to use it efficiently.
Derive a plan to generate feedback from your patients and employees
As one said, charity begins at home, your journey to gathering honest feedback begins at your workplace. Encourage them to get an idea about the program and help you with detailed honest feedback about the process and help you identify the problems.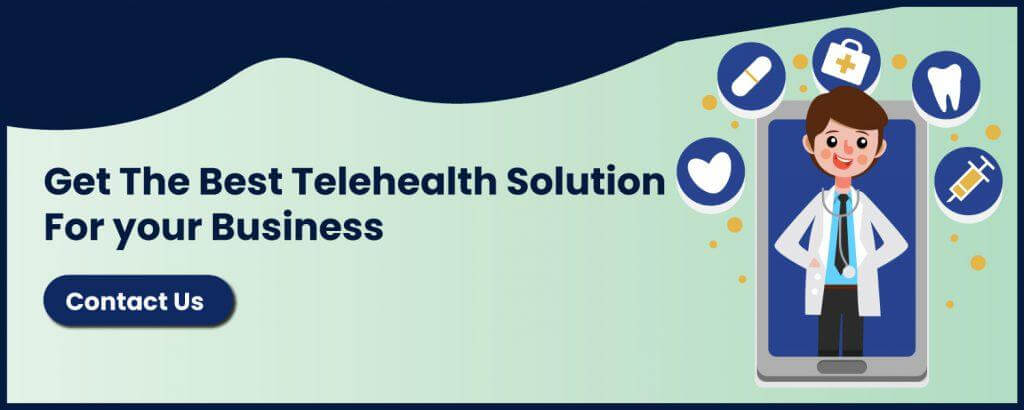 Final Takeaway!
Following this Telehealth implementation guide, you can simply make your process better and be sure of the right direction. You have to also keep track of the progress regularly to ensure the success of the program. In case you are searching for a Telehealth solution provider for your Telehealth implementation, VCDoctor has pretty amazing and result-oriented solutions for your business. We deliver solutions that fit like a glove with your business goals. We have helped several of our clients in achieving success in the field of Telemedicine. You can reach our experts for further discussion and the right step towards a bright future.