The panic and negative effects of the COVID-19 situation, especially on people's physical and mental health, know no bounds. As part of their efforts to reduce the rate of COVID-19 infection, many countries have taken major steps to curb physical activity, and more and more of us are making significant changes to our normal lifestyles. People have faced home office, temporary unemployment, children's homeschooling, and social distancing with other family members; it takes time to get used to friends and colleagues. The consequences of such episodes do not negatively affect physical well-being but also mental well-being. However, it can be seen that Telemedicine can reduce this burden as it is convenient during a pandemic. Well, many ask is Telehealth effective for mental health.
Yes, Telemedicine can provide clinical benefits similar to physician-led therapies with improved inclusion characteristics, especially in the treatment of mental health problems.
During this COVID-19 situation, it is well documented that Telemedicine is the best treatment option to ensure rapid access to professionals who are not personally available, especially in non-surgical cases. To our knowledge, Telemedicine is making mental health services more accessible, as it helps patients avoid stigma and receive treatment from home.
There are a number of mental health issues, such as anxiety, depression and substance use disorders, etc., which are the sole beneficiary of effective treatment through Telemedicine, especially in primary care. In the United States, for example, Telemedicine is seen as having a huge potential to improve the lives of patients with depression and other mental health problems. Again, Telemedicine is also helpful in treating post-stroke / TIA anxiety.
Let's understand how Telemedicine is revolutionizing the treatment for mental patients.
The Situation of Mental Health Patients and Treatments Around the World
Mental health is definitely one of the underrated areas of public health. Nearly a billion people live with mental disorders, three million people die each year as a result of harmful alcohol use, and one person dies as a result of suicide every 40 seconds. In addition, in a recent survey by the American Psychiatric Association, more than a third of Americans said the coronavirus had a serious impact on their mental health, and a majority said it had a serious impact on their daily lives.
Despite their high incidence, few people around the world have access to high-quality mental health services. In some of the low-income nations, more than 75 percent of people with mental, neurological, and substance use disorders are not treated well or not treated at all. In addition, stigma and discrimination remain widespread.
As per the WHO, most of the countries around the world invest on average only 2% of their health budgets on mental health. Despite some growth in recent years, international development assistance for mental health has never exceeded 1 percent of total development assistance for health. This is despite the fact that for every 1 USD invested in increased treatment for common mental disorders such as depression and anxiety, there are 5 USD gains in health and productivity gains.
Let's find out the answer to the question: is Telehealth effective for mental health?
How is Telemedicine Helpful for Mental Health Doctors?
Telepsychology is a great model for mental health professionals because mental health care does not usually require a physical examination, which means that the entire session can be performed virtually. If desired, Telehealth can also be combined flexibly with a personal visit.
The explosive growth of the Telehealth model will only continue to gain popularity. A survey found that 72 percent of respondents between the ages of 18 and 44 were willing to receive mental health treatment through remote health care, not face-to-face.
Today's modern technology means that Telehealth is constantly expanding. There are no limits to the capabilities of the applications, and the easy integration between our phones and computers gives almost everyone access to the help they need, no matter where they are. It is time to start using technology for the benefit of society and to close the gap between the mentally ill and access to treatment.
What is Telehealth Mental Health?
Is Telehealth effective for mental health? Well, Telehealth or Telemedicine can help remove a number of mental health barriers. With digital tools and broadband Internet access, patients can now remotely consult a mental health professional via live video.
Patients living in areas where there is a shortage of mental health professionals can use these tools to talk to a licensed professional without having to travel long distances. They also receive care without paying attention to themselves if their loved ones or colleagues do not acknowledge their mental illness.
Mental health professionals can also send appointment reminders to their patients, information about mental illness, and coping techniques, such as stressful methods, using low-bandwidth text messages to help patients find out about mental illness and find care providers. Patient remote sensors can also be used to monitor a patient's symptoms in real-time using a telemedicine application.
Psychiatrists and other mental health professionals can use these tools to help patients cope with their symptoms, prescribe medication or prevent suicide. Elemental health changes the way we think about and access mental health services.
How Does Telehealth Work for Mental Health?
Studies show that Telehealth can help relieve anxiety and depression. As people are currently socially distant, many are struggling with feelings of isolation. Many people fear how the pandemic will affect their loved ones and themselves medically, financially, academically, and socially.
Telemedicine for mental health patients doesn't just make one or two squares for their needs; Having a virtual point of contact with our service provider has consequences that go beyond providing a secure space. Through Telehealth, the therapist and the client can share resources, learn coping techniques, develop new routines, and provide the client with an opportunity to talk about their fears and worries. We are all in this and long-distance health can provide emotional relief if there is no opportunity to connect in person.
When doctors work from home to follow the recommendations of social distance, many healthcare providers use Ring Central Meetings (powered by Zoom), the main platform for providing remote healthcare. The virtual platform includes audio and video so that we can deal with customer influences, emotion regulation, and non-verbal communication.
However, there are cases where a visit to the office is justified. One of the limitations of remote health is that we do not recommend remodeling trauma through remote health because there is a risk that clients will be emotionally flooded, leave the room, or shut down.
It would be difficult to help customers get back to their tolerance window and stabilize through Telehealth, so we minimize the risk of not taking certain interventions. We guess these points help you in getting the answer to your question: is Telehealth effective for mental health?
Benefits of Telehealth for Mental Patients & Healthcare Providers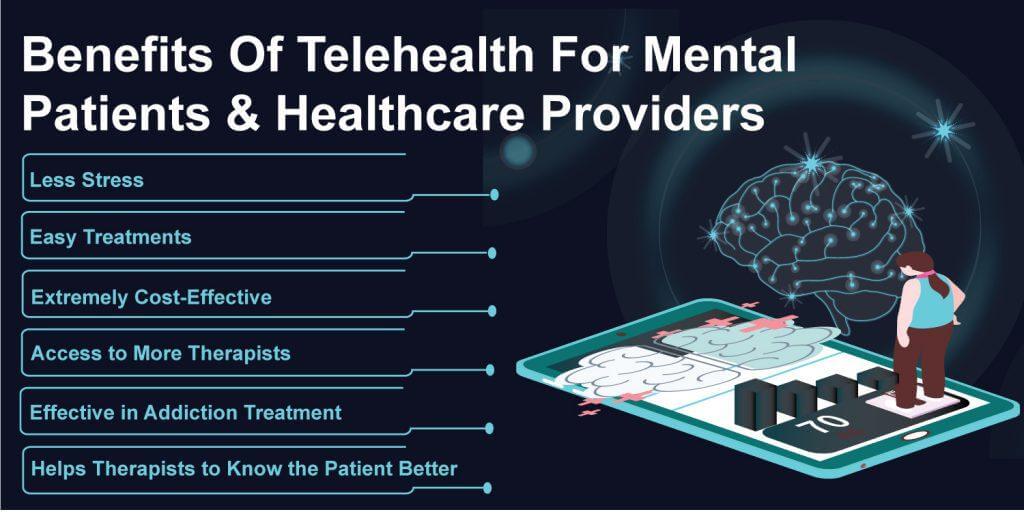 Easy Treatments
Meeting a therapist remotely, instead of requiring a car in a medical office, eliminates the burden of going to therapy. It can enable busy parents, rural patients, overworked professionals, small business entrepreneurs, people with disabilities, the elderly, patients without vehicles, and others to participate in therapy.
Access to More Therapists
From licensed therapists to psychiatrists, the availability of mental health professionals across the country is declining. Research by the US Department of Health and Human Services predicts that there will be an increasing shortage of mental health providers in the coming years.
Helps Therapists to Know the Patient Better
Mental health care providers can, of course, develop a deeper insight into patients' problems and solutions if they can meet them practically at home. Spending time in a patient's personal environment allows the therapist to monitor his or her self-care habits, living environment, family dynamics, and other useful diagnostic and treatment information.
Extremely Cost-Effective
Virtual care is expected to be more cost-effective for providers and patients. Paying for Telemedicine vs. treatment in an office or ambulance may be more affordable for uninsured patients and those who have exceeded their maximum mental health insurance benefit.
Less Stress
Patients in need of multiple therapies, such as addiction and combination therapy, face particular challenges. They have to cope with several health conditions at the same time and meet more intensive attendance requirements if they want to receive all the treatment they need.
Effective in Addiction Treatment
Telemedicine has been shown to be effective in providing a wider range of treatments for people suffering from opioids, methamphetamine, alcohol, and other addictions. Drug and alcohol addiction has become a major national crisis in the United States. Problems are just as widespread in both rural and urban areas, but most addiction treatment facilities are in or near cities. Virtual treatment sessions allow patients to receive addiction treatment wherever they live.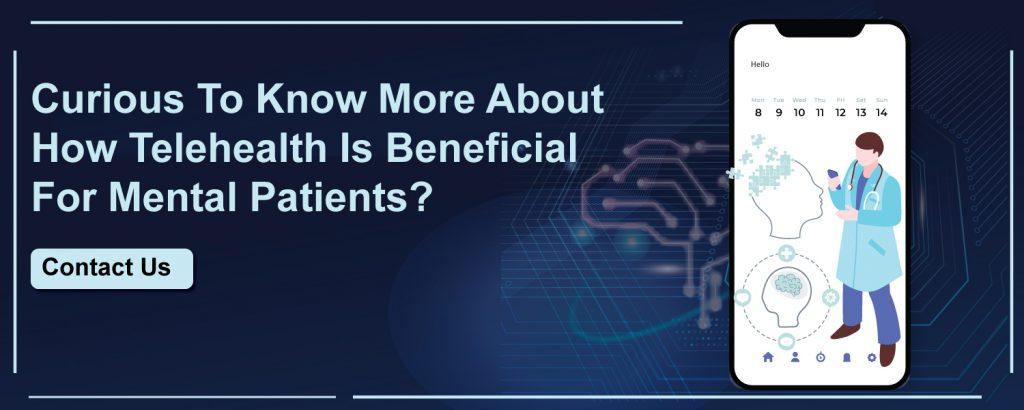 Conclusion
We hope the above-mentioned information helped you in finding the answer to the question: is Telehealth effective for mental health? Yes, it is highly effective, especially when you have the right technology and digital solutions for it. In case you are wondering how to bill mental health telehealth? Well, they are covered under various insurances and government policies.
VCDoctor helps patients and healthcare providers in attaining the capability for operating a successful telehealth treatment process by their efficient telehealth solutions. We deliver nothing but quality. For information, please get in touch with our experts for a detailed consultation