Telehealth platform is a new buzzword in the health sector. Although there has been some kind of virtual counseling for many years, think when you last spoke to for patient on the phone – today, long-distance health is gone mainstream, accelerated by technological development, but also deepened by the world economy closures and quarantines.
We don't need to remind you of that and how it has changed how we work now and perhaps in the future. An individual practitioner or group will both work to create their identity, investing time and money to make your practice recognizable.
When it comes to choosing the right one for you from the list of HIPAA-compliant telehealth platforms, you have to look out for certain parameters that will help you judge in getting the right answer to your problems. We have curated the list of parameters that you should consider while searching for the best HIPPA compliant telehealth platforms to make your search easier.
Let's dig in but first, let's understand some basics.
What is the Best HIPPA Compliant Telehealth Platform?
The HIPAA, signed by President Bill Clinton in 1996, aims to protect patients' sensitive medical records by regulating the way they are processed and exchanged. All HIPAA rules are mandatory, and entities covered by HIPAA will be penalized for non-compliance. Fines for HIPAA violations are not trivial and can amount to up to $ 1.5 million or even criminal prosecution.
There are some rules that everyone must follow to make a best telehealth platform HIPPA complaint. Here is a list of these rules for your better understanding.
The HIPAA Privacy Rule
Healthcare clients must possess full access to their PHI, which they are free to copy, modify or update;
The organization must respond to patients' requests for changes and updates within 30 days;
If a healthcare provider intends to disclose patients' PHI data to a third party, patients must give their consent in the "Privacy Policy Notices" section.
The HIPAA Security Rule
Data stored in patients' electronic systems must be encrypted according to NIST standards.
Entities must restrict physical access to the data center, cloud, or server.
Companies should have procedures in place to comply with HIPAA privacy and security standards.
The HIPAA Enforcement Rule
This rule determines the number of fines and compensation that medical companies have to pay if someone steals customer data. Penalties range from $ 100 to $ 50,000 per violation, depending on how serious the violation is, how timely it was resolved, and whether it was committed intentionally or not.
The Breach Notification Rule
Type of data provided
A person who had unauthorized access to the PHI or to whom the data were disclosed
Type of damage caused
How to Choose the Right Telemedicine Platform?
Choosing the right telemedicine platform is an important decision for an organization or for self-use, so choose the telemedicine platform that increases your current service speed and supports your internal and external resources.
Define your goals
Before meeting with a telemedicine dealer, ensure you make a checklist of all the requirements you want to meet. In addition, you must ensure that the software is widely available, not location-specific.
Cost of HIPPA Compliant Telemedicine Platform
Return on investment along with cost analysis is very important when buying software. The preferred choice for all hospitals is cost-effective software that is zero or risk-free.
Services and Support
The best telemedicine platform delivers an excellent level of service or support to improve your healthcare delivery system. It should be easy to use and adjust to make virtual health outcomes as reliable as personal services.
Variety of Service
The best telemedicine platforms are those that deliver a wide variety of compatible tools. Providers' telemedicine software should be able to integrate according to user needs. You must verify that the software requires the installation to run or can run without installation.
Reliable and Usable
In addition to being simple, telemedicine platforms should be reliable and have a simple interface. It should be built with a natural and automatic structure for learning, and it should not require passionate instructions for each update. Make sure that telemedicine software for service providers can quickly transmit data, photos, videos, or text without any technical problems. Usability should be smooth and efficient for multiple types of devices.
Safety
Always check that the seller has followed all the rules and regulations before signing the contract. In addition, you must review laws such as privacy, security, HIPAA compliance, and the FDA to ensure the security of your chosen telemedicine software platform.
7 Things to Consider While Choosing the Best Telehealth Platforms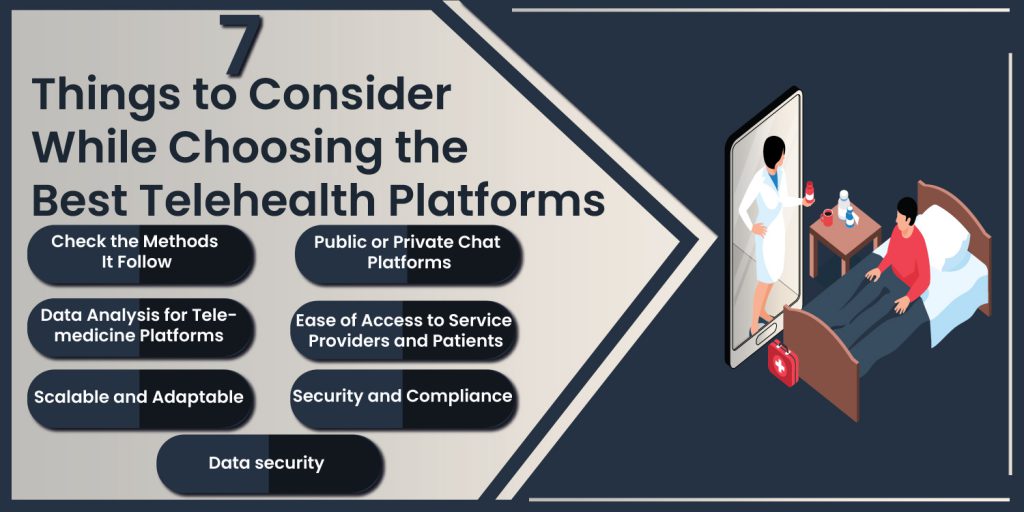 1. Check the Methods It Follow:
There are three main Telehealth integrations that make a virtual healthcare platform the platform you want. Not all three are available on all of these HIPPA compliant telehealth platforms, but the patient must make a decision by choosing at least one type of integration on the remote health platform:
Synchronous modality allows the patient to make a video or voice call appointment. The whole process takes place via a smartphone, tablet, or computer. Synchronous modality sometimes involves on-site patient monitoring using peripherals another healthcare provider uses to send real-time updates to physicians.
Asynchronous modality allows patients to send their images or clinical data through a portal that uses an instant messaging client. This type of modality does not use real-time connection methods. The doctor will look at the patient's details later.
Remote patient monitoring; through this method, the doctor receives the patient's data either directly or stored, but remotely.
2. Data security
The first consideration must be data security and then the highest security you can find. When in doubt, don't just use it. In the world, we are looking for PoPI and HIPPA (Health Insurance Portability and Liability Act). Honestly, HIPPA is part of US regulation, and it may not apply to us, but this concerns real concerns about patient data and the avoidance of litigation instead of just following the law. Video and text messaging are just two of the many things that are crucial for remote health security. Your patient's name, email address, home address, phone number, and other things are all covered by the data must be protected.
Map Data: Find out where your data is available in the cloud.
ASK & Apply: Who should have access to the data access to data and require seeing the evidence of a business partnership agreement to ensure that all staff is at the same level as your solution provider.
Monitor: All data access to your data.
Setting Alarms: To notify you when someone has access to your data.
Security: Ensure the solution has encryption, server room security, and two-factor authentication.
3. Public or Private Chat Platforms
There are a number of online video and group chat platforms on the market today. There is nothing against Zoom, Google Hangouts, Microsoft Teams, or WhatsApp or their colleagues, but data security is paramount in a healthcare environment. The vast majority of these platforms were made for reasons other than remote health and have therefore been adapted to suit a platform designed specifically for healthcare professionals on the move and in the modern world.
For instance, Zoom has become the most popular business meeting software
in use today. Its free version and ease of use have made it a quick choice for many practitioners, but the question is whether it is suitable for remote health consultations. The answer is that Zoom; The free and paid versions are NOT HIPPA-compliant, which is why they have recently introduced Zoom for Healthcare. With a 12-month contract, you can expect to pay a base rate of 200 US dollars a month, or about 3,400 US dollars at today's rate. You can't expect to be able to use such advanced and compliant software and stay on the telemedicine platform for just a few weeks.
Zoom was not originally for telemedicine platforms. It, therefore, did not have the features that remote healthcare technology trends have for online consultation or patient data storage. For this exact reason, Zoom was not originally to be HIPPA compliant. It has much more than just full encryption. HIPPA was established to protect patient privacy and ensure that they have access to their medical records. PII (Personal Identifiable Information) is protected through the storage, transmission, and access of that information.
4. Data Analysis for Telemedicine Platforms
Although the data analytics used in the telehealth Platform does not directly affect patients, it does increase the overall performance of such systems. With a great background in data analytics, the telehealth platforms are always ready to deliver the ultimate patient care due to their strong grip on patient trends.
5. Security and Compliance
If your privacy and data are not secure, you may have to face a number of challenges. It is import telemedicine healthcare practices clearly defines how to store and share patient information on their servers. Make sure your platform is HIPAA, PIPEDA, or PHIPA compliant and includes full encryption to prevent third parties from reading or accessing your private communications. As telehealth regulations still need some relaxation but it is time to be more vigilant about various remote health issues. Here are some of the threats your choice of telehealth platform should be able to protect you against.
Cybersecurity and Data Risks
Phishing
Hacking
Ransomware
Compliance Risks
Fraud Risks
HIPAA risks
6. Ease of Access to Service Providers and Patients
The best telemedicine platform should be cross-compatible and can run seamlessly on any device, like a computer, smartphone, or tablet. The web browser and the operating system should work smoothly and reliably, no matter what device or browser you are using. In principle, the software should run as smoothly on older laptops as on the latest smartphone. The most feasible and easy-to-use platforms are the web and cloud. Web-based platforms make it easy to use the best telehealth Health platform on desktops, laptops, tablets, and smartphones. There is no requirement to install or download and you can access it from any available Internet connection tool.
7. Scalable and Adaptable
Everything in the technological world changes every day, including the business size and revenue. When it comes to telehealth, no one wants to grow out of their telemedicine platform in just a year or two. Everyone wants a platform that scales as your organization grows and that is adaptable as conditions change.

The Bottomline
If you are thinking of employing or developing the best telehealth platform, this is the time. The current crisis has highlighted the importance of remote healthcare and provided an opportunity to modernize the system for providing care. This modernization will be achieved by integrating television health into the continuity of care.
The 3 US billion dollars revenue market has the potential to grow to 250 US billion dollars. The seeds of success will be seen during the COVID-19 crisis in the coming months. The emerging health systems are the ones that act decisively, invest in large-scale opportunities, work hard to reshape the model of healthcare provision, and provide distinguishable quality care to consumers.
Telemedicine platforms are fruitful, and it's easy to find a ready-made solution that a familiar company has used. However, existing telehealth platforms were created before the advancement of virtual care and were designed exclusively for businesses, healthcare systems, and private practices. To provide a complete maintenance experience, you may need to involve multiple vendors, allowing you to create custom solutions without creating your own. If you in search of an efficient telehealth platform or solution? VCDoctor has the perfect solution for you. They cover all the points discussed in the blog and much more. Experience optimum quality with VCDoctor; get in touch!