Telemedicine Solutions For Clinic is important because within the last few years, a drastic change has been witnessed in how medical practices of different sizes or types are used to deliver patient care. They are now more focused on technologies like digital medical records, electronic practice management systems, online patient portals, etc. For seamless facility management with fewer chances of errors.
If you also want to leverage your facility (hospital or clinic) with such efficient and effective management. You can make your way towards Telemedicine Solutions For Clinic. Because it is another advance that can make your practice more profitable, improve patient outcomes and give it a new level of flexibility. Not even this, it also provides the potential of conducting video visits remotely.  
Now the question arises, how to get started with telemedicine solutions for clinicians? For laymen, it may appear a daunting task. But in reality, it's quite easy to integrate HIPAA-compliant telemedicine software for clinics by following some basic guidelines.  
However, before delving into the setup procedure of telemedicine software for clinics, firstly, we will focus on the advantages telemedicine software for hospitals offers.
Benefits of Telemedicine Solutions for Clinic
Here are a host of benefits telemedicine solutions for clinic offer.
Scheduling Ease:
We all know that telemedicine platforms for clinicians facilitate virtual doctor visits anywhere, anytime. Due to this, practices can offer patients visits after working hours or on weekends, without even needing physical space with staff. 
Limited No-Shows and Last Minute Cancellations
No-shows and last-minute cancellations result in a waste of time and money drain for many medical practices. Healthcare businesses can mitigate such events by eliminating the factors responsible for people missing their appointments. Likewise, their need to be at work, transportation, or lack of childcare access that doesn't become roadblocks. They can simply switch to virtual doctor visits through the video when experiencing such an issue and can't visit doctors' offices. 
Protection from Competition Using Telemedicine Solutions For Clinic
There are many options available for patients to get medical care, apart from traditional medical offices. They can receive on-demand medical care conveniently through retail walk-in-clinics and stand-alone urgent care centers. Other than this, the options for online video visits are constantly growing in the market. If you want to protect your traditional healthcare facility (clinic or hospital) from the competition, it would be great to incorporate HIPAA-compliant telehealth apps for hospitals.
Increased Revenue
Telemedicine platforms for clinicians are way more efficient than traditional in-person visits. It enables healthcare service providers to see more patients during the same amount of time. Also, reimbursement for telemedicine is now widespread. Therefore, medical practices can generate more revenue without spending on providers, staff, and office space.
Improved Providers' Work/Life Balance
Medical practices with telemedicine setup get the liberty of sometimes working from home or seeing the patients after their traditional working hours. Many providers claim that they enjoy a healthier work/life balance after implementing telemedicine solutions in their practice. For a better understanding, they can easily connect with the patients through telemedicine if needed, even if they are away on vacation or traveling for business.
Happier Employees with the Help of Telemedicine Solutions For Clinic
Implementing telemedicine in a healthcare practice makes everyone more efficient by reducing administrative tasks associated with in-person visits. Also, it mitigates the patients' crowd in the waiting room to a greater extent, making patients happier. Besides, video visits through telemedicine software eliminate patients' exposure to potential illness. Even employees benefit from improved practice profitability, which makes them happier.
Better Patient Outcomes
It has been witnessed that people tend to comply with recommendations for follow-up appointments if they don't have to visit a doctor's office. Not even this, telemedicine visits help maintain improved patient engagement via medication management, chronic condition monitoring, and lifestyle coaching. According to the surveys, patients are more satisfied with the video visits provided by telemedicine platforms.
Reimbursement for Different Types of Visits
Telehealth solutions for clinics help generate more revenue by turning what providers often do for free today into paid activities. It is because most payers do not reimburse for telephone-only follow-up visits such as reviewing test results or checking on the progress of a case. However, the inclusion of telemedicine with video content makes these visits reimbursable. 
If being a healthcare professional, you are looking for such improvements in your medical practice. It is the right time to think about setting up telemedicine solutions for clinics. 
Tips to Consider While Setting Up Telemedicine Solutions for Clinics
Here are the best practices you can consider while setting up telemedicine software for hospitals or clinics.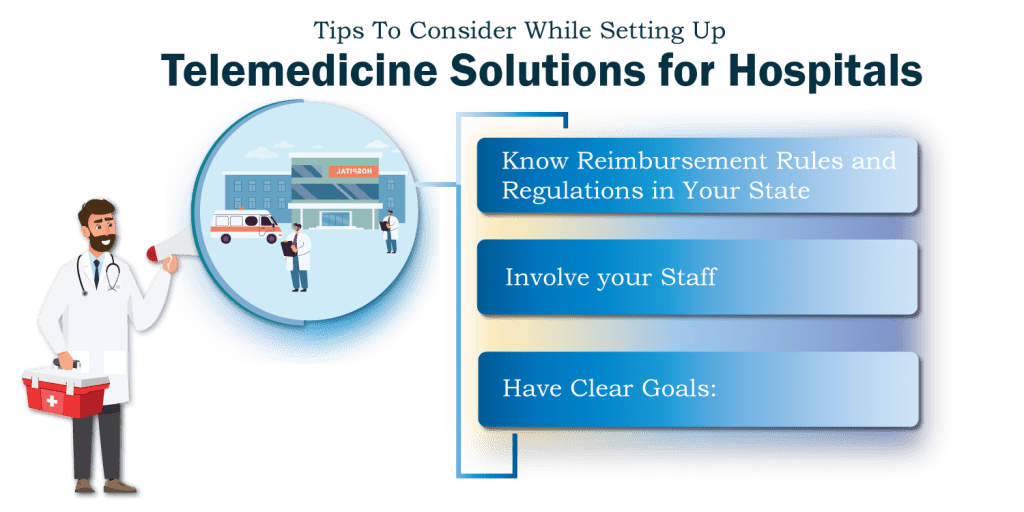 Telemedicine Solutions For Clinic can Help to Have Clear Goals: 
Before moving ahead with the development of telemedicine software for clinics, it is must to determine the goals of your practice with telemedicine. To have a clear view of your business objectives, you may consider how your telemedicine program should impact things like revenue, customer satisfaction, wait times, no-shows and cancellations. Staff efficiency, patient retention, new patients, or any other measurements that are vital for your practice.
Involve your Staff
The incorporation of telemedicine into the practice will impact several associated functions. Therefore, it is vital to involve a number of people from different departments to understand it better and develop telemedicine solutions for clinic. You can do so by creating a task force, including providers who will use telemedicine. People who will schedule appointments, available technical resources, and people from other business functions who may assist. If people are associated early and have the opportunity to shape the program. In that case, they will feel more invested in its success. 
Know Reimbursement Rules and Regulations in Your State
State laws and payer policies about telemedicine reimbursement vary a lot. Most are becoming more progressive and embracing telehealth as an important tool to serve the healthcare needs of the people. On the other hand, there are around 26 states that are known as "parity" laws and are looking for reimbursement of video conferencing in healthcare visits. Therefore, it is clear that there is no consistent approach, so it is vital to get familiar with the reimbursement rules and regulations of telemedicine in the area you practice.  
Select the Right Technology Partner
The are various telemedicine technologies. Therefore it is best to consider a telemedicine solution that is:
Easy to use for both the patients and staff
Secure and HIPAA compliant
Packed with methods that verify patient eligibility for reimbursement
Integrate easily with your EHR solution
Determine How Telemedicine Will Work Best For You
There is no universal way of using telemedicine for the best outcomes. One can customize the solution as per its practice's unique requirements. Before shifting to an online telemedicine solution for clinics, healthcare providers can try it by availing patients of remote visits during the week or when the office is traditionally closed. Other than this, medical practices can increase telemedicine utilization and revenue by conducting follow-up phone calls by video because telephone calls are not reimbursable, whereas video consultation is. 
Market the Service Using Telemedicine Solutions For Clinic
Once you have decided to use a telemedicine solution for your hospital or clinic, you must make people know that they have the option of video visits. You can do so by intimating people through signs in the office, emailing, or mentioning the facility as a part of every in-person encounter. It is understood that patients will not embrace the approach immediately. Still, they will keep it as an option in their mind. Not only will it keep them loyal to your practice in this era of cutthroat competition among retail health clinics and online-only providers, but it will also be fruitful in the long run.
Ask for Feedback
Feedback is critical if you want to improve any of your services or approaches. Therefore, always ask for feedback if you are going to introduce something new to your medical staff and patients. It will help get the insights of both groups and integrate their best ideas into your telemedicine solution.
Evaluate Success Against Your Goals
Once you have started delivering healthcare via telemedicine, don't forget to evaluate your goals from time to time. You may need to make changes to the ongoing program or your goals after you get started. It is also important to recognize and reward your team when goals are met or exceeded. 
Conclusion:
If you run a medical practice and want to make the above-mentioned improvements to your facility, it's time to get started and set up your telemedicine solution for clinic. The best practices mentioned in this blog will help you successfully incorporate telemedicine software for hospitals or clinics.
Still, if you have any queries or doubts regarding setting up telehealth solutions for clinics, in that case, you can contact VCDoctor, an industry-leading telemedicine solution provider. You can outsource telemedicine solutions for clinic from us as the company offers a variety of telemedicine solutions. Or receive needed consultation to create your unique telemedicine solution for the clinic from scratch.
The choice is yours! Don't forget to get a free consultation or request a demo.