Is telemedicine more popular among young women? This is the question we are trying to find the answer to in this blog. Telehealth for women health has gained significant popularity since the coronavirus pandemic.
While it is understandable that the pandemic restrictions forced people to look for alternative ways of seeking medical care, it is not the sole reason for the popularity of Telehealth Services for Women.
Telehealth For Women: A catalyst for change
Digital technology is reshaping the healthcare ecosystem. McKinsey believes that by 2025, technology-driven innovation will have the ability to improve our understanding of patients, enable more convenient, personalized care—and produce $350 billion to $410 billion in annual value.
Telehealth for women is at the forefront of this change. Telemedicine Solutions is popular among women for a variety of reasons.
Read More: How Telehealth Enhances The Patient-Doctor Relationship?
1. Accessibility:
Access to healthcare, which encompasses both curative and preventative measures, is a fundamental human right. Despite this, the majority of young women do not have access to quality medical care. The healthcare infrastructure in developing and underdeveloped countries is under severe strain.
Not to mention the various social dogmas and prejudices that young women in these nations face. A multitude of social and structural obstacles may obstruct women's access to healthcare.
Telehealth Services for Women are proving to be a powerful force for change in this area. Women can get primary care from the comfort of their own homes thanks to telehealth services.
Telehealth Solutions
Help Young Women Break Barriers To Quality Healthcare. Get the most advanced telehealth solution today.
Request a Quote
2. No Cost Barriers:
The United States is the world's richest country. Despite this, due to budgetary constraints, most low- and middle-income women neglect their healthcare needs. In fact, healthcare expenses have been a key topic in every previous presidential election in the United States.
Telehealth software has offered a cost-effective healthcare alternative. Today, telepathology and teleradiology are examples of remote analytic services that are less costly and compromise little on the quality of care.
Smaller healthcare facilities can also use telemedicine solutions to pool resources and provide round-the-clock coverage at a lower cost. Furthermore, telemedicine can help prioritize and optimize emergency cases while also lowering transportation and clinician travel costs, or perhaps eliminating them entirely if an in-person visit isn't required.
Not every check-up necessitates a trip to the hospital; some necessitate discussions over the phone or via videoconferencing. Not only may patient flow be reduced, but care quality and outcomes can also be enhanced using a range of telemonitoring methods and technology.
Read More: Which Medical Specialties Are Highly Interested In Telehealth Services?
3. Flexibility:
Women may be missing medical treatment at a larger rate than men, but it isn't because they don't need to see a doctor.
Approximately 43% of women report having a chronic medical condition requiring regular monitoring, treatment, or medication. But a larger number of women either can't or don't seek health care.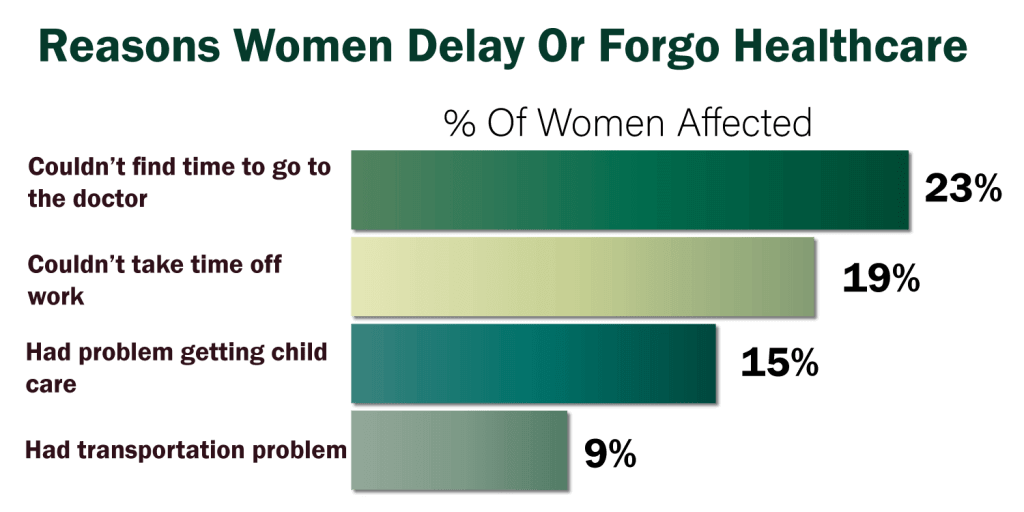 Source: Kaiser Family Foundation
(Edit and then use the image)
Telehealth Services for Women assist women in overcoming traditional hurdles by effectively meeting their requirements in the twenty-first century. Young women can seek medical treatment through telehealth solutions outside of the time and place constraints of a traditional face-to-face medical visit.
4. Technology Empowers Young Women
During the last decade, the smartphone has completely transformed traditional ways of doing things. Apps are used by women for almost everything nowadays, including dating, shopping, and traveling. Wearables and health-related apps are also gaining popularity. If it is not an emergency, it should come as no surprise that today's young women prefer to see their doctor online.
5. More Power More Freedom
Telehealth services for women aren't just another femtech. In actuality, they liberate and empower young women. Telehealth solutions remove all barriers that prevent young women, especially those in underdeveloped countries, from accessing high-quality healthcare without limitations. In many parts of the world, young women are still unable to freely discuss mental health, sexual health, and vaginal health. Thanks to telehealth, young women now have the freedom to discuss sensitive issues with trusted experts from the comfort of their own homes.
Read More: Top 5 Reasons Why HIPAA Compliance Is Necessary For Telehealth
Telemedicine software is popular among women providers too!
Virtual health care is gaining traction among female practitioners, as well as patients.
Virtual care's time savings and ease are especially beneficial to carers, a traditionally female position, and experts say that throughout the epidemic, a huge number of caregivers have used virtual care to triage requirements for their loved ones — and themselves.
To meet this need, telehealth startups have sprung up, leading to explosive growth in telemedicine for women's health over the last year and a half.
The Challenges Faced by Women Doctors
The number of women entering the medical field is growing every day, and the obstacles they confront are growing as well. Here are a few examples:
Family Planning: Despite the fact that the birth of a child should be a happy occasion, it is sometimes received with raised eyebrows at work. Long maternity leaves are sometimes viewed as a betrayal of work ethics and devotion. More often than not, motherhood appears to be a barrier to career growth.
Balance Between Professional and Personal Life: In our society women and men are not judged on the same scale. While most males are expected to make a decent living, women are not in the same boat. Women have to dawn on multiple hats in life. They have to be a good mother and a good wife too. For women in medicine, the demands of professional and personal life can be daunting. Striking a balance between professional commitment and responsibilities ta home is not easy.
More often than not, women providers and caregivers are not even appreciated for the hard work they put in every day. Telehealth Services for Women can go a long way in addressing these challenges.
Why Telehealth Services for Women in Medicine is a Must-have?
Elimination of overhead: Women clinicians save time dealing with patients in non-emergencies or at home when they use HIPAA-compliant telehealth platforms. It also frees up time that could be spent on patients who require more individualized in-person attention.
Improving the medical workflow: The efficiency of the medical procedure can be greatly improved with telemedicine software. This is because this approach allows for immediate assistance or prioritization in any medical situation while also improving patient-doctor communication. Collecting, retaining, maintaining, or using patient records can help you make better judgments.
HIPAA-compliant Telemedicine Software
Offer quality care anywhere anytime. Get started with your own HIPAA-compliant telemedicine software.
Know more
The Bottomline
So we see that telehealth software solutions make life easier for both women providers and patients. If you are also looking for a HIPAA-compliant telehealth solution that meets all your needs then you have come to the right place.
Our solution is completely secure and private. Request a free demo of our certified Telehealth Services for Women right now!