Ever since the world was rocked by the coronavirus pandemic, specialty telehealth services have seen a dramatic increase in popularity among providers and patients a like. Today, thanks to the comfort and ease offered by telehealth services, patients even in the remotest areas can access quality healthcare services.
In recent years, telehealth solutions have witnessed wide-scale adoption across a range of healthcare specialties. The current healthcare infrastructure is overburdened. Telehealth apps for startups reduce the cost of healthcare services for providers, patients, and insurance companies. Telemedicine also cuts down on non-emergency ER visits and eliminates the need for in-person visits for routine examinations.
But what are the best specialties for telemedicine? Find out about all of them and more in this blog.
Telehealth Benefits for Providers
See patients outside of traditional office hours
Easy and seamless calendar management system
Simple calendar views to check and manage availability slots.
Fewer No-Shows
Consultation via Video and text
E-prescription and treatment advice
Seamless communication with patients via messages
One-click access to patient medical history, consultation records, test reports, and more.
Prevent exposure and risks of COVID-19, flu, and other infectious diseases
7 Top Specialties in Telehealth Services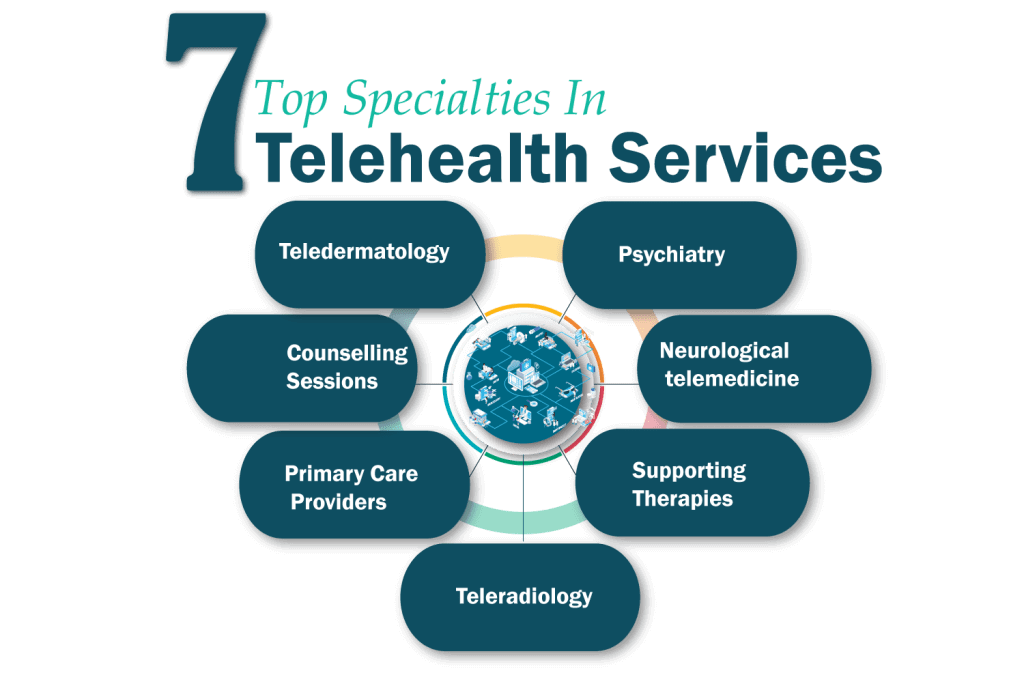 1. Primary Care Providers
Telemedicine for Primary Treatment providers allows you to provide patient-centered treatment while streamlining your operations. It's no secret that primary care providers spend a lot of time following up with patients. Asking patients to come into the office for follow-ups is inconvenient, yet phone calls to patients are not reimbursable. This challenge is solved by using telemedicine for appointments that do not require a physical examination.
The following are some clinical use cases for primary care providers who employ telehealth:
Managing chronic illnesses
Periodic patient follow-ups
Care during minor medical emergencies.
Best Telehealth Solution for Clinic
Give your patient the freedom to access healthcare from anywhere anytime.
Learn More
2. Teleradiology
Radiologists have traditionally been the most enthusiastic about telehealth capabilities. Simply put, teleradiology can be used to process the following radiological images:
X-rays
Computed tomography (CT)
Ultrasonography
Magnetic resonance imaging (MRI)
Positron emission tomography-computed tomography (PET/CT)
3. Psychiatry
In the coming years, psychiatry is expected to rapidly adopt telemedicine solutions. Until 2017, it was estimated that over 792 million individuals around the world suffered from mental illness, anxiety, or stress. Despite this, many mental health disorders go unnoticed or unreported.
Not every emergency room can treat someone with a severe mental illness or has a dedicated specialist on staff. Experts may find telehealth to be a useful tool in addressing the growing mental health burden on the present healthcare system.
The following advantages are listed by healthcare providers:
Increasing access to mental health services, especially in rural areas
Integrating primary and mental health care improves outcomes.
Increased patient outreach aids in the dismantling of prejudice and societal dogma.
4. Neurological Telemedicine
While there is considerable evidence that telemedicine is beneficial in the treatment of stroke, its usefulness in other areas of neurology is less obvious. Neurology specialty telehealth services can be used for the following scenarios:
Patient-education programs
Emergency services
Inpatient and outpatient consultations
Test results sharing and interpretation (e.g., electroencephalogram)
Access to neurology in rural locations
5. Teledermatology
Seeing a dermatologist can take a long time. Telemedicine makes these encounters simple and, in many cases, inexpensive. Telehealth services are currently popular in teledermatology for dermatologists consulting because of the visual aspect and ease of use.
While telemedicine cannot always replace a visit to your dermatologist's office, it can help you when you can't.
Telemedicine can be an effective way to seek expert care and treatment for a range of skin, hair, and nail conditions, including:
Acne
Rashes
Psoriasis
Eczema
Suspicious spots or moles
Your dermatologist may prefer to visit you in person rather than via telemedicine, depending on your situation. Dermatologists benefit from telemedicine in the following ways:
Reducing patient wait times and boosting appointment availability, guaranteeing early diagnosis and appropriate actions
Avoiding pricey emergency room referrals
Increasing the speed with which healthcare providers work together
Time and energy to focus on the most serious cases
6. Supporting Therapies
Telemedicine solutions are being extensively used today to offer support therapies to patients. These include yoga and meditation classes for patients. One can access these sessions anytime anywhere.
Supporting therapies are among the most sought-after services among patients using telehealth solutions for startups.
7. Counselling Sessions
Counseling has been linked to improved patient well-being and emotional well-being, as well as improved treatment compliance, patient satisfaction, and recovery from surgery or other medical therapy.
Telemedicine apps for startups are a perfect tool for providers to establish a good counseling plan for patients. Telemedicine apps, regardless of specialty, provide a wealth of capabilities to make counseling sessions more interesting and result-oriented. Furthermore, patients have the option of attending these sessions at their leisure.
Custom Telehealth Solution
That meets all your patient expectations
Request a Quotes
The Bottomline
If we had to find a silver lining in the coronavirus epidemic, it would undoubtedly be the conclusion that our healthcare system requires a revamp. It must be more adaptable and patient-centered.
Our healthcare system's goal should not only be disease treatment but also disease prevention in the future. Telehealth specialty can help you achieve these objectives in a big way. We can not only relieve the existing burden on healthcare infrastructure but also ensure that healthcare is more affordable by providing patients with simple access to specialized treatment at home.
Real-time telehealth services, which appear to lead to completely integrated practice, are challenging traditional best practices. Solution providers, on the other hand, must win patient trust and confidence by providing solutions that protect the patient's privacy and medical records.
If you are looking for an advanced, scalable telehealth solution, then you have come to the right place. VCDoctor is a HIPAA Compliant telehealth solution for startups, doctors, and hospitals. Get in touch with our experts for more details.