In this digital era, the way people used to get treated for any disease has now been drastically changed post-COVID-19. They now prefer to use telemedicine over the traditional way of visiting a doctor's office. We don't say it. Statistics suggest a majority of people are interested in using telemedicine, about 76%. When such a huge mass is showing interest in using telemedicine to get diagnosed and treated for their illness, then why not entrepreneurs or startups make their way toward investing in the expedition of telemedicine development of their own? And look for telemedicine startup costs.
If you are one of them and willing to start a telemedicine business of your own then this blog is for you. Here in this blog, we will highlight all the important aspects ranging from the types of telehealth for startup services to the steps involved in telemedicine development and telemedicine startup costs, etc.
So let's first have a look at VCDoctor.
What Figures Tell About Telemedicine Market and Its Future
HIPAA compliant telemedicine software for startups emerged as a possibility to connect medical professionals in different locations and has now become a trend in the industry. According to studies, over 1 billion virtual healthcare interactions will take place in 2020. And with social restrictions, a surge continues to be witnessed in the number of virtual doctor visits. Even after the pandemic, many people chose to pursue telehealth visits rather than making their way toward traditional doctors' office visits. Due to the convenience remote consulting offers, it is hard to refuse.
Moreover, a survey conducted by Deloitte also advocates the growth in telemedicine usage by physicians. In 2020, a journey that started with just simply communicating with the patients, physician-to-physician consultations, and a whole range of other actions, has now reached an all-new level.
The telemedicine market, which was evaluated at 45.5 billion US dollars in 2019, is likely to touch the whooping figures of 175.5 billion in 2026. On the other hand, the Data Breach market research reveals the telehealth industry will grow at a CAGR of 22.67% in the coming years.
With such outstanding figures, it can be concluded that telemedicine solutions for startups will continue to grow in popularity. And starting a telemedicine business now will turn out to be one of the right decisions of yours in the long run.
But before delving into telemedicine startup costs and how to start a telemedicine business, It's better to get an overview of telemedicine, its types, required features, and other necessities.
Start A Telemedicine Business
Approach VCDoctor-HIPAA compliant telemedicine solutions provider for Free Demo
Request a Quote
What is Telemedicine Apps for Startups and Telemedicine Startup Costs?
Fundamentally, telemedicine apps for startups are the use of technology by healthcare professionals to diagnose and treat patients in remote locations. It could be anything from computers, and smartphones to video, messaging, or any form of technology that offers a platform for a virtual consultation.
What are Different Types of Telemedicine Apps for Startups?
There are three different types of telemedicine apps for startups, including store-and-forward, rpm patient monitoring, and real-time interactive services. Each type plays a different and beneficial role when it comes to offering overall vcdoctor for healthcare startups. Even for healthcare professionals and patients as well. 
Store-and-Forward
Store-and-forward telemedicine ends the need for healthcare professionals to meet the patients in person. Besides, they can get access to patient information like medical images or biosignals for their diagnosis and treatment. Once the telemedicine apps for patients gets their hands on these health records and submits them to the specialists,
Store-and-forward is the most prevalent telemedicine practice in the medical fields of dermatology, radiology, and pathology. With proper structure and care, it can save time and allow healthcare professionals to serve the needy ones with their range of services. However, there is a possibility that this form of telemedicine can cause complications such as misdiagnosis. Owing to its dependency on history reports, documented information, or images rather than a physical examination.
Remote Monitoring
Remote monitoring a.k.a self-monitoring or self-testing. It uses a wide range of technological devices to monitor the health and clinical signs of patients remotely. Remote monitoring is majorly used in the management of chronic disease management globally. That could be asthma, diabetes mellitus, cardiovascular disease, or other chronic diseases.
If the benefits of remote monitoring are concerned, it is cost-effective, enables more frequent monitoring of patients, and provides them a sense of greater satisfaction. However, there is a risk of inaccuracy in the test conducted by the patients. But the results are said to be similar to professional-patient tests.
Real-time interactive services
Interactive services are capable of offering immediate advice to patients who require medical attention. To take advantage of these interactive services, patients can use different mediums like phone, online, and home visits. Other than this, patients can present their medical history and consultation in order to get a diagnosis and treatment similar to in-person doctor visits.
What Are The Must-Have Features of A Telemedicine App?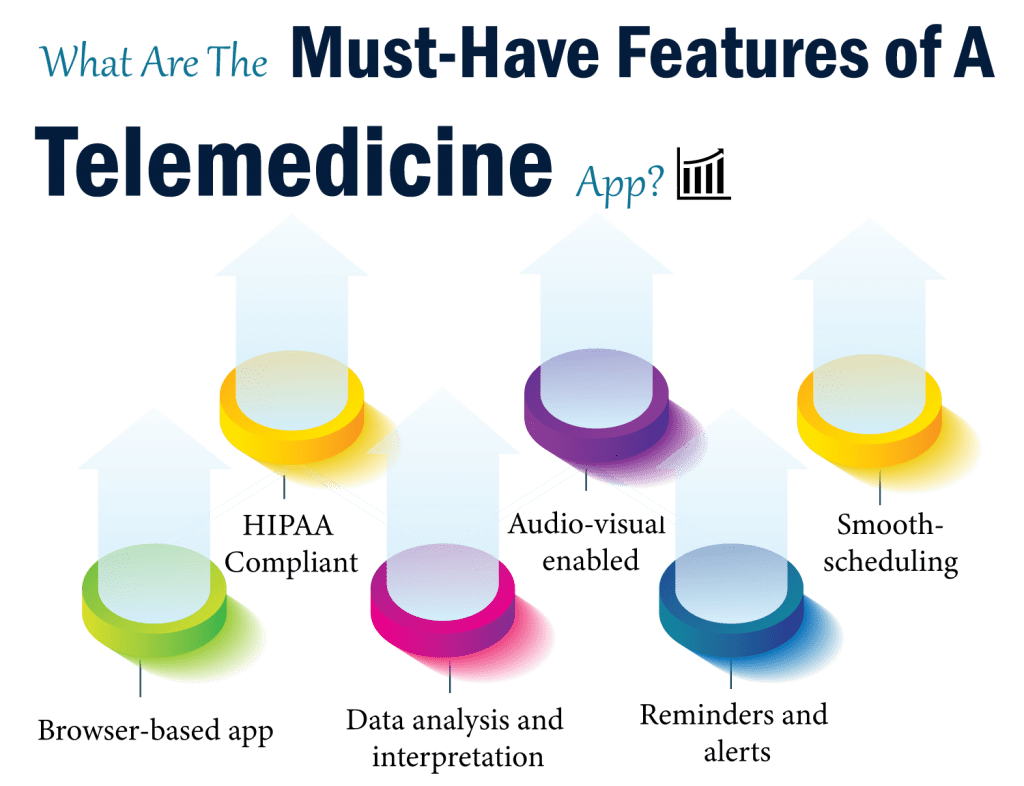 If you are planning to build HIPAA compliant telemedicine software for startups, you must consider equipping your software with the following essential features.
Browser-based app
According to the trend, the demand for a telemedicine app accessible through a web browser on a smartphone or desktop is quite high in the market. It is because a browser-based system is accessible to anyone. Also, it does not involve system requirements, which are mandatory with the installed software and leads to unnecessary processing.
HIPAA Compliant
Your telemedicine app for startups must be HIPAA compliant. HIPAA (Health Insurance Portability and Accountability Act) has a framework that ensures the safety and security of your patient's confidential data. It is the reason why people always look for and prefer HIPAA-compliant telemedicine apps, among others.
Audio-visual enabled
It is one of the must-have features of telehealth software for startups as it promotes patient-doctor trust. This feature enables both the parties-doctor and the patient, to interact via audio and benefits of video conferencing in healthcare during remote consultation. Doctors can easily identify the visible symptoms to make a more accurate diagnosis. Simultaneously, patients can effectively communicate their problems, similar to an in-person consultation.
Smooth-scheduling
With the ongoing circumstance, a couple of applications may get overwhelmed with the storm of appointments. This calls in for a vigorous feature that can deal with scheduling and listing a high volume of remote appointments at once. The application needs a doctor booking feature that assists the provider with overseeing day-to-day appointments while providing the patients with on-time treatment.
Data analysis and interpretation
Telehealth applications offer remote access to specialists online as well as assist with creating a database for clinical history. Why? For further analysis and studies which benefit the patient with better treatment as well as the community at large. Doctors can talk with fellow doctors to make a more evolved assessment while the patients get the best evaluation.
Reminders and alerts
Patients should know about their forthcoming appointment. That is fundamental. Yet, what the number of applications hit the nail on the head, ensuring that the patient doesn't miss their appointment? The notifications should be shoot in real-time, intimating both the doctor and patient to diminish the friction in time difference between locations.
How can you Develop Telemedicine apps and Telemedicine Startup Costs?
The development of telemedicine apps for startups requires great responsibility on the grounds that a telemedicine application directly influences individuals' health. Are you pondering how to make a telemedicine application with video calls, audio calls, chat, photo-based, and real-time consultations? There are a few significant phases of developing this sort of application.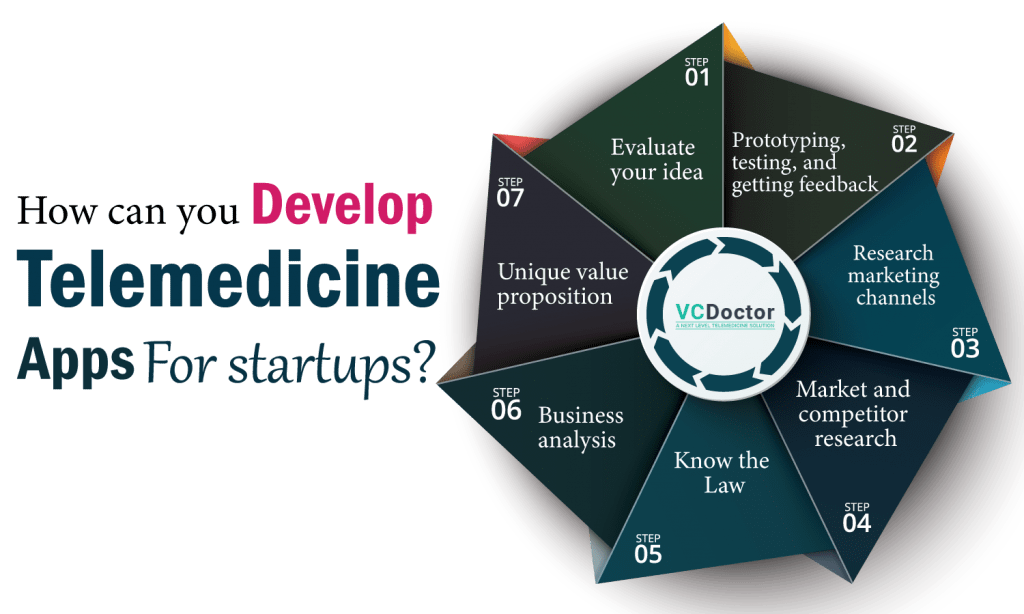 Evaluate your idea
Developers should be highly educated to build a useful application that will satisfy users' needs. Evaluating your idea correctly can assist you with understanding application functionality and market conditions. An application should always be based on a good idea. To affirm that your idea is practical, you should be able to answer why you need to create an application and why you specifically need to create a telemedicine application. Here are some steps to help you assess your idea effectively.
Conduct business analysis
Research the market and your rivals
Define a unique value proposition
Make a model, conduct testing, and get feedback
Research marketing channels
Business analysis
At this stage you determine the demand for your application and characterize your buyer persona, which will define your ideal target audience. Business examination should be the premise of your strategy. Your audience has issues, and your product solves those issues. Understanding who your customer is will also assist you with the promotion of your application effectively after the launch.
Market and competitor research
This is the stage when you find market pioneers — your possible rivals. Research their strengths and weaknesses, ratings, and user reviews. This will assist you with understanding the ability of your application to compete. While researching market pioneers, please pay attention to their costs, platforms, and the difference between their applications and your idea.
Unique value proposition
Duplicates hardly at any point leave the original behind. This is the reason your application should offer extraordinary features to enjoy an edge over its rivals. While fostering a telehealth application for consulting with a doctor, focus on these potential extraordinary features:
High-quality chat
It's significant for a telemedicine application to have effective chat functionality. An application for communicating with individuals must incorporate a quality tool for communication. Consistent chat functionality assists doctors in working with patients effectively.
Doctor and patient information
Individuals like to know who they're talking with, and people trust doctors just because they are called doctors. A telemedicine application can show data about capabilities, rates, number of past patients, and patient reviews. Doctors can see a patient's electronic health record to figure out their concerns and immediately find solutions.
Prototyping, testing, and getting feedback
It would be best to foster a low-fidelity prototype (LFP) to comprehend your application's wireframes, the circumstances and effect relationships between buttons and windows, and search details that should be changed or removed. An LFP assists you with understanding how the application functions and what benefit it brings. Then you must foster a UX plan, and when it's finished, you can begin with the high-fidelity prototype stage. This stage permits you to test your application and get feedback from your audience.
Research marketing channels
This stage holds a ton of significance for post-launch development. How can you make your audience know about your application and the need to utilize it? This question is the main reason why you really want to research marketing channels.
You want to understand where what social networks your audience uses, what data they look for on the web, what days of the week, and what times they prefer utilizing a cell phone and surfing the internet. Promote your application on channels where your target audience is aiming to create the most gain.
Know the Law
According to the American Telemedicine Association, telemedicine development is changing the healthcare industry. There are numerous US laws that have been composed to assist the telemedicine industry. For instance, the Medicare Access and CHIP Reauthorization Act of 2015 (MACRA) opens up potential outcomes to create, improve, update, and grow telemedicine applications and execute this innovation in clinical organizations and societies, patient advocacy organizations, educational institutions, and independent research organizations.
Telemedicine Startup Costs: The Cost of Starting a Telemedicine Business
Regardless of who you are, a telehealth startup or a healthcare business owner, the cost of starting a telemedicine business completely depends on the telemedicine software solution, as it is the critical component that guarantees your business success.
If you want to develop a custom telemedicine app, expect the expense of at least $50,000. Such a telehealth app for startups will contain custom features and functionalities to meet the expectations of your clinical workflow and end-user requirements. A custom telemedicine software solution is an ideal choice for most telemedicine business models. Also, outsourcing is a powerful method for making custom telemedicine app development less expensive. You can outsource the telehealth software development to a remote organization with lower rates in the market but possessing highly skilled developers.
An MVP will cost you around $20,000 and comparatively lesser time to develop. It's a great time and cost-effective choice to test your product before investing a considerable sum in the development of a full-fledged application. However, an MVP offers fewer functionalities as against to custom applications in the long term perspective.
There is an option of a white-label telemedicine application available in the market that will cost you around $15,000. It comprises core features; however, you will not be able to offer something unique or innovative to your end-users.
Note that apart from telemedicine app development, if you want to invest in equipment (tablets, earphones, and more). It will cost you more. All in all, your telehealth startup costs will usually be extended and burn a hole in the pocket of those who are willing to buy your telemedicine app solution.
Looking for White Label Telemedicine Solutions for Startups?
Try VCDoctor| Best-in-Class, White Label Telemedicine Solution for Startups
Get Free Demo
Conclusion
This is all about telemedicine startup costs if you are willing to start a telemedicine business. If you still have confusion and doubt regarding the telemedicine startup costs and the process of starting a telemedicine business. You can contact VCDoctor, the industry's best telemedicine app development company. At VCDoctor, you can scan a wide range of telemedicine software solutions-
Telemedicine solutions for doctors
Telemedicine solutions for patients
Telemedicine solutions for providers
Telemedicine solutions for startups
And decide on the particular telemedicine app development concerning your target audience. You will surely get your hands-on time and cost-effective telemedicine solutions. Free to visit our website or consult our healthcare consultants to bring your unique telemedicine app idea into reality.