In 2021, the telemedicine market was valued at approximately USD 104437.92 million, which is expected to grow a CAGR of 20.5% by USD 272756.3 million in 2027.
During the COVID-19 pandemic, telehealth emerged as an essential component of healthcare since the JCO Global Oncology-An American Society of Clinical Oncology Journal put physical distance in the first place to minimize the spread of the coronavirus disease. This resulted in the adoption of telemedicine to a greater extent for most outpatient oncology appointments. Although most healthcare systems had already integrated telemedicine services before the pandemic onset during the COVID-19 crisis, clinicians were encouraged to adapt telemedicine-based consultations to reduce in-person visits and limit or restrict travel. Thus, the COVID-19 pandemic has played a vital role in the growth of the telemedicine market globally. 
Moreover, other factors contribute to the growth of the telemedicine market. Including increased healthcare costs, technological innovations, remote patient monitoring, and the growing burden of chronic diseases.
Telehealth solutions have showcased the ability to enhance health outcomes and reduce costs. Telemedicine saves comparatively more money from patients, providers, and payers' incurred in traditional approaches. Telemedicine reduces healthcare costs and increases efficiency by effectively managing chronic diseases, reducing travel times, shared health, professional staffing, and fewer and shorter hospital stays. Thus, owing to the above-mentioned factors, the global telemedicine market size is expected to grow exponentially over the forecast period.  
Key Telemedicine Market Insights & Adoption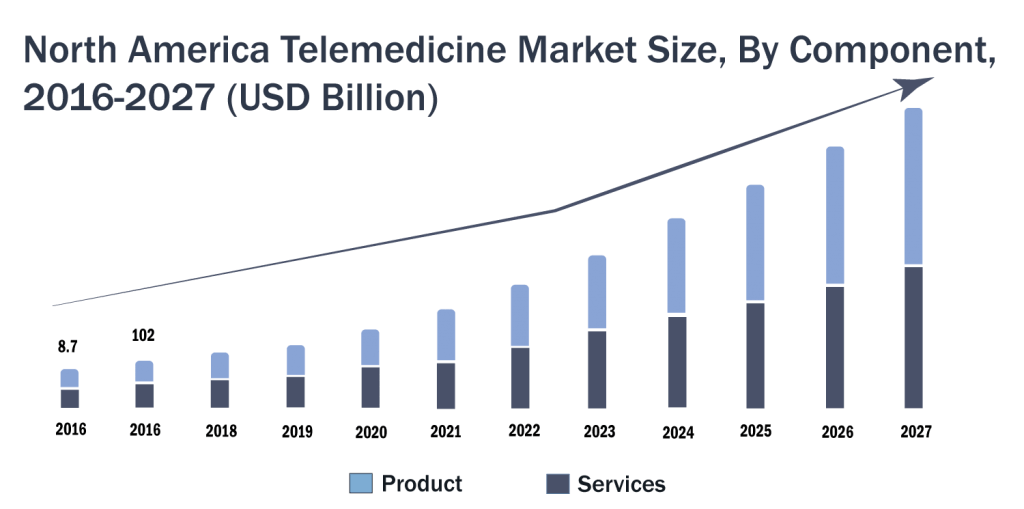 The growth in the telemedicine market started to be witnessed in the 2000ies. In 2019, it was valued at $49.9 billion, which is estimated to grow to $194.1 billion by 2023 and a whopping milestone of $459.8 billion by 2030.
Telemedicine observed such a drastic surge in demand owing to several factors. The technological advancements in general and the COVID-19 pandemic completely changed how the healthcare industry used to operate.
As per the reports, 82% of the customers used telemedicine technology for the first time since the COVID-19 inception.
Telemedicine Market adoption in regions and growth forecasts
An outstanding growth has been witnessed in different regions. The US remains the epicenter for telemedicine development while Europe is experiencing a new era of telemedicine. 
Reportedly, 71% of Italian healthcare providers use telemedicine, whereas, in Nordic countries and Austria, the telemedicine usage percentage is 55 and 54%, respectively.
Current Telemedicine Market Trends
The telemedicine market growth is staggering in the forthcoming years. We don't say it. The report from Mordor Intelligence suggests a CAGR of 28% in the telemedicine market from the currently estimated $38 billion to $168 billion in the year 2026.
It is because the three main segments or niches of the healthcare industry are likely to grow. Telehospitals, Telehomes, Mobile Health, and others form current telemedicine trends that demand needed focus from healthcare service providers. If they are willing to gather good revenue from this growing market size. Let's shed some light on current telemedicine market trends. 
Telehospitals
Millennials aged 25 to 40 are counted at 72 million in the US and are the highest spending generation in 2020. But research shows that those aged 18-34 are highly prone to save instead of spending a surplus amount on health and wellness.
On the other hand, GenZ, the oldest of whom are in their mid-twenties, are counted to be 140 million. In terms of saving and receiving more convenient services, this tech-savvy generation presents a unique market for telehospitals to increase further. It is likely to be one of the top telehealth trends for 2021 and beyond. 
Telehome
Telehome or Telehomecare can be understood as home-administered healthcare and health monitoring. It was one of the largest telemedicine trends in the past few years, owing to the increasing number of chronic diseases. One hundred thirty-three million Americans are suffering from at least one. This demands a more comprehensive, continuous, better care empowered with technological innovations. Consequently, new and more improved services are being offered, and more patients expect the same services.
On the other hand, Americans from rural areas that used to face difficulties in accessing quality care locally now can receive this kind of advanced care, thanks to reliable internet connections in their area. 
HIPAA Compliant Telemedicine Solution
Best HIPAA compliant telemedicine solution for providers. 24*7 care delivered on patients' mobile.
Request a Quote
Mobile Health
Mobile health is one of the largest telehealth trends that make health more accessible. It incorporates everything from apps that help users perform breathing exercises to connecting healthcare professionals directly.
The increasing popularity of smartphones and tablets is the most critical factor behind accelerating the mobile health trend globally. Moreover, the emergence of improved smartphones makes them competent to connect with different medical devices, consolidate data, and send them to doctors or even synthesize a likely diagnosis.
Chronic care management
Chronic care management is also one of the largest telemedicine trends taking the healthcare industry to a whole new level. Recent research suggests that chronic diseases are the leading cause of death worldwide. Therefore, it is vital to take this issue under control via telemedicine.
Chronic care management through telehealth generates new opportunities for the healthcare industry. For instance, cost reduction and patient engagement. Also, it offers better control over chronic diseases and reduces death counts. 
Focus on mental health
The global COVID-19 situation has completely changed the way of using telemedicine, majorly for mental health practices.
Statista reveals that 70% of Nordic healthcare providers utilised telemedicine software for mental services. In Spain, these figures are noted at 53%. These figures showcase that telehealth market size is not just an American trend but also a global one.
Improved UX
As the healthcare industry is witnessing quick growth and development, the customers are looking for improved designs of telemedicine applications. It has been one of the biggest trends of 2021 and is expected to be in trend in 2022.
Navigation ease, collection of features depending on the customers' needs, and quick access to them are necessary if any telemedicine app development company wants to follow the industry's best practices and implement the newest approaches.
Key Telemedicine Market Future Trends to Know
The growth in telemedicine usage predicts rapid growth in existing trends and the welcoming of new ones. Here is a compiled list of telemedicine trends likely to change the industry soon.
AI, ML, and Big Data
In terms of healthcare, AI and ML have a great potential that is needed to explore yet.
This telemedicine technology is currently being used for pandemic detection, thermal scanning, CT scan analysis, stroke prediction, prevention, etc. It will continue to grow and develop significantly into the future.
Big Data solutions that can identify plausible health trends and conduct forecasting based on telehealth statistics will pave the way for in-depth research for valuable insights into society's healthcare needs that were previously unavailable.
AR and VR
These telemedicine technologies support patients with serious health issues like stroke, dementia, or cognitive impairments.
Augmented reality is playing a vital role in robotic surgery as well.
AR and VR technologies will likely see exponential growth in the coming years by reaching the milestone of $15 billion by 2027.
IoT and IoMT
The Internet of Things and collecting health data through external devices aren't new.
However, the growing telehealth market trend is connecting several devices within a system to attain a specific goal of improved health—for instance, glucose monitors, nutrition monitors, mobility data, etc.
Healthcare professionals make better decisions with a variety of accurate and up-to-date data.
EHR-embedded Solutions in Telemedicine Market
Embedding electronic health records (EHR) in telehealth solutions enables using information effectively.
Statistics suggest that a minority of hospitals and healthcare systems are integrating their EHR systems with telehealth solutions. That makes it a potential trend to grow in 2022 and beyond.
EHR-embedded solutions trigger security as one of the larger ongoing trends right now.
Healthcare businesses need to develop EHR-embedded applications keeping data security of patient information in mind.
Remote Monitoring in Telemedicine Market
Remote monitoring can handle patients' health by reducing the number of offline visits to hospitals or clinics to a greater extent.
It uses wearable device technology to control basic life indicators.
It enables users to share their health information with their therapists. Consequently, the concerned therapists can provide you treatment when they notice the change in your indicators.
HL7
HL7 is an internationally used telecommunication standard that facilitates data transfers between healthcare applications at all levels, including healthcare administration programs.
7 Internet of Behaviors
Gartner coins IoB or Internet of Behaviors term in their 2021 telehealth trends report.
IoB goes one step ahead in combining information from different sources rather than AI, ML, and Big Data. This includes behavioral data from internet usage and more to develop better health recommendations for the end-users.
Existing algorithms in different genres like social media, digital advertising, the banking system, and the insurance industry have shown that human behavior changed and can be predicted significantly. Therefore, health can also be improved by improving human behavior.
Integrated data sharing
Integrated data sharing in healthcare allows collecting information about patients like the provided latest treatments, their operations, and diseases. To provide it for all hospitals and clinics so that customers don't have to share this data with a new doctor whenever they book an appointment.
Investment in technology in Telemedicine Market
Investment in technology is one of the biggest future trends in telemedicine.
Hospitals, clinics, and pharmacies are looking forward to spending a significant sum on telehealth development that will change the situation in the near future.
The customer expectations and budgets are growing with time. If you are willing to use telemedicine actively, don't hesitate to invest in the latest technologies.
Have an Idea about Telemedicine?
We build plenty of Telemedicine apps! Get the FREE estimation of your product idea
Talk to us
Final Words for Telemedicine Market
COVID has completely changed the way we used to approach our therapists. Today, instead of approaching their clinics for offline visits, we prefer to use mobile apps and online services. Thanks to advanced telemedicine apps like VCDoctor that enable virtual consultation through video conferencing or calling.  
If being a healthcare service provider, you are looking to build a HIPAA compliant telemedicine software, you can visit our website or consult our healthcare experts to discuss your custom telemedicine app development project.