Teledentistry can be described as a concoction of telecommunications and dentistry. Patients get in touch with their dentists over a telephonic model to share their problems and receive treatment. benefits of Teledentistry is a revolutionary field with many potencies to enhance access to oral health care and reduce costs.
It also has the potential to close the gap in oral health between rural and urban communities. Teledentistry can also be explained as data transmission from one point to another using telecommunications technology.
Teledentistry has not been around; it's almost new in the healthcare sector with the implementation of telecommunications technology and dentistry. It offers new opportunities for education and care that offer many potentials and challenges. The benefits of Teledentistry are in abundance, and it also helps in clinical training and retraining, screening, and dental laboratory communication.
In rural areas, where there is a shortage of specialists, the lack of comprehensive and complex telemedicine benefits healthcare can, at a reasonable cost, extend treatment to more distant patients and alleviate the shortage of specialist dental consultants.
About Teledentistry- What is Teledentistry, and how does it work?
Since the field is relatively new in the healthcare sector, it is more than logical to ask, what is Teledentistry? Well, it is the use of information technology and telecommunications to raise awareness in dentistry, consultation, education, and the general public. Teledentistry implements remote health systems and methods in dentistry for counseling or treatment virtually instead of in-person visits. It usually consists of three parts:
Evaluation: Teledentistry can be used to assess teeth with photographs and videos taken by the patient or by a dental protocol taken in person and remotely by an existing dentist.
Prescription: If a patient is in pain and needs antibiotics to treat an abscess, the prescription can be dispensed remotely instead of sending the patient to their family doctor or doing nothing. Someone is in terrible pain until physical admission.
Monitoring: Teledentistry is one of the affordable ways to monitor dentistry, especially in orthodontics. It has been an excellent help for dentists worldwide to remotely monitor and follow the progress of their patient's dental health without visiting them physically.
The Working of Teledentistry
Although it is practically impossible to perform actual dental procedures and examinations, you will be surprised to know that many services can do so. For instance, consultations are the most common form of virtual health check.
Teledentistry can be achieved in two different ways: through real-time video chat software or recording and transmission. There is another method of telemedicine in dental care that often requires the dental assistant to collect data related to the practice and send these datasets for review.
Although images and other data can be viewed at a virtual appointment, dentists cannot perform diagnostic tests, examinations, or other procedures that require the patient's physical presence. However, dentists can perform procedure consultations, post-operative follow-ups, and remote consultations from specialists online.
Benefits of Teledentistry- Patient, Dentists
Teledentistry uses technology to provide virtual medical, healthcare, and educational services. Some dental services, such as root canal treatment or tooth extraction, are obviously impossible to perform digitally, but remote dental care can provide many important dental services.
The benefits of teledentistry are enormous; it delivers all kinds of comforts to patients and dentists worldwide. Given that it is new in the healthcare sector, it delivers a ton of benefits with the use of best telemedicine software. Here are some of the benefits of teledentistry.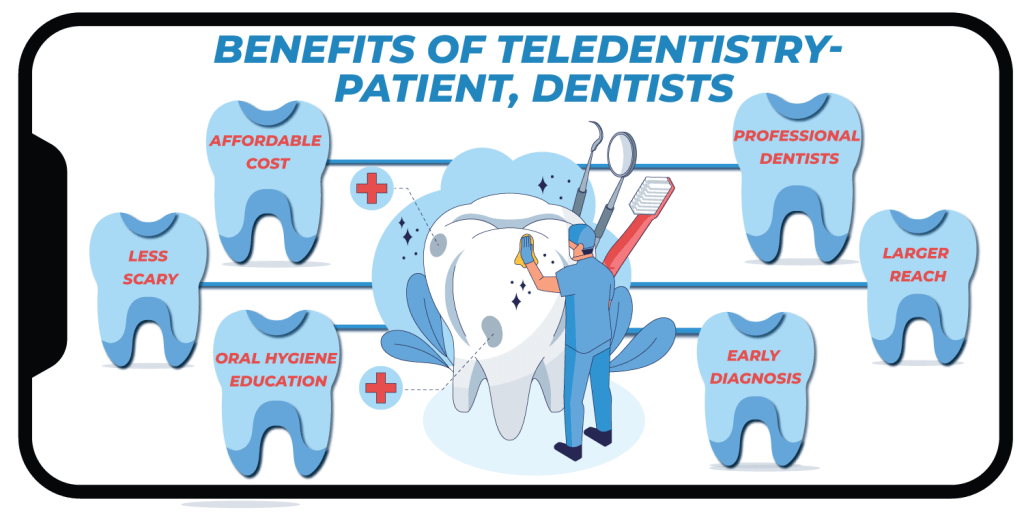 Affordable Cost
When a dentist has to admit a patient to their clinic, they must use resources such as masks, bathrobes, gloves, and other accessories, which will eventually reduce the value of the resources. It also increases the operating costs of the machines, which can be easily avoided.
Professional Dentists
Dentists practicing in rural areas often need specialist advice to treat their patients. Professionals are more concentrated in the urban environment and can be contacted by videoconference for more effective consultation. Rural dentists can send recorded videos of their patients to specialists for treatment.
Oral Hygiene Education
The use of video conferencing or recorded videos in dentistry can effectively practice human oral hygiene. Through these conferences and videos, you can teach children how to brush and use dental floss properly and give parents advice on oral hygiene.
Early Diagnosis
As mentioned earlier, many people avoid visiting the dental clinic simply because of a lack of time. If the problems are not severe, the patient will not be affected much. Early diagnosis can keep complications out if you have severe problems with your mouth, such as precancerous lesions.
Less scary
We have always been afraid to go to the dentist, and many people avoid this to keep anxiety at bay. The idea of visiting the dentist has always been inconvenient for children. Distance dental care can help solve this problem by offering the opportunity to see a dentist from the comfort of your own home.
Larger Reach
Some people face barriers to dental care and do not have easy access to dentists, including the elderly, patients at home, people with disabilities, the rural population, disadvantaged children, and more.
What can Teledentistry be Used for?
Some of you may say that practicing dentistry over the phone is not feasible, and you are entitled to some degree. Dentists cannot take x-rays, make restorations, make root canals or grit teeth. Teledentistry can benefit the dentist if they examine the patient before emergency care.
If necessary, medications, such as over-the-counter painkillers, can be discussed, and if necessary, antibiotics can be prescribed electronically and then scheduled for the patient. More effective patient planning can increase the return on practice. Next, it can be used in making post-operative appointments. In certain situations, a post-operative visit may not require a personal visit.
This saves staff time, personal protective equipment costs, reduces post-operative visits to the office, and allows a second child to be seen. However, if the situation necessitates a personal visit, this can be considered normal.
Teledentistry can be used for emergency consultation as using a platform for this type of appointment can help keep patients out of the hospital, increase the number of new patients who are likely to come to the office, and provide current patients with the reassurance that a dentist is available if they have any questions.
What are the Challenges in Adopting Teledentistry?
As oral care services are very unevenly distributed in rural or remote areas, people under-care seek oral care from non-dental providers. Against this background, and with declining technological costs and innovation, there is a growing interest in the deployment of teledentistry services.
Despite the lack of high-quality evidence to support the cost-effectiveness of telemedicine, evidence already shows that telemedicine helps reduce inequalities in primary care, even at extra cost.
Teledentistry possesses huge potential, and it can overcome geographical barriers and contribute to closing the rural-urban health gap in many areas. However, research into different telemedicine software has found that this technology can be successfully integrated into various devices.
The implementation of telemedicine into the mainstream oral health system can be described as a bit complex process but is not as hard as you may think. Removing barriers to the implementation of telemedicine can provide valuable insight into the lack of acceptance and provide an evidence base that can help future decisions about the benefits of teledentistry.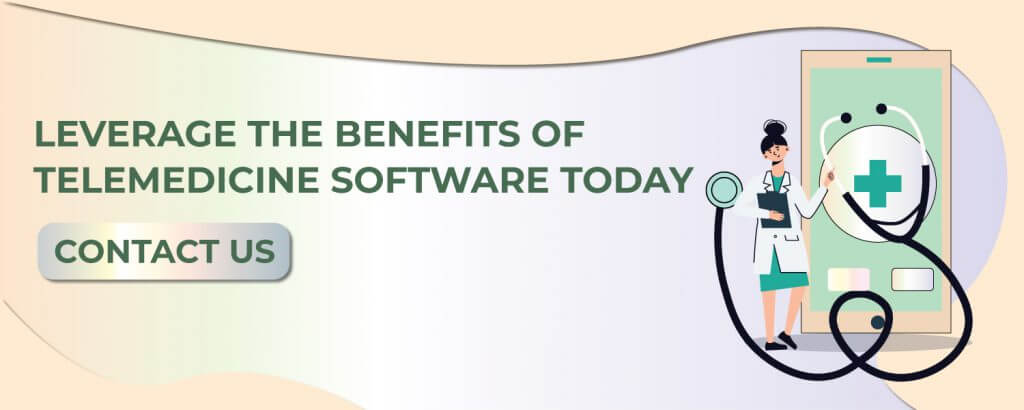 Conclusion
Despite being new to the healthcare sector, teledentistry is gaining enormous popularity, and the stats dictate that it is here to stay. It is good for patients and doctors in terms of convenience and revenue generation.
If you want to overcome geographical barriers and enhance the reach of your dental practice, telemedicine software could be a great help. VCDoctor is a reliable telemedicine solution provider that delivers seamless solutions to doctors and patients worldwide. To know more about our services, get in touch with our experts.