We are moving deeper into a digital world. In the same way, the future of telemedicine in healthcare is bright. Telemedicine is mandatory for both patients and healthcare professionals in uncertain times caused by the COVID-19 pandemic.
The focus is now on telemedicine, and for a good reason. With the help of telemedicine services, you can book an appointment and consult your doctor from the comfort of your own home.
According to a report by Global Market Insights, the value of the telemedicine market by 2026 will be $ 175.5 billion. These numbers indeed show the need for telemedicine now and in the future as well.
However, even before Covid-19, studies showed that American patients adopted telemedicine to manage their physical and mental health needs. In 2015, the American Hospital Association published a Trend Watch report stating that 70% of patients feel comfortable communicating virtually with doctors, and 74% use remote health care.
Telemedicine services are transforming healthcare by providing multiple benefits including:
better access to more doctors,
responding to urgent patient concerns,
reducing healthcare costs,
providing more convenient diagnostic and treatment options.
Telemedicine also helps doctors make their time more efficient and monitor patients more consistently. Now, we understand the impact of telemedicine in healthcare, and the impact is obviously positive.
The telemedicine future of healthcare shows signs of continuing even after the Covid-19 spread. It would not be wrong to say COVID has improved virtual care and the reason is simple. We were not allowed to step out of our homes, and the only way we would reach doctors was through telemedicine services.
Now, people prefer virtual care, and undoubtedly the future of telemedicine in healthcare industry is going to rise. So, we will just have to see how the technology will improve virtual care in the future.
Top 5 Reasons How Telemedicine is Changing Healthcare
1. Reduce Healthcare Costs
There are reasons why there is an increase in healthcare costs, and a few are below:
People unnecessarily tend to visit expensive facilities such as an emergency room.
Some patients in rehabilitation need to stay in the hospital to be monitored by their doctors.
Some people may need to take time off work and go to a hospital or clinic to see a doctor.
These costs can be saved through telemedicine services. Through telemedicine, the patient can book an appointment at their convenience. Not only this, but instead of running to the hospital at midnight during a medical emergency, a person can consult with a virtual doctor for quick advice and treatment. The role of telemedicine in healthcare is beyond imagination, and one among all benefits is that the patients can reduce healthcare costs by choosing it.
2. Increased Privacy
Some patients are reluctant to go to the hospital for various reasons. They may not want to be exposed to possible infections or may feel uncomfortable due to the presence of other patients, nurses, and hospital staff. In such cases, telemedicine helps to protect the patient's privacy.
Patients can consult their doctor in the comfort of their own homes. Telemedicine also has the advantage that physicians and patients can send documents, test results, lab tests, etc., directly to each other instead of being handled by a third party.
3. Increased Care Access and Availability
The deal to visit doctors and how providers deal with patients in remote locations are always the concern. But, telemedicine helps doctors and patients by becoming an intermediator. Through this, there is an increase in care access and availability.
4. Insurance Support
As telemedicine services are more widely used among all generations, insurance companies are taking more action to cover the costs of telemedicine. As of October 2019, there are forms in place in at least 42 U.S. states that require insurance companies to cover several telemedicine services.
The Centers for Medicare & Medicaid Services (CMS) has published its "final rule for 2020", describing its updates on telemedicine reimbursement codes. Currently, Medicare only reimburses for real-time telemedicine services (real-time video calling).
5. Improve Rural Healthcare Worldwide
Remote consultation can help deal with relatively mild illnesses before they become serious, such as treating cataracts before they become blind or ensuring that new mothers have the educational tools they need to raise a child and take care of their medical needs.
Rural areas might not have computers, printers, or other tools, but smartphones are available almost everywhere. The most interesting thing is that people in rural areas know how to use smartphones. This eases the tasks of providers as they can reach rural areas easily now.
Top 5 Reasons Why Telemedicine is the Future of Healthcare Industry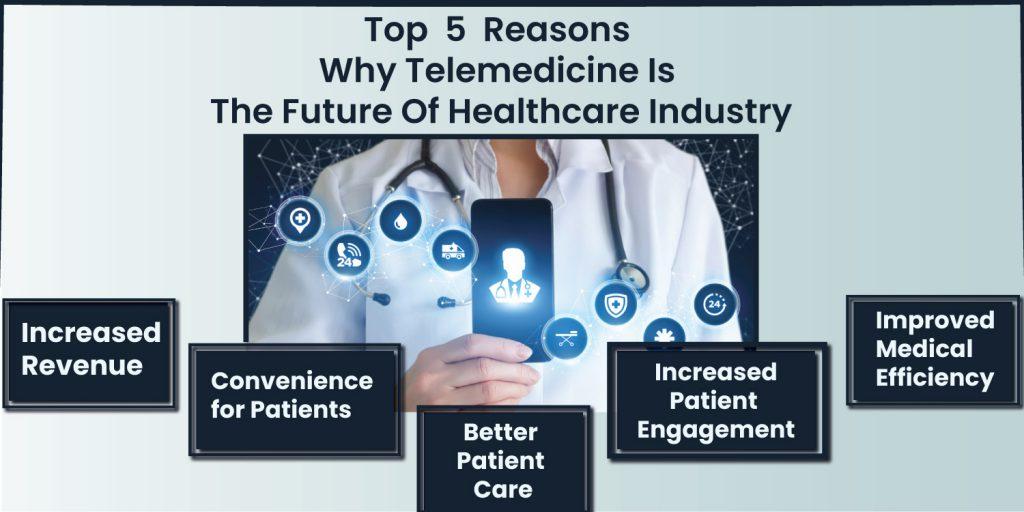 1. Increased Revenue
The cost-effectiveness of communicating with patients virtually is significant. Virtual appointments reduce cancellations and absences, which cost practices a significant amount each year. It can also attract new patients while facilitating patient mobility throughout the day, increasing the revenue.
Telehealth solutions provide convenience and quality patient care, increase revenue, and help healthcare professionals to ease out their tasks. Telemedicine will continue to grow as technology evolves and insurance companies benefit from insurance coverage.
2. Convenience for Patients
Going to the doctor often means taking at least half a day off work and holding important tasks. However, visiting the website or scheduling an appointment, and interacting with the doctor via video greatly increases the convenience.
This convenience can also allow more people to have regular doctor visits. Patients conveniently offer everything from virtual visits to general practitioners to consultations with specialists worldwide.
3. Improved Medical Efficiency
Telemedicine helps to collaborate with medical providers, which undoubtedly helps in increasing efficiency. If a primary doctor has advised the patient to see a specialist with a specific health problem, the specialist can be visited by telemedicine. In this virtual visit, the doctor can go through the patient's medical history virtually. Also, the doctor can suggest whether further care is necessary or not. This saves as much time and money as spent on an actual office visit.
4. Better Patient Care
Studying and interacting with patients online allows healthcare providers to collaborate to provide a higher level of care for patients. Telemedicine offers patient-centered approaches, thus providing better care. This is critical to quality patient care.
Patients can quickly take help from real-time consultation and receive treatment within minutes. According to a new study, telemedicine patients have lower depression, anxiety, and stress rates and are 38% less hospitalized.
5. Increased Patient Engagement
When patients are committed to their health goals, it reduces software development costs and improves health. Involving patients through telemedicine can help them adhere to appointments and care schedules. Telemedicine gives comfort and a sense of ease to patients about the availability of providers in their care. Not only this, but patients can contact the providers in case of emergency 24*7. Also, the patient can arrange follow-ups to make sure that the treatment is on time and properly.

Conclusion
Telemedicine is indeed forecast to grow enormously in the future. We see a growth in the use of smartphones, widespread Internet access, and customer expectations. This indicates that the use of telemedicine will only increase. An increasing number of patients would indeed prefer to call their doctor instead of visiting the doctor in person.
If you are a healthcare provider, patient, clinic, or startup looking to start offering or expanding telemedicine services, then you are at the right place. VCdoctor is a leading HIPAA-Compliant Telemedicine solution provider that offers the best telemedicine services as per your requirement. Contact us today to talk with our experts about your telemedicine services.