The implementation of emerging technologies in the healthcare sector has produced excellent digital health solutions during the pandemic. Telemedicine and virtual therapy have gained massive popularity in the last two years because of the pandemic. The use of the technology in the healthcare sector is well known, but with the COVID-19 pandemic, its use has accelerated with newer healthcare innovations. Despite its various limitations, its widespread use in clinical care, especially telemedicine in cancer care offers an alternative to more inventive work and effective communication methods.
Telemedicine, as a way of delivering healthcare, in which distance between hospitals and personal visits appear to be very absolute. It plays an important role in the delivery of healthcare and in ensuring adequate cancer treatment and follow-up for patients.
Telehealth for oncology
Although some recent flexible healthcare options are likely to become permanent and change the provision of cancer treatment, a return to a more restrictive pre-COVID-19 remote environment is expected. It has already begun, especially for some commercial payers. This return to health reduces access to and cancer treatment and is not good for cancer treatment, patients, oncologists, payers, or the healthcare system. Those who cut down are concerned about the possible overuse of visits, as it is convenient for patients to get answers to their questions and deal with symptoms more quickly.
This can increase the cost of E&M visits. Studies have consistently shown that managing patients' symptoms and better educating patients reduce the use of emergency departments and hospitalization while improving compliance with life-saving cancer treatments. Hence, any additional costs of E&M visits due to telemedicine are more likely to be offset by a reduction in more expensive services.
In the MPFS, the CMS has created a temporary third assessment category, called Category 3 services, to cover all exemptions granted during the COVID-19 PHE. In their current form, these Category 3 rules will continue to apply until the end of the calendar year in which the current PHE expires, probably in 2021. 
The CMS recommends that the data obtained during the PHE should be considered when making further decisions on whether the changes in Category Three will move to Category 1 or 2 and become permanent, based on the experience with the use of best telemedicine software during the PHE. There are several types of oncology patients and oncology services suitable for television health.
1. Returning Patients
Telehealth is a good tool for returning patients if the treatment mainly involves the results of tests; for example, a patient with prostate cancer who has a prostate-specific antigen test. If a patient comes for an annual radiological examination and needs to review the results; Telehealth is a great tool.
2. Radiation Consultations
Telehealth is a good tool if the patient wants special radiation treatment. For example, we have a gamma knife specializing in transmitting radiation to the brain. Telehealth consultations will help you decide if a gamma knife or standard radiation is more appropriate. It may be appropriate to consult a remote health visit whenever special services are available. The patient does not want to travel simply to be told that he or she is not applying for a special service.
3. Patients Diagnosed for the First Time
Telehealth is a great way to get a second opinion for a new patient. It is a great tool for special care. VCDoctor has a nationwide network of cancer centers. There are many general treatments available on these sites. Telehealth visits can determine if a patient needs to come to the hospital or not.
4. Psychological and Palliative Counselling
These services are provided through Telehealth visits. It depends on the patient's preferences. Many patients still want face-to-face contact for palliative care and psychological help. However, long-distance health tends to work very well in these specialties because doctors do not have to make physical contact to assess the patient. Much of the maintenance is done orally and by video.
5. Surgical Consultations
Almost all types of surgical consultations are suitable for a TV health visit. Some patients simply want confirmation that can surgery happen or not.
6. Genetic Counseling
Currently, about 80% of our genetic counseling takes place through distance health. A lot of information can be exchanged between the patient and the gene counselor through questions. The exam is not necessarily important, and if testing is ordered, the results can be monitored by the patient. Certain specialties, such as genetic counseling and palliative care, are very suitable for Telehealth.
Benefits of Telemedicine in Cancer Care
With the help of telemedicine, oncology healthcare has improved its roots in the field. Patients have been getting numerous benefits of telemedicine with Tele-oncology in the comfort of their homes. Here are some of those patients that come with Telehealth for oncology:
Paves the Way for New Business Models
Telemedicine in cancer care promotes various business models and is changing the paradigm by promoting consumer-based care. Professionals are now discovering that they can launch their Telehealth platform for consumers by offering their services online. With remote healthcare, doctors can expand their patient base beyond conventional facilities by extending working hours and creating new and more convenient models for their patients.
Patients are More Aware of Tele-Oncology
A great internet penetration rate has led hospitals and healthcare systems to implement new ways of interacting with their patients to engage in remote care. Preventive treatment of patients requires physicians to teach patients to take care of themselves between clinical visits. With the increase in chronic health conditions, remote monitoring is only one way for doctors to improve results while reducing costs. Currently, remote health is used to transmit patients' data from the comfort of their homes, while remote teams act as instructors and counselors, involving patients in their own health.
Access to a Large Pool of Patients
It is a known fact that the shortage of doctors is growing, especially in virtual care for cancer patients; Telemedicine can help expand the healthcare service provider networks in various news to extend their access to healthcare. Telemedicine in cancer care can be used to reach patients in rural areas and outside conventional care systems. The tools help to train intermediate patients as well as doctors, reaching different people in new ways.
Enhances the Efficacy of the Treatment
Telemedicine in Cancer care can increase the efficiency of the clinical workflow. It can act as a channel to prioritize treatment more quickly, investigate each case and improve communication by collecting, storing, and using better medical decisions. The Medical Group Management Association states that remote health is a hallmark of our country's best practices. These tools can help improve performance, including increasing patient satisfaction scores.
Deliver Internship Opportunities
Tele-Oncology allows doctors to bill for unpaid phone calls while extending business hours to keep up with billing. Telehealth reduces the number of absences and can improve the effectiveness of the practice. It can also take your healthcare business to a new level from a competitive point of view.
Patients Get Treated for Less Money
Patients spend a lot of money and time looking for health care. During the Telehealth visit, the doctor comes to the patient with his or her phone, laptop, or other digital devices. Imagine the cost of travel, parking, babysitting, and leisure. It takes extra effort to travel to a distant medical facility and can be stressful, but the costs can really increase. In some rural areas, patients have to travel overnight to reach specialists in urban areas. 
Enhanced Quality of Healthcare
The Agency for Research and Quality in Health states that long-term health improves healthcare quality, especially in rural areas. This is because technology can improve service delivery and the treatment of acute conditions like oncology healthcare. Telehealth platform is also used to direct unnecessary ambulance visits. It also increases the convenience of treatment, allowing patients to receive help without traveling long distances.
Reduces Patient Absenteeism
In the field of oncology healthcare, it is urgent for patients never to miss an appointment as it can lead to serious problems. However, with the help of Tele-Oncology, patients can visit their doctor without leaving their homes and making it extremely easy the improve patient and provider experiences. With the help of advanced technologies used in virtual care for cancer patients, the number of no-shows is going to be less hence making the treatment effective.
How Health Professionals Can Reduce the Cost of Telemedicine for Cancer Patients
Due to the widespread adoption of telemedicine solutions in many US healthcare organizations, it has become quite popular for those seeking convenient healthcare without having to visit a doctor in person. Among the many benefits of telemedicine, savings in health care bills have contributed to the increase in the number of telemedicine users. However, patients are not the only ones who can save money with telemedicine solutions; Doctors will also benefit as healthcare becomes more cost-effective for them.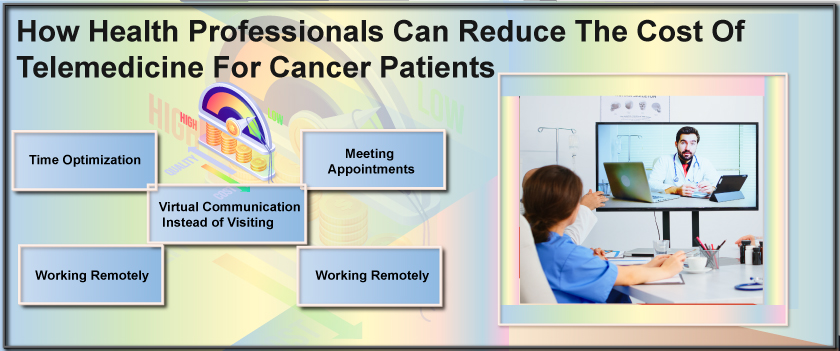 Here are five ways telemedicine can save money:
1. Virtual Communication Instead of Visiting
If a patient needs immediate help but the doctor's day is congested, it may be difficult for them to react immediately. Once the doctor registers with the telemedicine service, patients can check in online if they wish to. This can take about 3 to 5 minutes, allowing your doctor to respond even when his or her schedule is full.
2. Time Optimization
Telemedicine can bring enormous benefits to both doctors and patients, as it makes communication between doctor and patient much more convenient, regardless of the condition. Telemedicine solutions connect patients to doctors as quickly as possible. In addition, doctors can choose an e-visit for missed/rescheduled appointments to make the most of their valuable time. This allows doctors to communicate more flexibly with patients, saving time and money.
3. Meeting Appointments
Patients who miss an appointment can spend time and money on doctors and disrupt their schedules. This can also lead to non-compliance with appointments and follow-ups, especially with treatment regimens that can be dangerous to patients' health.
According to surveys conducted by The Doctors Company, the most common risk management issues included non-contact with patients after their missed appointments and lack of follow-up to ensure proper follow-up. Virtual appointments eliminate such risks, as registered patients can be contacted to follow up on their missed appointments, if any, which will reduce unnecessary costs in the future.
4. Working Remotely
Doctors can reduce their working hours if they want to leave work a few hours earlier and continue with a virtual consultation from home. This can be useful for understaffed small clinics that receive more virtual visits than physical visits. Shorter working hours can save money on utilities and other costs while keeping the clinic open for physical visits.
5. Advanced Documentation
Documentation of extracurricular visits sometimes doesn't happen, which can be risky for the doctor for future medical referrals. Telemedicine for cancer patients solves the problem by recording and documenting all virtual visits and, if necessary, references.
Cost of Telemedicine in Cancer Care
During the COVID-19 pandemic, a number of oncology practices have developed internal processes for implementing telemedicine, and additional systematic guidelines for rapid implementation have recently been published. In addition, the CMS has responded by expanding guidance and reimbursement for face-to-face patient-led appointments; However, it is unclear how long these compensation provisions will apply.
For the successful long-term implementation of telemedicine in oncology and sustainable reimbursement from public and private payers, evidence needs to be gathered that new models do not sacrifice quality or harm patients. Tele-oncology professionals and patient cancer organizations should take the lead in proposing cancer-specific metrics and collecting data on clinicians 'and patients' perspectives on Tele-oncology so that our collective experiences and 'lessons' can reflect in future policy changes.
It is important that policies include elements of telemedicine that improve patient outcomes and eliminate elements that harm patients, healthcare systems, and doctors or increase inequalities. The current telemedicine in cancer care patients reimbursement policy allows for both audio and video telecommunication systems that allow real-time communication.
Factors Reducing Access to Telemedicine in Cancer Care
Technological capacity assessments for both physicians and patients are needed to better understand whether this requirement exacerbates disparities. In the context of social determinants of health, there are factors that increase barriers to access to telemedicine in cancer care. Patients may live in a built-up environment without broadband internet access or with limited access to free public internet access.
There are differences in digital literacy and education due to technological change. Economic or housing instability can lead to a failure to purchase and maintain equipment or to afford equipment that is capable of running the intended programs. In addition, there are cultural expectations regarding the use of telemedicine or remote sensing, including distrust of technology or the medical community may affect patients' involvement in telemedicine. The use of smartphones is widespread in most communities; however, there are differences in some populations, including patients over the age of 65 years, those with less than a high school education, those living in remote areas, and those on low incomes. 
A number of the patients still don't have access to a smartphone or a personal computer with video or a stable internet connection that they can afford. Cancer patients may be at particular risk of under-utilization of the technology, as the average age at diagnosis is 66 years; there is a high prevalence of a number of comorbidities; they may receive treatment that affects their physical function.

The Final Takeaway
The complexity of telemedicine in cancer care patients can range from as simple as talking to a colleague over the phone to using satellite video conferencing to assess real-time treatment options in different countries. The advent of Telehealth for oncology began with the telecommunications revolution that followed the information technology boom of the 21st century.
Telemedicine is a great boon for patients living in inaccessible and remote areas. Patients can get help from remote specialists without having to travel. The recent growth of portable communication devices like tablets and mobile phones allows physicians to share information and patient data to obtain their input. The need for remote access to patient data and monitoring of a patient's treatment plan may give physicians the freedom to provide better healthcare at a lower cost. Telemedicine also facilitates better knowledge transfer between institutions in the same field.
If you want to have a robust, scalable, and feature-enriched telemedicine solution by your side, VCDoctor has the perfect solution for you. Our digital solutions work like clockwork and deliver significant performance and help patients to get better in the comfort of their homes. If you want to know about our Telehealth solution, visit our website or connect with us over a call!