Telemedicine psychiatry offers instant telephone access to a nationwide network of doctors and nurses 24/7, ready to provide medical and prescription services. Most people are unaware that telemedicine is in use for over forty years to bring healthcare to people in remote areas. The benefits of telemedicine in mental health have been a miracle to patients around the world. It has helped millions of patients with their mental health issues such as trauma, depression, and more.
Distance health not only benefits patients but expands the range of doctors and healthcare facilities. Telemedicine is helping to address the global health scarcity problem and increase medical services for millions of new patients.
Telemedicine technology has been available for many years, but even more so now with the availability of mobile phones and faster internet connections. Have you ever wondered why telemedicine is gaining momentum now? Since almost everyone has a mobile phone, people can consult a doctor almost anywhere for various issues.
The implementation of online health records can make it much easier for doctors to access patient records. Usually, patients feel more comfortable when they do not have to go to the doctor's office, which is more time-saving for doctors.
One of the key benefits of telemedicine in mental health care is to help reduce healthcare costs by reducing travel time, fewer or shorter hospital visits, and fewer staff. In the case of telemedicine, it is astonishing that research has consistently shown that healthcare provided through telemedicine is as good as face-to-face meetings.
In addition, telemedicine offers many benefits and increases patient satisfaction in some specific areas of mental health and intensive care.
Telemedicine in Mental Health Care
Telepsychiatry is a subsidiary of telemedicine. It may involve the provision of a wide array of services, including psychiatric evaluation, therapy, patient education, medication management, and more.
Telehealth psychiatry involves direct communication between a psychiatrist and a patient. This includes psychiatrists who support primary care providers with mental health counseling and expertise. Mental health care can be provided through live interactive communication. It also involves keeping the medical information and sending it to a remote location for later review.
Some people may be relaxed and ready to open themselves in the comfort of their own home or a convenient local facility. Telehealth psychiatry poses fewer problems when it comes to scheduling appointments as patients can attend to their doctors within the comfort of their homes. Psychiatrists and other physicians must have licenses in the state where the patient they are working with is located.
Telehealth platform for mental health seriously has a lot of benefits of telemedicine in mental health. The effectiveness of telepsychiatry shows that more than ninety percent of the users are happy. Patient privacy and confidentiality are equivalent to personal care.
Studies have also found that the overall experience in all age groups has been good. There is evidence of evaluation and treatment (medicines and treatment) for children, adolescents, and adults. In modern times, telehealth services for mental health care are available for people in the form of personal care, such as people with autism or severe anxiety disorders, and telemedicine may be particularly beneficial.
Telepsychiatry in Different Verticles
Telepsychiatry is particularly effective in the treatment of PTSD, depression, and ADHD. It is used in a wide array of verticles. It includes private practices, hospitals, correctional facilities, schools, military medical facilities, and more. Patients can individually arrange an appointment with a psychiatrist or therapist for a real-time video appointment.
Appointments are easy to make. A telehealth mental health provider can help in appointments if they provide the service. Not only this, you can make appointments through a company that provides access to mental health physicians for video conferencing.
Patients should plan and prepare for a face-to-face appointment. Have relevant documents and information, including prescriptions and a list of questions to answer. Telemedicine mental health helps to bring more timely psychiatric care to various emergency departments. As per the Health Research and Quality Agency, one in eight emergency medical visits is estimated to be related to mental health and/or substance use.
Stats About the Telemedicine in Mental Health
Television health statistics on mental health have made significant progress towards excellence. In 2020, the serious mental illness (SMI) among adults aged 18 and older was 5.2 percent (13.1 million people). Of these, 47.7 percent (6.2 million people) reported an unmet need for mental health services last year.
In 2021, 7.4 percent, which is nearly 20.4 million people of people 12 years of age or older, reported a sudden relapse. 12-year-old or
In 2021, 7.8 percent, which is nearly 21.6 million people's parents needed treatment for substance use in the past year. Of these 21.6 million people, 12.2 percent, which is nearly 2.6 million, received substance use treatment in a specialized facility.
The valuation of the telehealth psychiatry global market is projected to reach 194.1 billion USD by the year 2023 and 459.8 billion USD by the year 2027.
Telemedicine was affected by a number of factors. It includes the growth of technology in general and the Covid-19 pandemic, which made the healthcare industry at its core.
More than 82% of clients experienced telemedicine for the first time since the COVID 19 pandemic began.
The North American telehealth market for mental health is expected to cross the valuation of 17.9 billion USD; and it captures nearly a third of the total market.
In June 2021, mental health conditions rose to more than 61.3% of the total telehealth treatments for mental health.
Benefits of Telemedicine in Mental Health Care
The number of patients seeking telehealth mental health care from hospitals and psychiatrists appears to be increasing recently, forcing you and other stakeholders to consider expanding the service. The changes in regional demographics have determined that many patients with mental health problems are too far away to actually be able to provide a continuous service. Here are a few of the topmost benefits of telemedicine in mental health care.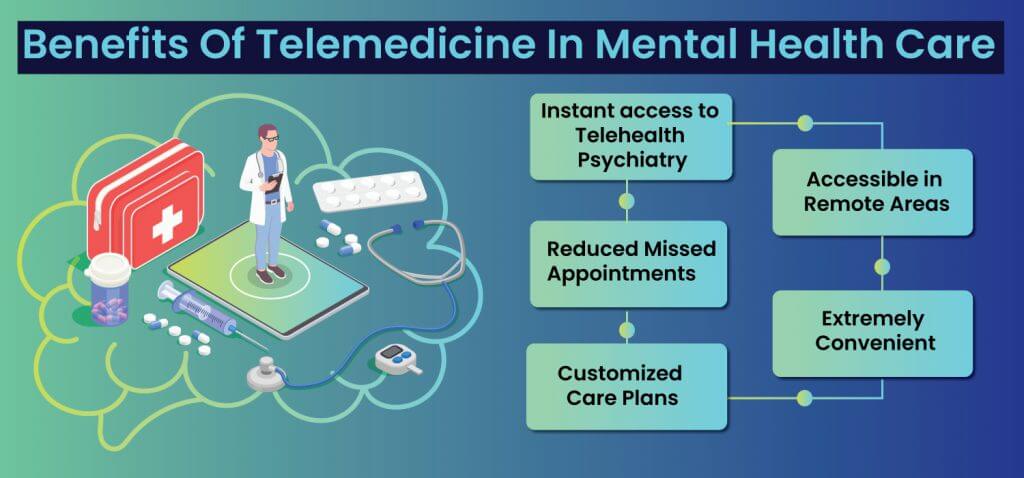 Instant access to Telehealth Psychiatry
It is unfortunate that all patients face barriers to accessing the mental health services they so vitally need. For those living in peripheral areas where the relationship between doctors and patients is poor, regular travel for mental health services can be prohibitively expensive for patients. Sometimes the lives of patients are so complex at home or in their lives that it is difficult for them to follow a regular treatment plan. In some cases, patients cannot come to the service simply because they cannot provide childcare.
Reduced Missed Appointments
Mental health patients may be absent from appointments for a number of reasons, including because of their own telepsychiatry mental health condition or problems with their work or family. However, because it is much more convenient for the patient to log in with their device. Appointments can be stored in a virtual setting if they are otherwise canceled or become non-appearing without warning. Telemedicine for patients who are anxious about social demands, the opportunity to register with their mental health professional via telemedicine can make a significant contribution to improving their mental health.
Accessible in Remote Areas
One of the key benefits of telemedicine in mental health care is that it is available in the remotest areas. Patients with particularly severe conditions are usually more likely to see a specialist. The higher the population, the higher is the chance of availability of specialists. It makes the treatment of patients living in rural areas a little more difficult. You can provide access to professionals using the same system used by primary care counselors and physicians to communicate with patients. Thus, it is easier to organize the addition of a consultant to the mix than in web-based virtual sessions.
Extremely Convenient
It takes time to answer the phone and possibly put the patient on hold before telehealth mental health service providers start scheduling, where there may be a long queue of other patients looking for the same service. The staff of your clinic doesn't have to spend a lot of time processing appointments, but patients also have to wait, which is very inefficient. However, in case your hospital or clinic works with electronic health records or EHR software and telemedicine is set up through a web-based patient portal, you can allow patients to log in and request appointments and request a prescription refill.
Customized Care Plans
The main benefit of telemedicine for mental health is your ability to tailor treatments to each patient individually. The technology allows you to track patients' progress overtime automatically, helping you identify trends so you can intervene and change your approach during subsequent appointments with patients. Patients have a variety of mental health needs, from simple to complex, some involving prescription drugs and others relying solely on counseling. A data-driven approach to telemedicine treatment makes treatment adaptation easier.

The Bottomline
The benefits of telehealth mental health care are numerous, and it has significantly increased within the last couple of years. Patients are happy by the availability of telehealth services for mental health. Doctors across the world are implementing various technologies and methods to ensure a complete and healthy flow of treatments. If you want to develop a telemedicine solution that can deliver a list of services to your patients, VCDoctor is a telehealth mental health provider. We can help you with our excellent telemedicine solutions. Feel free to contact us for more information.