Technology's importance in healthcare is indisputable. Especially at a time when we are facing the worst healthcare crisis of the twenty-first century, telehealth is a technology that has shown the way ahead. Online doctor visit increased by over 40 times during the pandemic. Given the popularity and convenience of telehealth solutions, you may want to use them soon. And whenever you do, this blog will be all you need to prepare for your first virtual doctor appointment.
Virtual Doctor Appointment: A Digital Leap Towards The Next Normal
Covid-19 has been a painful reality-check for the healthcare industry across multiple aspects. The most prominent challenge has been the need for digital transformation. Going forward the healthcare industry will need to embrace a technology roadmap that makes healthcare accessible and affordable.
In the first half of 2021,investment in digital health surpassed $10 billion, surpassing 2020 and more than tripling the amount invested in 2019. The pandemic has proved that virtual doctor visit is not only possible but also preferred by patients in many circumstances.
Virtual healthcare also has the potential to improve the patient experience, increase population health, lower costs, and improve healthcare providers' work-life balance – the triple purpose of healthcare technology trends.
Telemedicine Solution Provider
VCDoctor is revolutionizing virtual healthcare. Learn more about India's leading telemedicine solution provider.
Request a Quote
What is Telehealth?
It's a digital platform that instantly connects telemedicine patients and doctors. The safe digital environment allows for a more convenient and faster means of accessing healthcare services.
Virtual doctor appointments are hassle-free and offer a variety of benefits for both the patient as well as the doctors.
Why Telehealth or Telemedicine Software?
Telemedicine solutions for healthcare providers patients with numerous advantages that are difficult to overlook. Telemedicine has several key advantages for patients, including:
No need to take time off from work
No transportation time or costs
Access to Specialists
Avoid traffic or weather issues
No long queues or waiting time (3 minutes is the average time on Best Telemedicine Platforms)
Excellent alternative for elderly patients with mobility limitations or those patients who live in rural areas
Planning visits while on vacation or a business trip
Keeps patients protected against risks of Covid-19 exposure.
Read More: Top 10 Best Telemedicine App Development Companies In The USA
Preparing for your first Virtual Doctor Appointment
With each passing day, online doctor consultations are getting more common among those seeking care. It'll only be a matter of time before you or your family member will make a virtual doctor appointment. But before you hop online for your first visit, there are a few things you need to know.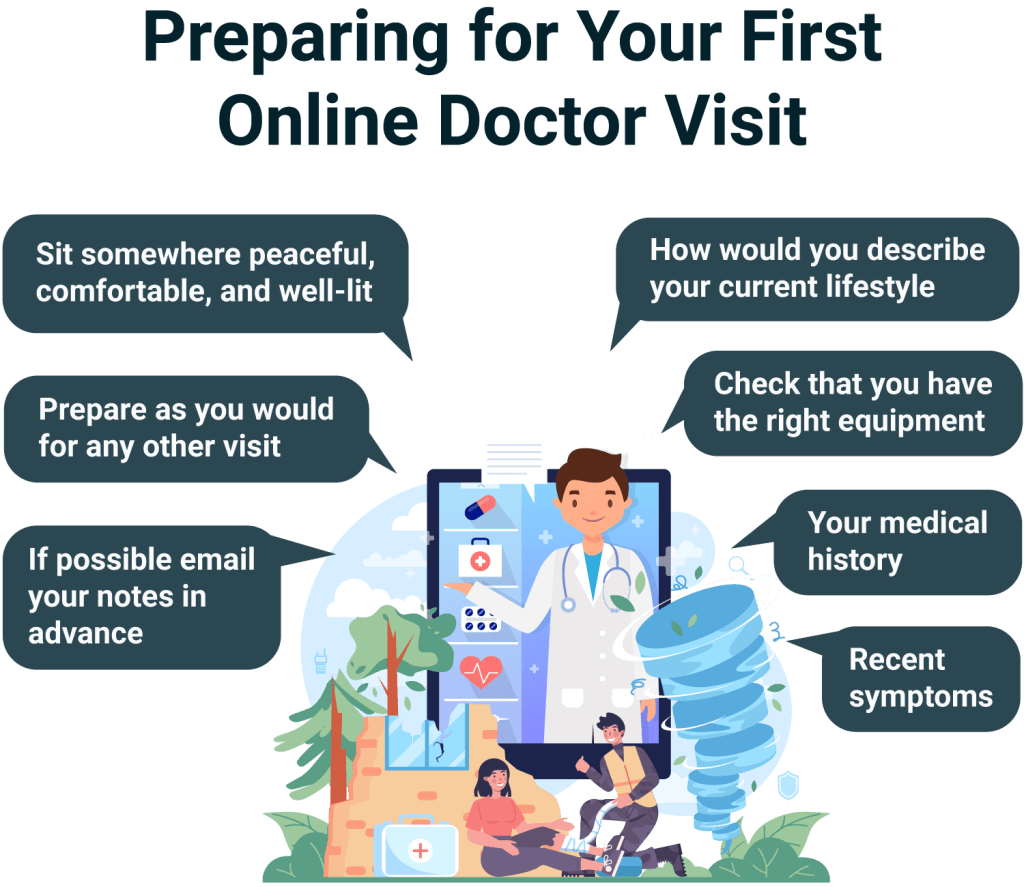 1. Prepare as You Would for Any Other Appointment
During your first virtual doctor visit, the experience can be confusing. As a result, it will be beneficial if you plan ahead of time what you want to say, what questions you have, and what symptoms you want to discuss.
Preparing for your online doctor visit by thinking about it ahead of time will help you prepare everything you want to talk about with your doctor. It will assist you in relaxing when chatting with your doctor, lowering any tension you may be experiencing while you try to recall information.
2. Recent Symptoms
Perhaps you've lately begun to notice some concerning signs and symptoms. As you prepare for your visit, ask yourself and take notes on the following questions:
When did you notice your symptoms for the first time?
What are your symptoms, and are they getting better or getting worse?
When was the last time you visited a physician?
Was there anything about your blood pressure or cholesterol that bothered you at the time?
3. How Would You Describe Your Current Lifestyle?
Our overall health is influenced by our lifestyle and general attitude. Changes in your environment, whether at home or work, might have an impact on your health. Keep the following things in mind in the days leading up to your visit:
Do you have work-related stress?
Do you get enough sleep?
Have you seen any changes in the way you eat?
It's important to keep track of any new aches and pains.
What is your present mental state and outlook on life?
If you've been sick more than normal in the last few months, make a note of it.
4. Your Medical History
Make a list of any changes you've made to your lifestyle, even if it's for the better. Also, make sure to give an accurate account of your medical history.
Make a list of all the medications, vitamins, and supplements you're taking.
Any dietary or nutritional changes should be noted.
Have you recently moved, changed jobs, or gone through any other major life transitions?
Have you made any lifestyle changes recently?
5. If Possible Email Your Notes in Advance
Send the doctor a list of issues you wish to discuss and let them decide which is the most important to discuss first. Please keep in mind that doctors have a better understanding of signs and symptoms that may look unrelated to you but are all related to the same illness process. Allow the doctor to take the lead and ask questions that will help them swiftly arrive at the correct diagnosis.
Read More: White-Label Telemedicine Platform: A Complete Overview
6. Sit Somewhere Peaceful, Comfortable, and Well-Lit.
Telemedicine has the benefit of allowing you to meet at a time and place that is most convenient for you. However, if you decide your location at the last hour you risk undermining the complete benefits of virtual doctor appointment may be harmed. Here are a few tips to help you find the best place to connect:
Choose a comfortable environment for yourself.
Make sure the lighting is adjusted so the doctor can see your face.
Make sure you have everything you'll need, including some water to drink.
If there is a phone in the room, set it on mute.
Make sure the room or location you select has zero background noise.
Wear clothes that are easy to move, in case you have to show an infected portion of your skin.
7. Check that You Have the Right Equipment
To connect with the provider, you may need to download an app or software. Conduct a tech test run, no matter how tech-savvy you are:
Make sure you're using the most recent version of the telemedicine platform that the doctor suggested.
Inquire if they'd be willing to do a test ahead of time or if they have any other tips for a good visit.
Learn how to use your computer's audio and microphone functions. Before going live, test your equipment to ensure that it is in proper working order.
HIPAA Compliant Telehealth Platform
Make your online doctor visit glitch-free. Use the most advanced HIPAA Compliant telehealth platform
Know More
Final Thoughts
We hope that these tips will help you have a successful first online doctor appointment. Nonetheless, there will always be situations that we cannot anticipate ahead of time. Don't be alarmed if the call drops for whatever reason, such as a bad connection. Be patient and make an effort to reconnect.
At times, the screen may also freeze or the audio may begin to lag. The cause for this is that the app settings are messed up, or there are multiple apps of the same type operating in the background. Restart your telemedicine app after closing these apps. You'll be ready to go once more.
Last but not least, keep an open mind. When your first virtual doctor appointment is over, think about what went well during your first telehealth appointment and what you'd like to improve for your next visit. Don't forget to seek advice from your doctor as well. Keep these tips in mind when planning your next visit. Remember that making plans ahead of time will allow you to have more meaningful medical appointments.
For more on the benefits of VCDoctor's HIPAA Compliant Telemedicine Platform for patients, Feel free to get in touch with our experts and we can get started right away!