In the healthcare industry, digital technologies have ushered in a new era of innovation. Telemedicine platform, for example, is a virtual medical appointment that is conducted remotely, over the phone, or on the internet. But how can patients use telemedicine for migraines care and treatment? Is it even effective? Find out answers to all this and more in this blog.
Is Telemedicine Uses in Treating Migraines Safe?
Evidence suggests that Telemedicine for migraines almost always works. According to a study published in 2017 in the online edition of Neurology, seeing a neurologist via video may be as useful as an in-person visit for those suffering from headaches.
Telemedicine was also found to be a viable mode of treatment and an effective alternative to in-office visits for follow-up migraine care, according to a study published on ClinicalTrials.gov.
Benefits of Telemedicine in Treating Migraines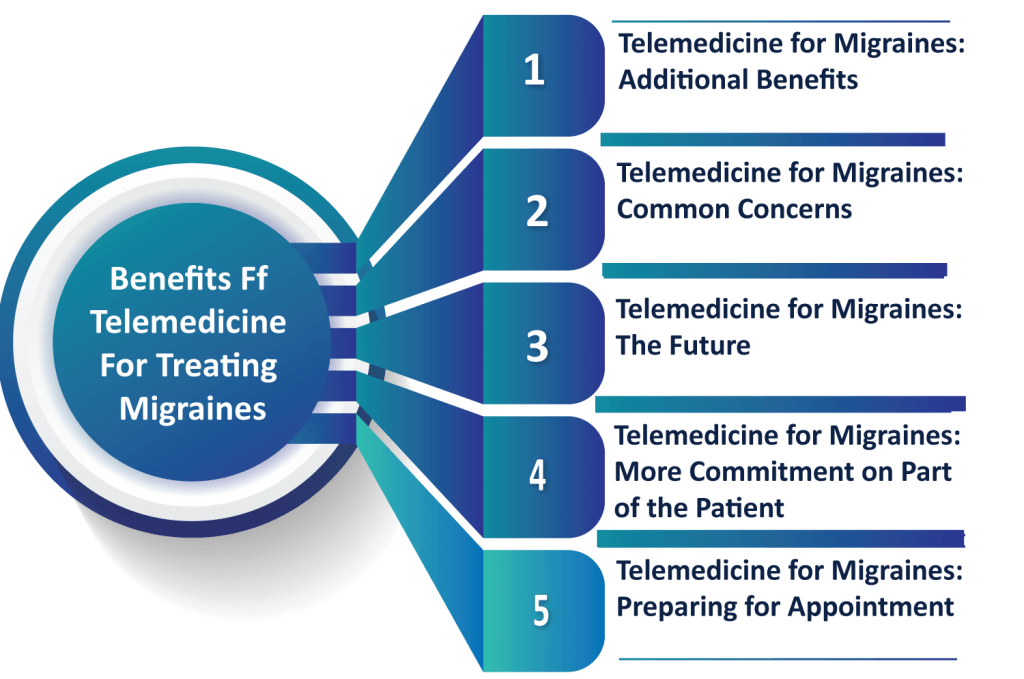 The first and most important advantage of telemedicine in the treatment of migraine is that it eliminates barriers to care.
You can get help quickly during migraine attacks
You are not required to visit a doctor's office.
Your appointment does not require you to wait in an office.
You have the option to consult a wide range of specialists outside of your locality.
The top telemedicine software for providers fantastic features to patients and clinicians to make migraine diagnosis and treatment simple.
Patients can send details about their symptoms, medical history, and other relevant information ahead of time via mail or text message. In addition, the majority of telemedicine solutions support remote health monitoring. Patients' blood pressure, heart rate, glucose levels, and other vital information are all available in real-time to providers.
Overall, virtual consultations eliminate the need for guesswork and provide migraine sufferers with an experience that is comparable to in-person visits. Telemedicine also makes it simple to schedule an in-person visit if the provider feels it is necessary.
Telemedicine for Migraines: Additional Benefits
Apart from bringing treatment to people's homes, telemedicine has numerous other advantages. One study of migraine sufferers treated via telemedicine, reported an average savings of $486 each visit.
Telemedicine eliminates associated financial restraints that come with in-person visits, such as housing, parking, meals, pay cuts due to time away from work, and a slew of other expenses.
Telemedicine is more convenient, and it causes less disruption to your everyday schedule.
Telemedicine is also less stressful. The necessity to coordinate care for children is eliminated, as is the need to take time off work, school, or extracurricular activities.
In addition to the advantages for both patients and their families, telemedicine is equally convenient and beneficial for medical providers.
Telemedicine visits almost always run on time and have fewer late arrivals.
In comparison to traditional in-person visits, telemedicine has a lower no-show rate.
Telemedicine is excellent for timely patient education and hassle-free follow-ups.
Finally, telemedicine permits providers to continue providing care even when Covid limitations are in place.
VCDoctor HIPAA Compliant Telehealth Solution
A telemedicine solution that's tailored for patient satisfaction and success.
Know more here
Telemedicine for Migraines: Common Concerns
Over 59.1% of the world's population has access to the internet. In rural areas, however, internet penetration is only 38.8%. In rural areas of least developed countries, the internet penetration rate is expected to be less than 12.9 percent (LDCs).
As a result, while telemedicine for migraine patients offers new possibilities, its true potential in rural areas remains unrealized.
The most common concern regarding telemedicine is that it limits the scope of a comprehensive neurologic examination. Complex examinations like tone evaluation, deep tendon reflexes, and fundoscopy are not usually possible.
Making a planned in-person visit or referring the patient to nearby doctors, such as ophthalmology or a primary care provider, becomes almost obligatory in such cases.
Further, data quality, patient engagement in healthcare, workflow integration, state and federal laws, and reimbursement are also obstacles to long-term tele-neurology implementation.
Telemedicine for Migraines: More Commitment on Part of the Patient
Although virtual appointment seems more convenient, it does involve a little more commitment from the patient.
In virtual visits, persons with teladoc for migraines, for example, maybe requested to regularly report their blood pressure, weight, teladoc uses in treat migraines frequency, and intensity.
Further, when we consider how discomforting and painful migraine episodes are, it is evident that most patients will need assistance from family members to ensure their virtual appointments run smoothly.
Telemedicine for Migraines: Preparing for Appointment
Whether you're looking for migraine therapy, it's vital to plan your virtual appointment.
Make the necessary preparations. Create a list of topics or concerns you'd want to discuss. Maintain a list of your prescriptions and when they need to be refilled. If you've had a long medical history, record your symptoms, diagnoses, treatments, and procedures in a notebook. It will help your doctor and improve the overall quality of care.
If it's a follow-up telemedicine consultation, bring as much information as you can. Are there any negative effects of the new medications? Do you have any concerns regarding your migraine headaches? Do you have any specific patterns to your headaches?
Keep track of any symptoms that arise, as well as likely triggers. These notes will help you make the most of your telemedicine consultation.
You can learn more about making your virtual doctor visits extremely productive here.
Telemedicine for Migraines: The Future
The worldwide healthcare infrastructure has been severely strained as a result of the Covid-19 pandemic. COVID-19 priorities have lowered the amount of human and organizational resources formerly committed to migraine management. Hospitals temporarily moved a lot of care to be fully remote as they prepared for anticipated COVID-19 patient surges. As a result, migraine appointments have been canceled, rescheduled, or converted to telemedicine.
There was considerable growth in the use of digital technologies to provide safe yet effective patient care at peak covid-19 periods. Telemedicine has proven to be the safest method of communication between infected and uninfected patients and medical personnel.
Because migraine patients make up around 28% of any neurological outpatient clinic, headache care will play an essential part in the future of telemedicine. Telemedicine has the potential to aid patients who do not have frequent or easy access to headache specialists.
If telemedicine capabilities are fully developed to include migraine patients, non-urgent hospitalizations will be considerably reduced. People with migraine, especially those who endure severe headaches, light sensitivity, and nausea during an episode, may find telemedicine platforms to be more convenient and comfortable.
Telemedicine Solutions
Migraine appointments and care are now hassle-free. One-click Appointment, Easy calendar management, Pill reminders, and more.
Request a Quote
The Bottomline
The migraine burden in global healthcare is unprecedented.
The World Health Organization (WHO) ranks migraine 19th among all causes of years lived with disability. Migraine not only limits human potential and productivity but also has a financial impact on families.
Europe spends an estimated €27 billion annually on migraine care and treatment
Migraine causes an annual economic cost of $78 billion in the United States.
Migraine has not received appropriate attention as a public health priority, despite its high prevalence and the incapacitating symptoms of migraine attacks, since its social impact has been underestimated. Health disparities exist in low- and middle-income nations due to a lack of resources and information.
Telemedicine offers the healthcare industry a cost-effective alternative to not only overcome migraine challenges but also significantly mitigate its economic impact. Talk to us about adopting a fully optimized HIPAA-compliant telemedicine solution for clinic.