Many people are unaware that they have asthma. Many individuals might not have all of the usual asthma symptoms or only some of them. For asthma patients who are undiagnosed or undertreated, inadequate care is both frustrating and scary. Is telemedicine for Asthma care a viable alternative to offer care and relief?
What is Telemedicine?
Telemedicine, often known as telehealth or e-medicine, is the delivery of healthcare services remotely via phone, computer, and messaging. Telemedicine solutions India allow for a wide range of care alternatives, including primary care consultations, psychotherapy, physical therapy, and even some emergency services.
The Global Burden of Asthma:
Asthma is a long-term lung illness that affects the airways that move oxygen and carbon dioxide to and from the lungs.
Over the last 40 years, the global prevalence, morbidity, mortality, and economic burden associated with asthma have all increased dramatically, especially in children.
Around 300 million individuals worldwide suffer from asthma, and the prevalence of the disease is increasing by 50% every 10 years.
Read More: How Does Telemedicine Reduce Healthcare Costs
Asthma care is in severe crisis:
Albuterol inhaler shortages—the increased use of albuterol inhalers in hospitals to help COVID-19 and suspected COVID-19 patients with respiratory problems.
According to a UK study, 34.7 percent of patients received their needed basic treatment in 2020. This is the lowest percentage since 2016 and is down from 39.5 percent in 2019. This means that 3.53 million (out of 5.4 million) persons with asthma didn't get the care they needed.
We live in a strange unpredictable time. Covid-19 has exposed the vulnerability of the global healthcare infrastructure. care of Asthma patient remotely fears have become much more acute. Visiting a doctor regularly for checkups comes with a host of health risks.
Telemedicine for Asthma Care and Monitoring
Asthma management entails regular medical exams to see whether existing medications are effective and to make any required changes to the treatment plan.
Those who have recently been diagnosed with Asthma may require more regular visits to the doctor. A checkup every two weeks is usually recommended by the provider. Regular check-ups may reduce in frequency over time, to once every 2-3 months.
The telemedicine app makes Remote Asthma Management efficient and effective. It offers a range of benefits to patients.
Why Telemedicine for Asthma Care?
Telemedicine App helps in Asthma Monitoring
Telemedicine App reduces transportation burden
Telemedicine App increases medication adherence
Telemedicine App reduces costs for the patient (and provider)
Telemedicine App improves access to care
Telemedicine Solutions
A telemedicine solution that is customizable as per your and your patient's needs.
Request a Quote
In-Person Vs Virtual Asthma Visits
Virtual visits appear to be generally well-received by asthmatic patients, despite certain restrictions, and they may be a useful alternative to in-person visits. Patients in rural locations are frequently located far away from their primary care physician or specialist, making visits to the office or clinic challenging. Through telehealth technology, the patient can virtually see their provider, respond to symptom surveys, and participate in biometric monitoring.
The Benefits of Virtual Asthma Visits
Asthma patients can see their doctors via telemedicine without having to travel large distances.
Due to concerns such as bad weather, employment commitments, leave issues, and other factors, 40% of asthma-related in-person visits are canceled. By increasing the number of opportunities telehealth for patient-provider engagement, virtual visits also help to preserve treatment continuity.
The use of telemedicine in schools has aroused the interest of several stakeholders, including school health departments, who are seeking ways to reduce school absences caused by asthma and other chronic illnesses.
The Drawbacks of Virtual Asthma Visits
Every technology has its drawbacks. In the case of telehealth or telemedicine, one must remember that virtual visits are great for simple or follow-up visits. Other things that one should keep in mind include:
Virtual asthma visits are not an ideal alternative in areas prone to limited internet speed or server issues.
Virtual asthma visits are more likely to be attended by one physician rather than the entire care team.
Virtual asthma visits are not always ideal for longer time commitments. The average session time for virtual visits is 9.38 minutes
Read More: Telemedicine Integration With Hospital EMRs
Future of Telemedicine in Asthma Care
The current state of asthma care leaves a lot to desire. Patients desire a solution that makes asthma care easily accessible amidst covid-19 risks. Further, asthma is unlike any other chronic illness.
Asthma symptoms and indicators change with time. Symptoms experienced as a child are not necessarily the same as those experienced as an adult.
In the USA alone, Asthma affects 5-10% of the population, or 23.4 million individuals, of whom 7 million are children.
Asthma is frequently misdiagnosed. Accurate illness identification is impossible in areas where there is a lack of suitable healthcare infrastructure. These findings show that Asthma necessitates not just consistent but also high-quality treatment. Telemedicine can help with asthma treatment and prevention.
People will prefer Remote Asthma Management in the future because it allows them to connect with top-rated health experts at any time and from any location.
Features to Consider When Selecting a Telemedicine Platform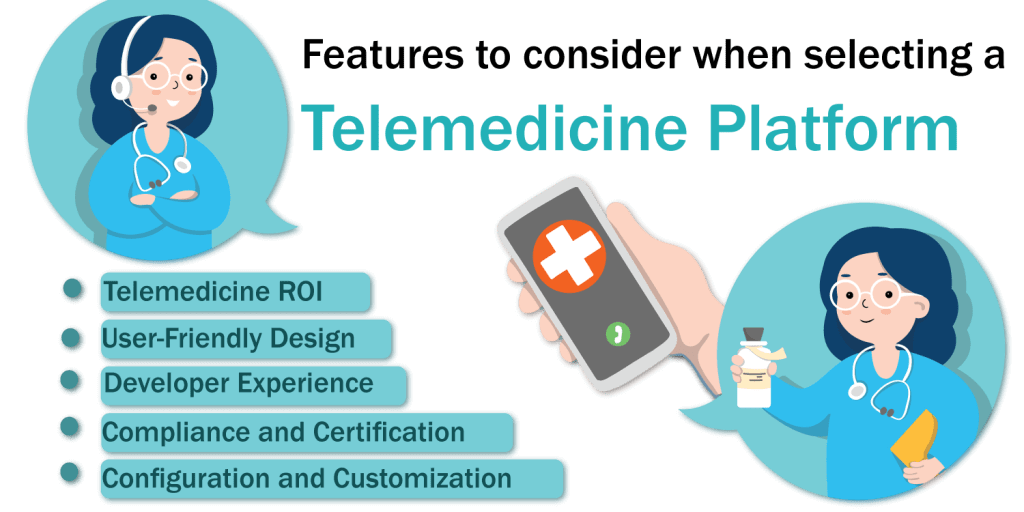 Using Telemedicine for Asthma Care can be both confusing and intimidating if you're a healthcare practitioner or facility administrator. There are a variety of telehealth partners to choose from, some of which will help you increase the scope of your practice while others will limit it.
Knowing what to look for can assist you in making the best possible decision. Here are a few things to keep in mind:
1. User-Friendly Design
User experience is key to an app's popularity. The stakes are even high for telemedicine solutions for healthcare. Patient experience should be on top of your priority list.
Patients prefer solutions that make appointments and virtual visits simple and hassle-free.
If you offer people a mobile app and they find it difficult to use or dislike it, they will abandon it.

2. Developer Experience
This is an important question to ask because it's crucial to know if healthcare professionals were involved in the telemedicine solution's creation. Engineers may be experts in technical fields, but they may not be healthcare experts and may not be able to appreciate the nuances of patient care routes and hospital systems.
3. Compliance and Certification
Data compliance is essential for establishing trust not only between the organization and regulatory agencies but also between the organization and the data's end users.
Healthcare providers should practice telemedicine in a secure and HIPAA/HITECH-compliant manner. To establish a culture of trust and transparency among patients, healthcare professionals must guarantee that patient data is properly maintained while simultaneously adhering to strict data privacy and legal regulations.
The majority of countries are currently enacting strict data privacy legislation. Before buying a telehealth solution, hospitals and providers must double-check if a best telemedicine software provider is GDPR and HIPAA compliant.
4. Configuration and Customization
Instead of opting for a one-size-fits-all telehealth solution, look for one that can be tailored to your specific needs. Your telehealth platform should allow you and your employees to use your methods for performing daily activities.
Your patients likely have preferences of their own. Some people prefer to contact their healthcare provider over the phone, while others choose to use live video, audio, or text messages. You may tailor a customized application to meet the demands of everyone who uses it.
Read More: What Are The Benefits Of Telemedicine In Mental Health Care?
5. Telemedicine ROI
The return on investment in telemedicine software can be complicated. You'll need to know how much each license costs, as well as the total cost of customization.
Other considerations to consider include: Will I need to hire new employees or add more network servers?
Knowing how many visits you'll need per month or year to break even is equally vital, you should also think about operational efficiencies. For instance, consider pre-or post-operative care: How many more operations could your surgeon conduct if you could free up 20-30% of their time with video telemedicine?
Virtual Healthcare Software
Built by the best team of developers and healthcare experts
Know More
Conclusion
Covid-19 has profoundly altered our world. It has compelled us to rethink and redesign everything, including how millions of people throughout the world receive healthcare. The integration of the physical and digital worlds will continue to progress and evolve.
Telemedicine can positively transform healthcare. Telemedicine for Asthma Care encourages clinicians, caregivers, and patients to work together more closely.
If doctors and healthcare organizations do not use telemedicine apps for asthma care and monitoring, they will be making a mistake. Traditional medicine will coexist with telemedicine in the future of allergy and immunology care. In VCDoctor, providers like you have a HIPAA Compliant Telemedicine platform that makes common chronic disease management and monitoring simple and stress-free.