Telehealth has completely changed the parameters of diabetes management with its dependency on diagnostics and patient management. Telemedicine diabetes treatments include various measures such as video or telephone visits, text reminders, CGM systems, Bluetooth glucose meters, mobile applications specially designed for diabetes management.
Until recently, Telemedicine seemed like a distant future, an emerging treatment with promising but limited access. Then both clinicians and patients entered this technological future, whether they were ready or not. Now that so much infrastructure has been built over the past year and so many of us have adapted, Telemedicine is here to stay.
One thing that has become quite clear is how to manage diabetes at home important remote health has become for the treatment of diabetes. Firstly, it is the vulnerability of the population. In addition to co-morbidities and other factors, people with diabetes are at higher risk of developing complications.
Let's find out use of Telehealth for diabetes management is saving lives.
Telehealth Diabetes Management Scenario in the Present Market
The global increase in the cases of diabetes has been linked to a variety of factors, including a passive lifestyle, poor nutrition, and related conditions such as obesity. Older people make up a significant proportion of the world's diabetics, which is why the world's aging population constantly needs new digital treatments for diabetes.
The number of patients with type 1 diabetes in North America has increased significantly over the years. These patients need constant monitoring of their blood glucose and insulin levels to maintain optimal health.
Telehealth diabetes care products are a cost-effective and promising solution for such patients. On the other hand, the type 2 diabetes segment continues to dominate the regional market, expanding with a CAGR of over 18.7%, raising awareness of self-medication and the need for tailored solutions.
The US Telehealth diabetes management market was estimated at 3 billion USD in 2020 and is expected to grow significantly in the future. As per a report, it is projected that the number of people with diabetes in the country will reach 36 million by 2045. Smart CGMs have rapidly become a reliable and effective solution for reducing the time to reach hypoglycemia and glucose.
Remote healthcare devices provide healthcare professionals with more data, enabling them to provide immediate patient feedback and improve patient outcomes. In 2020, the smart CGM market had earned more than 950 million USD in annual revenue; by 2027, this is expected to grow significantly.
Benefits of Telehealth in Diabetes Management
Telehealth diabetes management is like a miracle for a number of patients around the world. It helps treat and keeps the patients safe from unwanted travel and COVID-19 threats. Various studies have suggested that Telehealth for diabetes management has been highly successful in making the patient journey easy with its immense capabilities. Here are some of the advantages of Telehealth in diabetes management.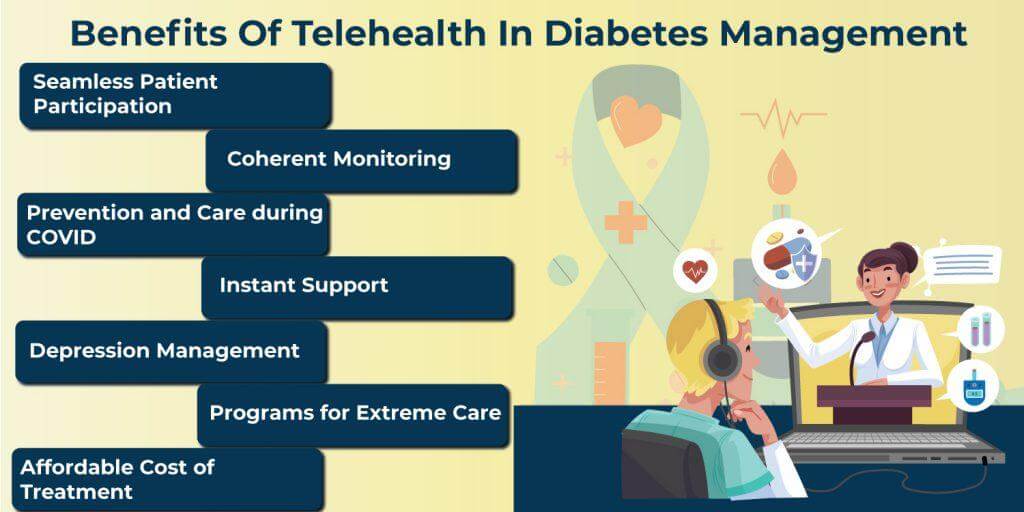 Seamless Patient Participation
Adherence to treatment plans may improve or impair the patient's condition. Telehealth diabetes management, especially in combination with connected devices, permits the patients and doctors to monitor the condition and development of their diabetes without physical presence.
Coherent Monitoring
Blood glucose control gives only a momentary view of the patient's condition. Telehealth can provide round-the-clock monitoring, providing providers with a 24-hour profile and a better overview of the patient's condition.
Prevention and Care during COVID
The same self-contained blood glucose meters that patients use at home are now used in the hospital to reduce patient interaction with providers. This limits exposure to COVID-19 and helps service providers standardize their personal protective equipment (PPE). The meters' built-in wireless data capabilities increase the provider's understanding and help them better manage their patients, reducing their chances of becoming seriously ill with COVID-19 virus.
Instant Support
A study by the American Diabetes Association reveals that the Telehealth platform tools are like a boon to the patients. It helps lose weight, lower blood pressure, and follow other healthy behaviors that can control diabetes. Patients can even contact support groups from their homes to share health and nutrition advice.
Depression Management
The link between diabetes and depression often works as a cycle, with low blood sugar causing malaise and lethargy, which in turn can contribute to poor eating habits, lack of exercise, and self-neglect. Behavioral counselors and coaches can practically treat depression and encourage lifestyle changes.
Programs for Extreme Care
Through its National Diabetes Prevention Programs (DPPs), the CDC is working to stop people at risk from developing type 2 diabetes. These types of programs help patients by delivering group sessions that focus on long-term dietary change, increased exercise, and weight management strategies. TV Health helps providers offer DPP programs without special diabetes knowledge in rural areas. Coordinators can share online patient training materials and measure each participant's physical activity and weight loss progress.
Affordable Cost of Treatment
Diabetes puts a huge financial burden on our healthcare system. The American Diabetes Association estimates that the cost of diabetes diagnosed in the United States alone is estimated to be 300 billion USD in the last couple of years.
Challenges of Telemedicine Diabetes Management
Despite the evolution of next-gen technologies, Telemedicine has a lot of challenges to overcome in the case of diabetes management. Various experts state a wide array of challenges based on their experience, but we have sorted some of the top challenges for you to understand better. If you are a healthcare business looking to gain momentum in diabetes management through telemedicine VCDoctor has the perfect solution for you. Let's get to know the challenges.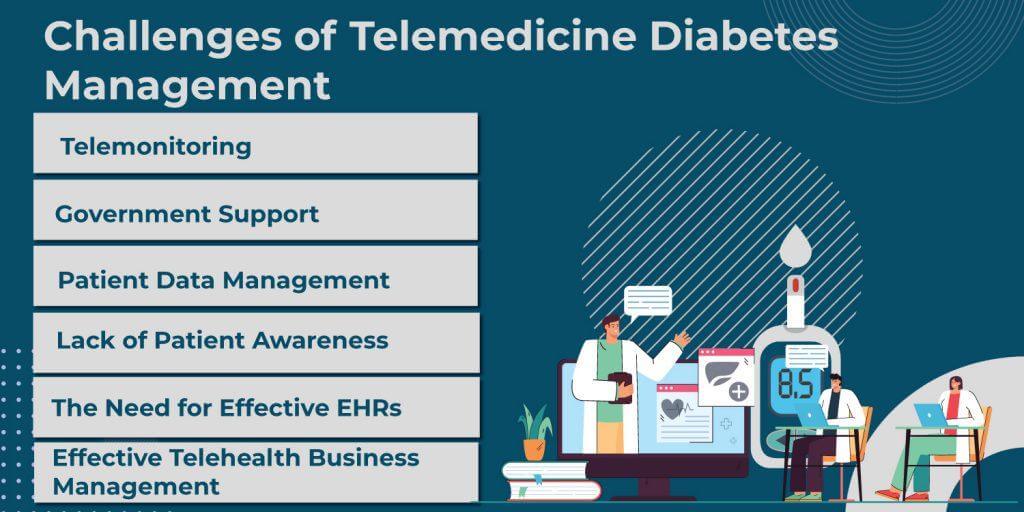 Lack of Patient Awareness
Practical experiments and studies have generally shown that people with diabetes respond well to telemedicine and m-health initiatives by improving glycemic health and health-related quality of life (HRQoL). Patients often prefer face-to-face consultations because they perceive that the information is more precise in this context and that lack of face-to-face communication is a reason for giving up e-health.
Thus, Telemedicine works best with synchronous rather than asynchronous data exchange, i.e., when the patient and HCP are involved simultaneously; thus, maintaining two-way communication is a factor in developing appropriate telemedicine solutions.
Telemonitoring
One of the major challenges in the development and deployment of telemedicine for the effective treatment of diabetes is the need for appropriate reimbursement. In some cases, this may require a Health Technology Assessment (HTA) by the relevant authorities. The HTA has grown over the past decade to provide policy-makers with evidence-based information that is used to shape health policy and support reimbursement decisions at the national level.
The Need for Effective EHRs
The opportunities offered by telemonitoring, telemedicine and m-health include the need to include and integrate data into a common EHR. It should standardized patient data in easy-to-interpret formats that are compatible with optimal patient management by multiple physicians and multidisciplinary teams.
The EHR should provide a general overview of the patient's medical condition and medical history. The lack of a uniform EHR in healthcare increases the risk of misdiagnosis and poor healthcare management.
Government Support
Regional governments should work on concrete plans to ensure that remote sensing reduces health inequalities and does not widen the digital divide. This can be done in a number of ways, including providing access to the Internet in remote areas, developing tools to ensure remote sensing is accessible to people with reduced mobility, vision, or hearing, and providing support to people who cannot afford it. This must be part of ensuring that the population is able to reach a basic level of technological literacy.
Patient Data Management
For people with diabetes, distance consultations can reduce the time and anxiety associated with going to the clinic in medical centers. This results in lower costs and less inconvenience when leaving work or school. Nevertheless, long-term standards of patient consent and privacy, which must be maintained in large-scale telemedicine systems, are a major obstacle to the remote treatment of diabetes.
Effective Telehealth Business Management
Realizing the benefits of eHealth raises important questions about data ownership, cyber security in healthcare, intellectual property management, and the legal frameworks that need to be developed to support the future landscape of patient data and patient care.
eHealth creates a significant business opportunity for companies that are able to create and operate a variety of efficient and effective decision support systems that significantly process, quantify and codify a huge amount of health-related data.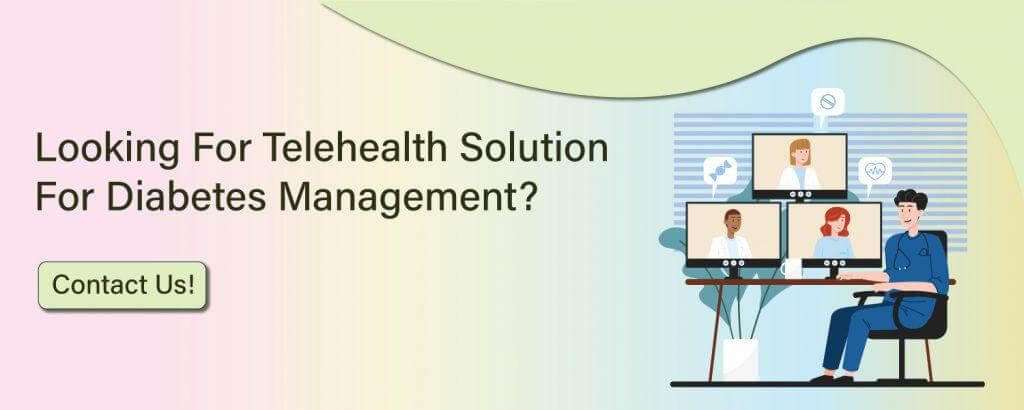 Final Takeaway
Telehealth has been progressing at a tremendous rate, stating that it is here to stay. It can deliver a wide array of treatments but treating diabetes has taken it to the next level. Patients worldwide are finding it a great option to receive remote care and expert consultation.
It is undeniable that it requires a lot of technological solutions and tools that can be readily available by trusted telehealth solution providers like VCDoctor. We have been helping the telehealth business with efficient solutions to make their business grow. Get in touch with our experts for more details.