Over the past few years, a change has been witnessed in the way patients used to access healthcare services. It is because of the COVID-19 pandemic and the evolution of telehealth services. Following the stringent coronavirus regulations, people are moving toward telehealth services to reduce in-person doctor visits. Along with it, telehealth visits are less costly and less time-consuming than in-person doctor visits. But exactly how much does a telehealth visit cost? Or what are the factors that influence the cost of telehealth visits? Here in this blog, we will shed light on these major concerns regarding telehealth visits, along with others.
What is a Telehealth Visit?
A telehealth visit is a virtual office visit to your doctor via a video chat from the comfort of your home or wherever you are with uninterrupted internet access. If you are out of town, stuck at work, or too sick to go out of bed, you do not need to go to an emergency room or visit a physician with no access to your health records. You need to schedule a virtual visit with a specialized physician through the best telehealth platforms available. You can get the diagnosis, prescribed medicines, and lab results from your visit with that particular physician.
Which Telehealth Services Patients Can Get During Their Telehealth visit?
Patients can access a wide range of care services during their telehealth visit, including primary care and urgent care.
Here are some examples of telehealth services
Cold sores
Colds and flu
Asthma
Pink eye
Sore throat
Congestion
Depression or anxiety
Diabetes
Migraines
Hair loss
Erectile dysfunction
Thyroid problems
Skin problems like acne, warts, rashes, eczema, rosacea, or inflammation
Urinary tract infections
Some other types of telehealth services include:
Prescription refills: This type of telehealth service enables patients to discuss their medications with their concerned doctors and ask for refills.
Patient education: With this telehealth service, patients can learn more about their condition and know how to manage it at home by attending classes.
Condition management: In this telehealth service, your provider monitors you and your symptoms remotely if you are suffering from any chronic disease like diabetes or migraine.
Counseling/mental health therapy: Using this telehealth service, patients can discuss mental issues like depression or anxiety with a therapist or psychologist.
You can leverage all the above-mentioned telehealth services just by scheduling a virtual doctor visit with your healthcare provider on the white-label telehealth solution they are using or via popular third-party apps in the market.
Have an Idea about Telemedicine?
We build plenty of Telemedicine apps! Get the FREE estimation of your product idea
Request a Quote
What Technology Would You Require for a Telehealth Visit?
Nowadays, almost every laptop and tablet come packed with all the necessary equipment for your telehealth visit. Still, it would be fitting to ensure that you have:
Internet connectivity
Video accessibility on your computer or smartphone
Speakers or headphones
How Much Does Telehealth Visit Cost on Average?
The cost of telehealth depends on several factors, such as your condition, insurance, and the provider.
An analysis conducted on the cost of telemedicine services for different conditions like acne, birth control, cold sores, hair loss, and erection reveals an average incurred cost. For example- acne telehealth visits range from $43 to $86. At the same time, the analysis noted the average cost for birth control visits was less than $50.
According to a Health Affairs study, the average cost of a telehealth visit for a critical respiratory infection, including laryngitis, bronchitis, or sinus infection, was registered at $79 compared to $146 for an in-person visit in 2017. That's almost 50% saving, and it is worth considering telehealth if you go for an in-person visit to a doctor's office via a vehicle in terms of time and consumed gas.
Other than this, the report also reveals that some low-cost telehealth providers charge more for prescription refills.
Does Insurance Cover Telehealth Services?
Going through a range of health plans (Aetna, BlueCross BlueShield of Texas, and United Healthcare), it has been found that yes, insurance companies cover telehealth services but differently. Most health plans cover telehealth services, based on your benefits. Some plans cover telehealth visits if they are conducted on pre-approved video platforms. Whereas some plans cover telehealth with the support of third-party providers.
Even Medicare and Medicaid expanded telehealth vs telemedicine coverage. Medicare promises to pay for office, hospital, and other visits with a wide range of providers such as doctors, nurse practitioners, and licensed social workers.
Still, there are chances that you have to pay a copay like a regular visit. Therefore, it would be best to contact your insurance company to ensure the out-of-pocket costs. Ask if you need to get prior approval for telehealth services before scheduling an appointment.
Factors That Affect the Cost of Telehealth Visit
As we have mentioned earlier that the cost of telehealth depends on several factors like your condition, insurance, and provider, there are other factors as well which play a vital role in determining the telehealth visit cost.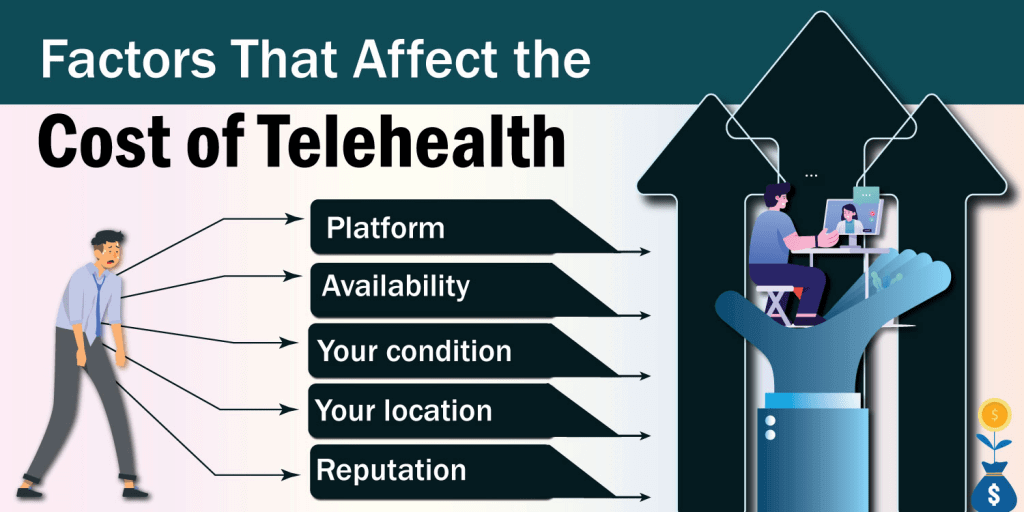 Reputation and Licensure:
The more popular a doctor is, the more they will charge. Besides, the level of licensure also influences the telehealth cost. For instance, a board-certified doctor will surely be charged more for telehealth services than those without certification. Telehealth implementation guide provider with federal certifications like those are awarded by the United States Department of Health and Human Services, typically charge more. However, some states do not recognize HHS certification, so the eligible professionals who adhere to HIPAA standards and are practicing in these states, could not get any reimbursements.
Your Location:
The location where you live and how far you have to travel to see the doctor also plays a key role in defining the cost of seeing a doctor. In rural areas, telehealth services are much costlier owing to the availability of fewer providers and the doctors having to travel long distances to see patients.
Your Condition:
Your illness's severity also influences the telehealth visits to a greater extent. Suppose you are suffering from a minor illness like sinus infection, laryngitis, or bronchitis, and the doctor does not need to perform any test or physical examination. In that case, it will cost you comparatively cheaper than the illness or condition that requires different tests or physician-performed procedures.
Availability:
The provider availability in your insurance plan also affects the cost of telemedicine services. The unavailability directly impacts your pocket. Therefore, it is necessary to ensure that the provider you are willing to see would fall in the insurance coverage and be certified.
Platform:
Research and market analysis demonstrate that telehealth providers who serve needy ones through state-of-the-art platforms often cost more than those utilizing older setups. Well, the more expensive platforms like American Well offer better video and sound quality for a consultation with the patients. Also, it enables patients to connect quickly and effectively with their online doctors. Whereas most telecommunication companies and patient portals don't charge any fee for a virtual HIPAA-compliant consultation. But there is a problem that these platforms lack consistency which makes it challenging for doctors to find compatible platforms on which they can practice.
How to Save on Telehealth Visits
It's acceptable that telehealth solutions are convenient for both patients and providers, but they attract a considerable sum. Here we are providing a few ways to cut down on the incurred cost of your next telehealth visit.
Shop Around
Different insurers cover different types of telehealth visits at different rates. Therefore, it is necessary to compare the policies of different insurers before signing up for a specific plan. Even do not forget to ensure what kind of virtual appointment your insurer will reimburse before scheduling your next telehealth visit.
Ask for Discounts
You can ask for discounts from your insurer before scheduling your telehealth visit. Many providers offer considerable reductions when insured patients look for discounts and offer telemedicine portals and apps they have partnered with.
Keep Track of Costs
Check out how much time it takes for your doctor to respond via telemedicine or traditional ways so that if the provider offers discounts for using these modes, you will get to know which option truly saves your money. More patients are making their way toward tech-based healthcare options because they are quick and convenient. However, you should research to find out the best way possible to save your money on telehealth visits before making an appointment with your physician.
HIPAA-compliant Telemedicine Software
Offer quality care anywhere anytime. Get started with your own HIPAA-compliant telemedicine software.
Talk to us
Conclusion
Going through the blog, you have learned almost all aspects of telehealth visits. From its brief introduction to its use in different telehealth services, average telehealth visit cost to factors that influence the cost—almost everything.
As a healthcare service provider, you would have understood the importance of a telehealth platform and must look for the best telehealth companies for physicians. If yes, then you are landed in the right place. VCDoctor is a renowned telehealth solution provider company; you can consult for telehealth solutions for providers, clinics, or patients. The company leverages the needy ones with all sorts of telehealth solution development ease. Consult your telehealth software development project with our healthcare experts. Contact Now!!